Facebook has expanded its options for gender, allowing users to self-declare their own gender identity and choose their preferred pronoun from a new drop-down list.
Genderqueer Facebook users have long-resisted the binary gender settings on the site's profile scheme, in some instances devising convoluted ways to erase their gender from their profile altogether.
But now Facebook has rolled out new options for users with a "Custom" gender setting that allows users to write in their own gender preference. Users can also retain control over who sees their gender profile, which should hopefully prevent the new feature from making those who use it targets for abuse and harassment.
You can access the setting on the desktop and mobile versions of your Facebook profile. On the desktop version, go to "Update Info" on your Facebook home page, then "Basic Options." From there, select "Gender" and choose "Custom" from the dropdown. An option will pop up for you to write in your selected preference. You can choose from a suggested list of labels, but you can also write in whatever you want.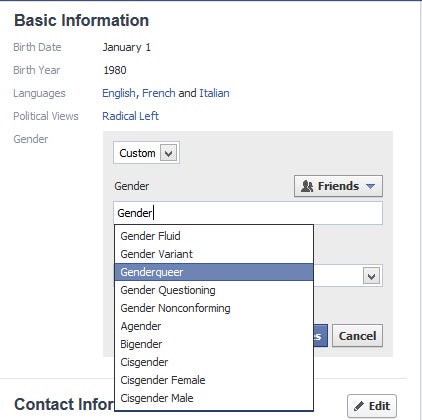 Screengrab via Facebook
The list of pronoun options might be less satisfying to many genderqueer people, however; the user is given the option of choosing between him, her, and "them:"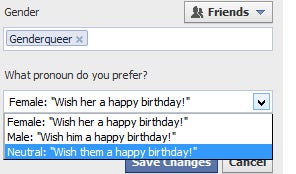 Screengrab via Facebook
While there is no standard of use for gender-neutral pronouns, many people prefer unavailable options like "zie/zir" and "hie/hir."
While it's clearly not a perfect solution for everybody, Facebook's move is a huge step forward, both for cultural acceptance of non-binary genders and for tech companies grappling with how to be more inclusive.
Photo via mkhmarketing/Flickr (CC BY-SA 2.0)