We crawl the web so you don't have to.
Sign up for the Daily Dot newsletter to get the best and worst of the internet in your inbox every day.
Hello fellow citizens of the internet! Andrew here. Welcome to today's edition of web_crawlr.

Our top stories today are about: A Walmart shopper finding a hidden security tag underneath the steak they purchased, why Ben Shapiro's (incorrect) prediction about Barbie flopping is going viral, an opinion piece about why animation shouldn't be treated like the first draft of live-action adaptations, and how a Reddit post about a chocolate cake is tearing the internet apart.
After that, we've got a "Dirty Delete" column from our Investigative Reporter Claire that looks back on some of the biggest dirty deletes she's covered.
See you tomorrow!
— A.W.
---
⚡ Today's top stories
A shopper went to Walmart to get a few items for dinner—including some expensive steaks—and discovered something was beeping as she was leaving the store.
Conservative pundit Ben Shapiro's prediction that the Barbie movie would flop is going viral after Barbie became Warner Bros.' highest-grossing global release.
Several characters from a beloved Star Wars animated show made the jump to live-action.
People are divided over a guy mad at his girlfriend for making a cake with vanilla icing.
---
We crawl the web so you don't have to. Sign up to receive web_crawlr, a daily newsletter from the Daily Dot, in your inbox each day.
---
🗳️ Dirty Delete
By Claire Goforth
Investigative Reporter
A look back at the dirtiest deletes
In each edition of web_crawlr we have exclusive original content. On Thursdays our Politics Reporter Claire Goforth goes deep on the social media history of politicians, political groups, and politically-adjacent figures in her "Dirty Delete" column. If you want to read columns like this before everyone else, subscribe to web_crawlr to get your daily scoop of internet culture delivered straight to you inbox.
---
🕸️ Crawling the web
Here is what else is happening across the 'net.
🍴 If you think servers shaming non-tippers in viral clips are only trying to up their hourly wages via tips, then this clip posted by a Texas Roadhouse server definitely won't change your mind.
👩‍🏫 It's true many educators don't get into the profession for the money. But one teacher is near tears after realizing she has just $25 of her $2,500 monthly paycheck left after living expenses.
💄 An Ulta Beauty employee has shared a now-viral TikTok of the messy conditions Drunk Elephant testers are left in by customers at locations across the country.
🥪 This TikToker is getting a lot of attention for posting a clip of herself lampooning "how it feels eating on a 30 min lunch" break during work.
🛍️ A lot of people are defending this Uber Eats driver who stapled his real estate business card to orders.
🧥 A shopper is calling out the Salvation Army for selling $500 fur coats.
🍔 This former McDonald's corporate chef is going viral for claiming he was blocked from creating a burger with eggs on it.
🔥 The ultimate smart oven can transform your kitchen experience—and even save you $200!*
🌐 From the Daily Dot archive: Can we ever get back the excitement of logging on?
*The Daily Dot may receive a commission in connection with purchases of products or services featured here.
---
👋 Before you go
One of users' favorite pastimes of viewing videos on TikTok is hearing the hilarious storytime videos created by content creators.
Actor and server Danny (@dannytheserver) shares and creates content with his 38,100 TikTok followers about customer interactions and crazy stories that happen at his local cafe job.
In this particular TikTok video, Danny shares about a time a woman was upset that her drink didn't have latte art—a conundrum since she ordered a hot tea and latte art is made using steamed milk.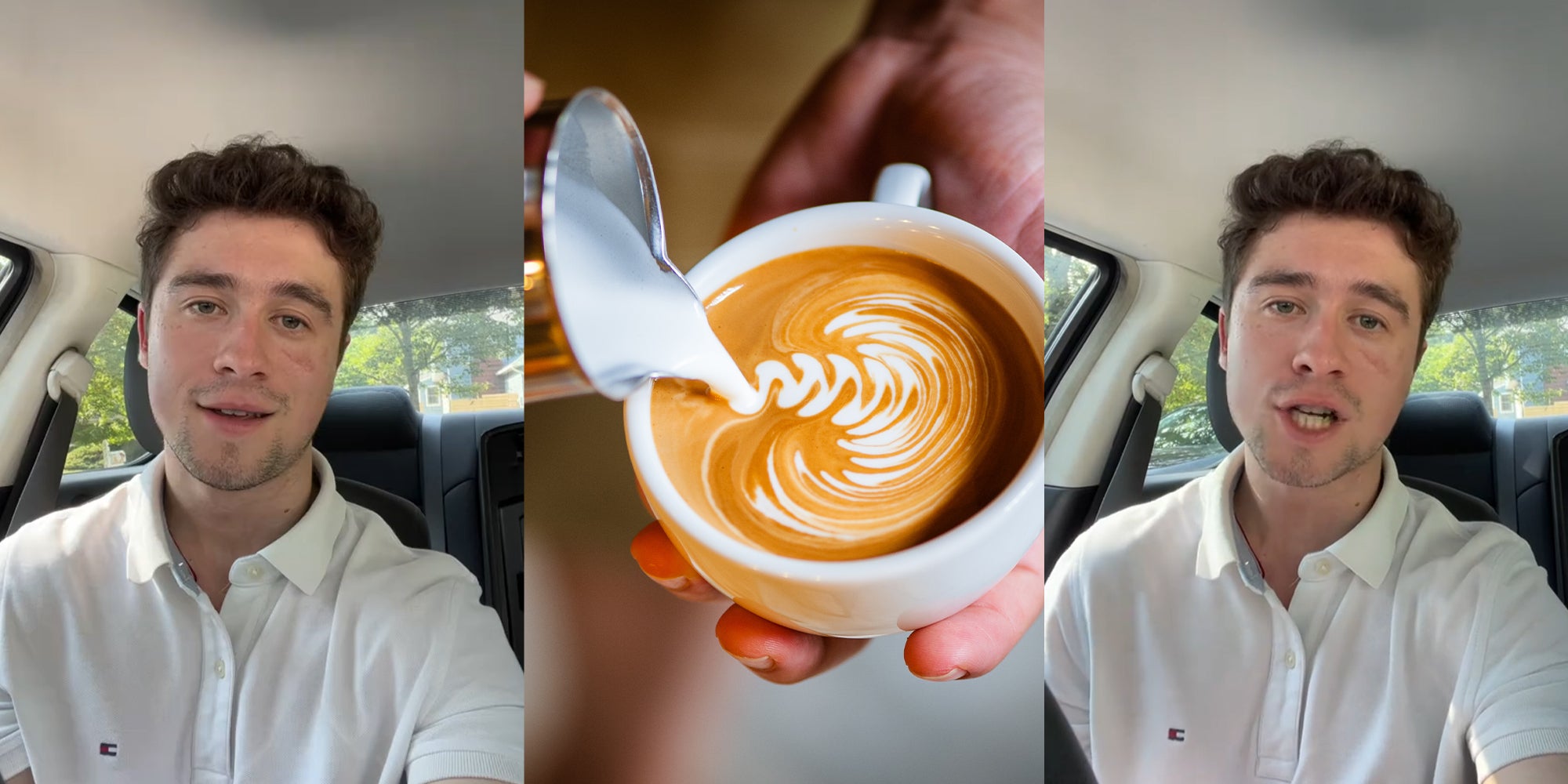 ---
🎶 Now Playing: "Mercedes Benz" by Janis Joplin 🎶