Warning: This article contains spoilers for Ahsoka and Star Wars Rebels.
Since 2008, when Ahsoka Tano made her debut in a much-maligned Star Wars movie, she's been in dozens of episodes across both series; she's a main character in the Lucasfilm Animation series Star Wars: The Clone Wars and recurred in Star Wars Rebels. While she started as a polarizing character, she's since become a massive fan favorite. So unlike The Mandalorian, The Book of Boba Fett, Obi-Wan Kenobi, or Andor (a series that, for better or worse, is already being used as a benchmark to compare other Star Wars TV shows to unfavorably), Ahsoka's debut this week arrives with more baggage than most.
I'm pretty much the target audience for Ahsoka. I fell in love with Ahsoka Tano through Clone Wars and Rebels thanks to Ashley Eckstein's voice work spanning 12 years, having watched both series during the height of my Star Wars fandom. Initially, I was ecstatic to see Ahsoka make the jump from animation to live-action when Rosario Dawson appeared in The Mandalorian's second season. I knew that Ahsoka's biggest feature—that it wasn't truly an Ahsoka show, but essentially Star Wars Rebels season 5 in all but name (and you can read "Rebels season 5" written in fine print if you squint hard enough)—would be a draw for me.
Those first two episodes, "Master and Apprentice" and "Toil and Trouble" (both written by Ahsoka creator Dave Filoni; Filoni directed the first episode, while Steph Green directed episode 2), contained both what I love about Star Wars and much that has grated me about the current era.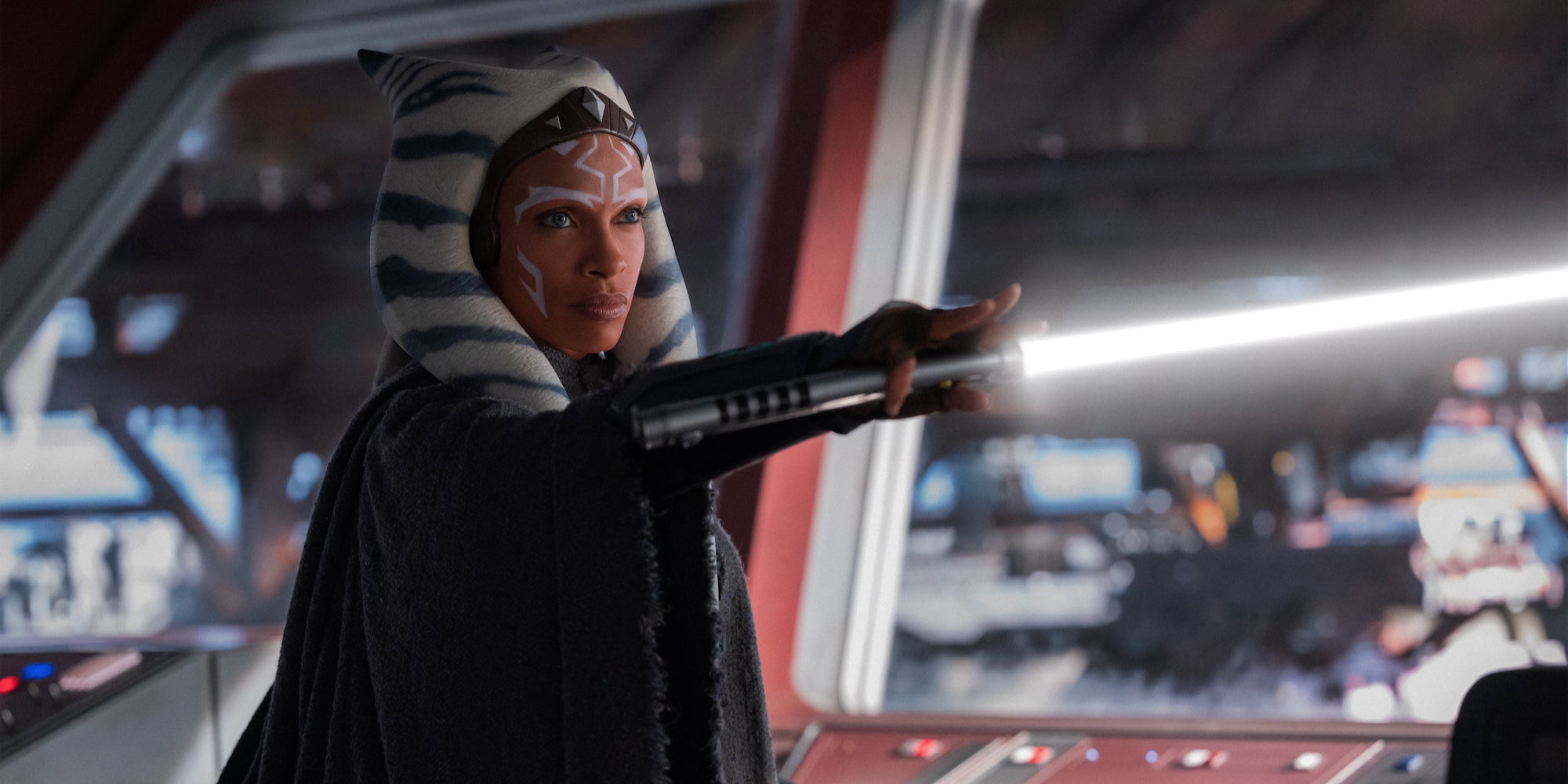 There's a chance you might be more invested in Ahsoka and Sabine Wren's (Natasha Liu Bordizzo) mission to locate Ezra Bridger (Eman Esfandi) and Grand Admiral Thrawn (Lars Mikkelsen, reprising his role from Rebels) before Morgan Elsbeth (Diana Lee Inosanto) does, especially if you're familiar with how and why Ezra and Thrawn disappeared in the first place—or the full story behind the sacrifices made to liberate Lothal from the Galactic Empire. (If you want to know who a couple of those characters in the mural are, you'll probably have to wait for future episodes of Ahsoka.) It mostly worked for me, but for those who don't have that knowledge, trying to play catchup might feel like homework.
I'm fully ready for aspects of Ahsoka to frustrate me—including the now-familiar murkiness of Volume technology—and I'm anxiously awaiting new episodes. There is plenty to love from the familiar and new characters (Bordizzo and Ray Stevenson, portraying the Jedi-turned-mercenary Baylan Skoll, are my early MVPs). Live-action Loth-cats are absolutely adorable, and I need one immediately.
Yet again, it makes me wonder why this is the medium that Filoni, who spent years working in animation—on top of his work at Lucasfilm, he also directed several episodes of Avatar: The Last Airbender's first season before making the transition to live-action starting with The Mandalorian—chose to continue Ahsoka Tano's story. Filoni has been with Ahsoka since the beginning (he co-created the character with George Lucas). Now he is again at the helm for Star Wars Rebels season 5 Ahsoka. If Filoni is more or less already doing Rebels season 5 by following Sabine, the story of General Hera Syndulla (Mary Elizabeth Winstead) and Ahsoka, and answering the long-awaited mystery of what happened to Ezra Bridger and Thrawn when they disappeared into hyperspace, why tell it in live-action over animation, the medium where it was first introduced?
We're only two episodes into Ahsoka so that answer could be forthcoming. But it also raises other questions. The debate over which medium gets priority is far from a new criticism around Ahsoka. But between Ahsoka continuing Star Wars' trend of transitioning animated characters to live-action on steroids, Disney's decade-plus plan to produce and release live-action remakes of almost every one of its animated films, and rival studios' and networks' attempts to make live-action spins on almost anything animated that's mildly successful, it can feel like animation—already looked down on by many viewers and Hollywood at large—is being treated like a wildly expensive first draft. And in most cases, the live-action "rewrite" comes out worse.
The comparisons rarely work out in live-action's favor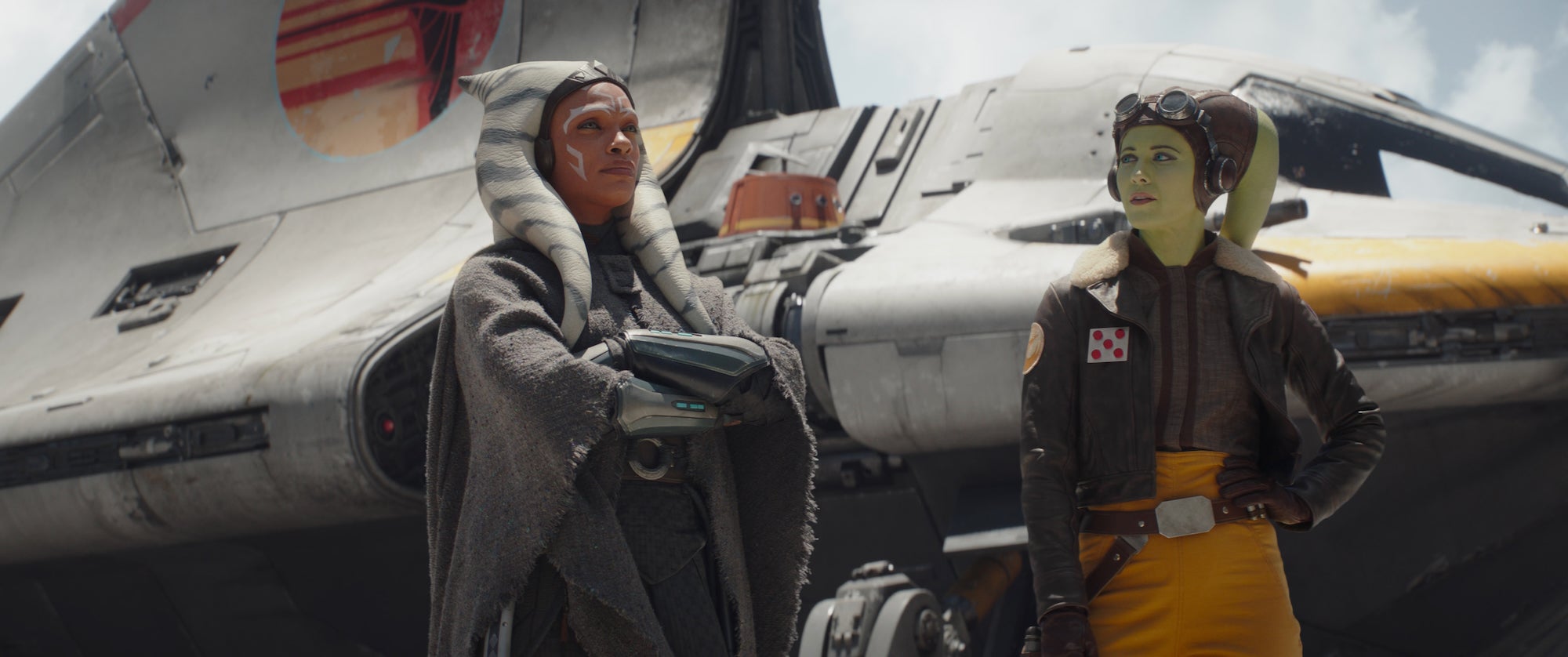 At the end of "Toil and Trouble," Sabine Wren dons her Mandalorian armor and approaches the mural she created of the Ghost crew—the found family she traveled with and fought alongside during Rebels. A hooded Ahsoka approaches Sabine as the two characters, who share a recent past not yet depicted in any medium, including animation, are finally ready to resume their relationship of master and apprentice.
Without getting into the debate about whether Sabine's Force-sensitivity, no matter how minor, was previously established enough in Star Wars canon before now or if Ahsoka retconned that into the series so Ahsoka and Sabine could parallel the relationship between Baylan Skoll and his apprentice Shin Hati (Ivanna Sakhno)—believe me, enough Star Wars fans online have that area covered—this scene is otherwise a nearly shot-for-shot recreation of the Rebels series finale's final scene.
Ahsoka's production team recreated Sabine's mural from Rebels so similarly that they copied the Ghost crew and the Loth-wolves in the mural to look like their animated counterparts, not the live-action versions. It's such a 1:1 match that each character's design almost exactly matches their animated counterpart in the live-action iteration of the mural. Apart from Kanan Jarrus (voiced by Freddie Prinze Jr.), the former Jedi knight (and Ezra's master) who died in the final season of Rebels saving the rest of his family, every other major character in the mural, short of the Loth-wolves, already made the jump to live-action in one TV show or another.
For some fans, the recreation is a nostalgic, Leo-pointing meme moment or yet another emotional nod to a show they loved. For others, it's a showcase of Ahsoka's early shortcomings. And it's far from the only thing about Ahsoka scrutinized as details including character designs, Hera's Twi'lek look and feel, and Ahsoka's fighting style—which differs between animation and live-action because Rosario Dawson and Ahsoka's stunt team might not be able to replicate every single jump or swing of the lightsabers as animated Ahsoka—is put under a microscope.
It's the kind of criticism that pops up whenever Disney gets ready to release a live-action remake. For every Pete's Dragon—David Lowery's remake of the 1977 live-action/animated hybrid film that captures elements of the original while being its own thing—Disney has released several films that copy-and-pasted the visuals of the animated versions in a new medium. While some films attempt to course-correct for past sins (e.g., the original film is pretty racist), they often fall short amid attempted stabs at realism (often with animal or fantasy characters) and new songs or subplots designed to justify the film's existence.
The Little Mermaid is dark, murky, and lifeless, vastly contrasting with the much more colorfully animated ocean floor. The Lion King becomes a nature documentary devoid of the emotion that makes Mufasa's death hit all the harder. Belle's yellow ballgown in Beauty and the Beast looks downright plain compared to the level of detail animators could create with a mix of hand-drawn and CG animation. Aladdin's choreography, a high point of the animation, became a bore to watch. Some films like Mulan or Cruella try to go outside the box but have other issues (or, in Mulan's case, the film's credits brought newfound attention to another country's alleged human rights violations). Nowadays, studios will announce remakes not decades after the original is released but as little as seven years. (See: Moana.)
And people don't even need to see the full movie in theaters or on Disney+ to make those happen. Sometimes, all it takes is a trailer or a still for the griping to start. The more fantastical the entity, the bigger and louder the criticisms. And while sometimes the filmmakers crafting these remakes can't win—some details are too much like the original, but also it's not enough like the original—other times, they bring it on themselves.
Netflix has seen that play out time and again as it's tried its hand at several live-action anime adaptations like its live-action Cowboy Bebop series, canceled after one season, and Death Note (slammed for far more than its whitewashing); its most recent attempt is a One Piece series set to debut on Aug. 31. And as Sony desperately tries to capitalize on the critical acclaim and financial success of the Spider-Verse trilogy by bringing Miles Morales to live-action, it's only a matter of time before whatever iteration that takes is inevitably dragged because of how much of a game-changer that Spider-Verse has been for the animation industry and the sheer amount of goodwill it has among its fans.
Money, casting, and who gets to transition to live-action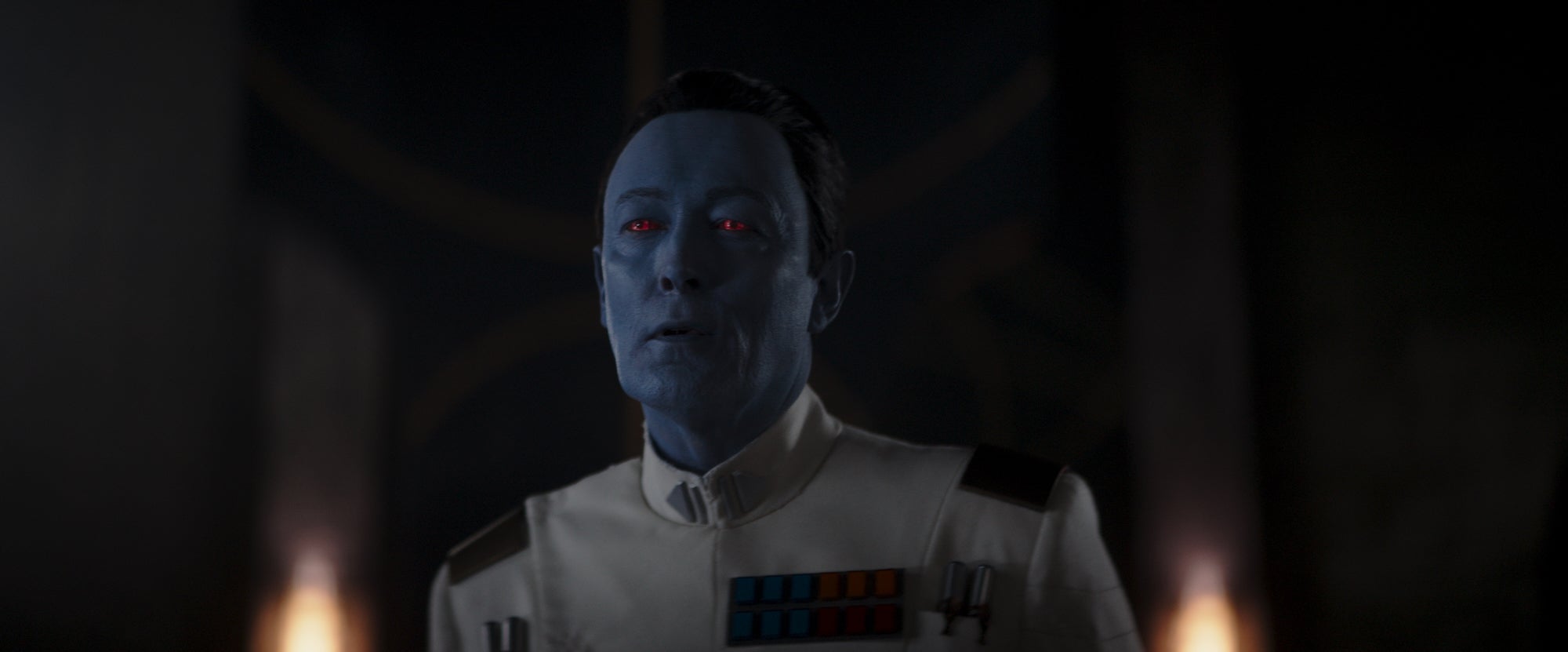 When it came to casting HBO's The Last of Us, part of the reason Troy Baker and Ashley Johnson, who voiced Joel and Ellie in the video game, respectively, didn't reprise their video game roles was that they aged out of being able to play those characters on TV. Most of the game's voice actors would cameo throughout season 1 while Merle Dandridge reprised her role for live-action. Another reason could be more practical and cynical: If you can get Pedro Pascal, already the star of one of the biggest shows in the world, to play TLOU's Ultimate Mushroom Zombie Apocalypse Sad Dad, why wouldn't you?
Star Wars has a treasure trove of talented actors among its voice cast, but when it comes to live-action Star Wars, Lucasfilm is picking and choosing what remains the same and what is left behind.
In some cases, such as with Katee Sackhoff's Bo-Katan Kryze or Governor Ryder Azadi, the recurring Rebels character voiced by Clancy Brown, the actors reprise their roles. If you voiced a droid character, such as the architect droid Professor Huyang (David Tennant) or the cantankerous and murderous astromech Chopper (Filoni), you can keep voicing that character. Several non-human characters jumped mediums, like Zeb (voiced by Steve Blum in Rebels and briefly in The Mandalorian season 3) or Cad Bane (voiced by Corey Burton in live-action and animation). Mikkelsen will also reprise his role as Thrawn when he shows up later in Ahsoka, which we know because of casting announcements and his appearance in trailers.
But not everyone did. Dawson stepping in to play Ahsoka over Eckstein is the most high-profile recasting (and Dawson has been gracious about highlighting what Eckstein first brought to the role). She's not the only new Rebel: Bordizzo plays a role originated by Tiya Sircar, Vanessa Marshall initially voiced Hera, and Taylor Gray initially voiced Ezra, to name a few.
And when drawn the other way, live-action mostly still trumped animation. Forrest Whitaker was cast to play Saw Gerrera (a character first introduced in Clone Wars) in Rogue One, and he voiced the character in later projects like Rebels and the Jedi: Fallen Order video game on top of playing him in Andor. (Andrew Kishino, Saw's original voice actor, would return to the role in The Bad Batch.)
Some actors might primarily do voice work and not want to transition to live-action. Some actors, like TLOU, might not be within the right age range to play a certain character. With Disney's live-action remakes, casting is used to make those stories more inclusive or progressive, often on a surface level, instead of investing money in letting new, inclusive stories that aren't remakes or not based on any intellectual property be told. The execution, while resulting in some truly great performances, is more decidedly mixed.
But as much as the mentality in animation of using recognizable A-list talent to voice a Pixar movie or Super Mario movie over the talent that actually knows how to voice act persists, the inverse can also exist: sometimes—or at least before SAG-AFTRA strike rules prevented the cast from promoting Ahsoka—one could argue it's easier to sell a TV show with actors people recognize. Even if the show is more expensive from all facets, the payoff for the streamers might be worth it.
No matter how successful or acclaimed animation is, live-action is still seen as a more "legitimate" medium of storytelling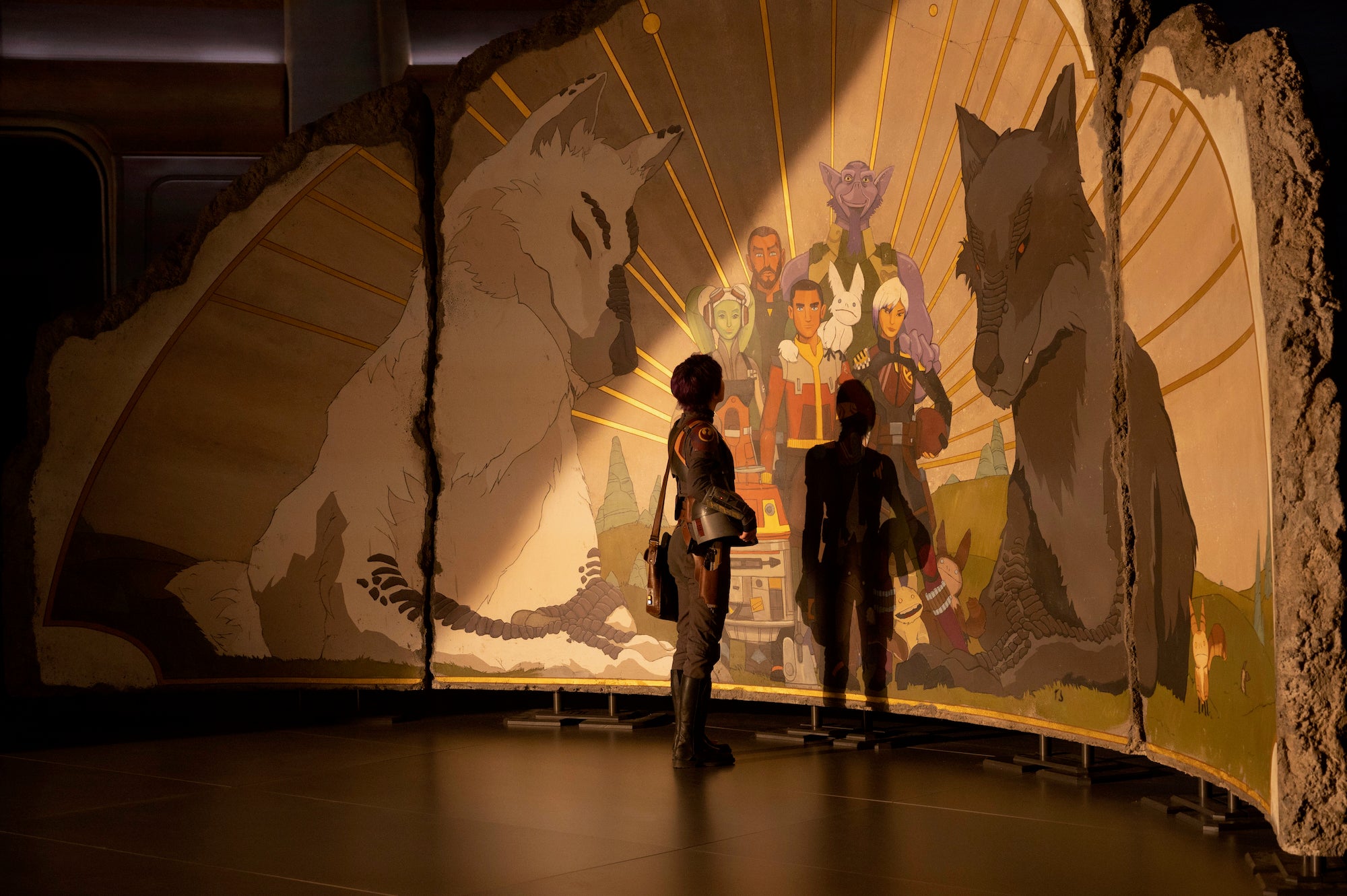 In every single acceptance speech in the lead-up to—and including—his Oscar win for the stop-motion animation film Pinocchio earlier this year, Guillermo del Toro had a simple message he wanted to get across. Animation is cinema; it's a medium, not a genre for kids.
It's a direct response to people like former Disney CEO Bob Chapek and a previous Oscars ceremony featuring Halle Bailey, Lily James, and Naomi Scott—all who've played live-action Disney princesses—read stilted presenter banter about how animation is for kids and something adults endure. Flee, the Danish documentary nominated for three Oscars that year, including the very category Bailey, James, and Scott were about to present, is only one of the many, many animated films whose existence would argue otherwise.
But it's never been just kids and their parents watching those films and turning them into massive successes. Of the 53 movies grossing over $1 billion worldwide (before adjusting for inflation) to date, 10 of them—nearly one-fifth of the total—are animated. An additional four movies are live-action remakes of Disney animated movies. The highest-grossing movie of 2023 is Illumination and Nintendo's Super Mario Bros. One of the non-Barbenheimer success stories of the summer is Across the Spider-Verse, which grossed nearly double what the first movie made.
Elemental, which had a rough first weekend at the box office, proved it had long legs and made over $456 million worldwide. Critically acclaimed animated movies like Nimona and Teenage Mutant Ninja Turtles: Mutant Mayhem demonstrate the limitless nature of the medium.
But still, the anti-animation stigma remains. Episodes could be released on a whim or after a months-long hiatus mid-season. Shows could be yanked off the air, only for them to return months later. Many of those shows air on channels geared toward children.
The first five seasons of Clone Wars aired linearly on Cartoon Network before a shortened season 6 dropped as a binge on Netflix, a casualty of Disney's purchase of Lucasfilm; the seventh season was among Disney+'s earliest originals. All of Rebels aired on Disney XD, a cable channel that doesn't benefit from Adult Swim's connection to Cartoon Network. Then, those shows might not be marketed as widely as a live-action series.
Aside from the steep episode count that a live-action Star Wars and/or Ahsoka fan would need to watch to make their way through Clone Wars or Rebels—a feature-length movie plus 133 episodes for Clone Wars and 75 episodes for Rebels— some fans have avoided those TV shows because they refuse to engage with animation or they think it's a show for kids (for them, derogatory).
Sure, those shows are made for kids. So is nearly every Star Wars show and film released to date, even those marketed toward adults. It's not a knock on any of them. However, some viewers won't consider animation because they think it's only for kids. While it's a good sign that filmmakers are inspired by or want to delve into the richness of animation, live-action shouldn't be the only medium characters are deemed worthy of being seen.
Nickelodeon's Avatar: The Last Airbender is considered one of the greatest animated shows ever; the names of several alums, Filoni included, are attached to major projects and can be found working to push the medium forward. Hollywood is now on its second attempt to render a live-action version—but even if the show's creators are no longer involved, at least Netflix's upcoming version isn't whitewashing the cast.
It's not that one medium is better than the other. You don't have to go far to find fans criticizing Ahsoka for unsuccessfully replicating Rebels' aesthetic or for people to point out that Rebels' animation isn't that great either; they might say that live-action is an improvement. You also shouldn't have to watch over 200 television episodes to make another show make sense. (Although, if it's not already evident, I recommend both of them.)
But to argue that animation is lesser-than is silly. In Star Wars, you only have to look at Clone Wars' final season and The Bad Batch to see how Star Wars animation has evolved and improved since Rebels aired. Star Wars: Visions showed us what is possible when you don't have to worry about physics and the laws of gravity and give animation studios enough room to go wild. And no matter who it's made for, animation shouldn't have to keep being the stepping stone for another medium, such as Ahsoka, because there is some incredible work happening in animation right now—the medium it was designed for.


We crawl the web so you don't have to.
Sign up for the Daily Dot newsletter to get the best and worst of the internet in your inbox every day.