The NFL plans to shake up its programming at the beginning of its upcoming 2020 season—and conservatives are not happy about it.
The league is currently finalizing plans to open its week-one games with James Weldon Johnson and J. Rosamond Johnson's "Lift Every Voice and Sing," also known as the Black national anthem, USA Today reports. Starting with the Sept. 10 regular-season opener between the Houston Texans and Kansas City Chiefs, "Lift Every Voice and Sing" will precede "The Star-Spangled Banner" during the NFL's first-week games.
White conservatives had a conniption upon learning of the NFL's plans and threatened on Twitter to boycott the league, causing #BoycottNFL to trend on Friday morning.
"NFL will play Black national anthem 'Lift Every Voice and Sing' before each Week 1 game… So is each race getting their own anthem? Nice job dividing #boycottnfl," @Jorgan10s tweeted.
Other prominent conservative figures condemned the league's decision without explicitly using the hashtag.
"How many national anthems do we have??" Sen. Ted Cruz (R-Texas) tweeted. "Is there an Hispanic national anthem? An Asian-American national anthem? This is asinine. We are ONE America. E Pluribus Unum."
The politician inadvertently ended up tweeting a self-own instead of snarky jabs at the NFL, since the Johnson brothers wrote the lyrics and music to "Lift Every Voice and Sing" in 1900 and 1905, respectively. The song's existence has been public knowledge for over a century for anybody who cared to learn about it.
Several Twitter coopted the #BoycottNFL hashtag to make that point.
"This is why the whitewashed history they teach us in American schools is such bullshit," @TerpGrad01 tweeted. "The Black National Anthem has been around for years. When I was 16, we sang it every morning when I was a summer camp counselor at the YMCA in Philly. I'm 42. Sit the f*ck down. #BoycottNFL."
Other users borrowed the hashtag to simply rejoice in the collective MAGA Twitter meltdown.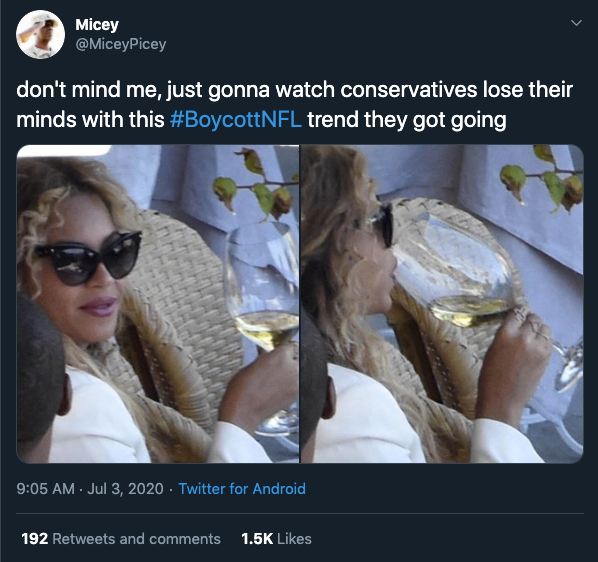 So far, the #BoycottNFL tweets seem largely unrelated to the report that Washington Redskins owner Dan Snyder is finally considering changing the team's name. Give it a few hours, though, and that's likely to ruffle plenty of conservative feathers online as well.
Happy 4th of July weekend!
READ MORE: