Since its inception in 2013, the Black Lives Matter movement has shed unprecedented light on the plight of Black Americans and police brutality in this country using the power of the internet and virality.
This summer, the movement has exploded with more momentum than ever through viral Twitter videos, TikToks, Instagram graphics, online fundraising, and mutual aid organizing. As with most things online, the posts dissipate into old news. However, the stakes of this movement are too high for the message to fade into irrelevance. A few months have passed, but it's clear the internet has changed for good.
---
This summer, the Black Lives Matter movement gained significant momentum after the police killings of George Floyd, Breonna Taylor, and Mike Ramos. While protesters took to the streets to peacefully demonstrate and demand structural change, the internet lit up educational resources, bail funds, and petitions, and spark much-needed dialogues about the intersectional issues within the Black Lives Matter movement.
The summer signified an evolving shift in the way people on the internet approach virtual activism and how it can mobilize communities to not just organize but hold each other accountable in the ways they do it. As the world continues the reckon with police brutality and other injustices against Black Americans, advocates are fighting to remember the promises made this summer.
For Colorado-based TikToker Hameeda Abdul Kadir, the shift in the kind of content people were making on the app signified that people on the internet were becoming less afraid to spark more honest and difficult conversations about racial injustice and inequality.
"When I was younger…and I didn't have a Twitter yet, it was taboo to talk about anything serious," the 23-year-old told the Daily Dot. "I just avoided talking about race and about anything that affected me because I knew it was just a way to get hate and get people attacking you. And now that's people's whole content, that's what they focus on."
Abdul Kadir, who goes by @hameedaposts and has over 90,000 followers on TikTok, said the shift on her and others' social media pages from casual posts to social issues was not just indicative of the desire to inform audiences about what was affecting the Black community. It was also part of a larger conversation that forced people to confront their complacency.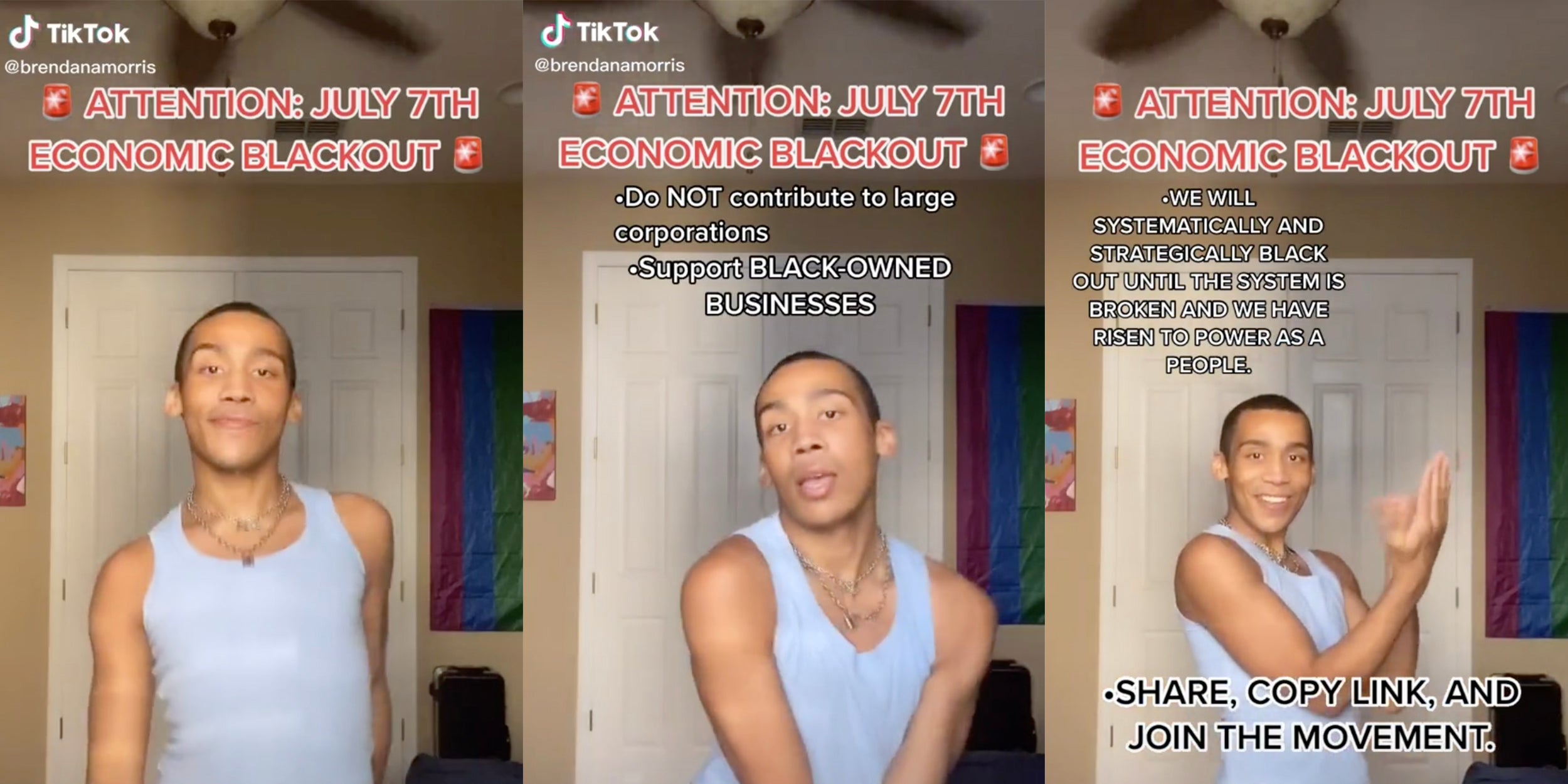 "It was very interesting seeing everyone kind of have to pick a side and not sit on the fence for the first time," Abdul Kadir said. "We could see who fell off because those folks don't talk about Black Lives Matter anymore. There were some really big creators who were pressured by their audience to pick a side about something who are now like complacent again, because of that momentum that energy of like, 'We're all watching, let's go, people are dying. This is not a moral dilemma.' It's really clear."
Even though TikTok has been a major platform of choice for Generation Z activists to make their voices heard about Black Lives Matter, the creators on the app are not shying away from holding the app itself accountable just as they would any other corporation. Generation Z, which includes people born from 1996 to 2012, is sparking widespread attention as many of its members are young activists on the frontlines of the movement on social media. A 2019 report from Irregular Labs found that nearly three-quarters of Gen Zers believe that being politically and socially engaged is very important to their identity.
In June, TikTok creators accused the platform of censoring certain hashtags and content related to the Black Lives Matter protests across the U.S., which the app ultimately acknowledged and publicly apologized.
"I've never seen an app be called out the way TikTok has been by its users," Abdul Kadir said. "Taking that stance of like, 'hey, you need us as much as we need you. Here's our demands. Here's what we need from a platform.' and the fact that actually worked was amazing."
In addition to the signal boosting of information and protests through TikTok, activists and organizations are using other social media to sustain IRL activism.
The Instagram account @atxreparations, run by 25-year-old Austin resident Miranda Harvey, aims to keep the Black Lives Matter movement alive in her community of Austin, Texas, by facilitating person-to-person reparations via collective aid spreadsheets that intentionally center Black and Indigenous folks in need.
Unlike government-sanction reparations, person-to-person reparations enable white people, a historically privileged demographic, the opportunity to actively help and contribute money to Black and brown folks in their communities.
"I began to be exposed to the concept of person to person reparations, which I had only been familiar with reparations as a debt owed by the government," Harvey said. "Being only one person and not a whole organization, all I was looking for was a way to contribute to Black people in my community here in Austin in a person-to-person way like I was seeing happen in other communities."
Since July, the account has since amassed over 3,100 followers and continues to share and receive aid requests, including rooms for rent and individuals in need of money for food and medication supplies. By November, the account helped over 150 individuals requesting aid.
As a white woman, Harvey hopes to use this account to not only do her part in supporting Black and Brown folks in her community but also mobilize her white counterparts to do the same. Harvey wants to stray away from other forms of activism that are increasingly being considered performative and unhelpful, including shallow social media messages and white savior tropes that decenter and trivialize the efforts of activists who are Black, Indigenous, and people of color.
In addition to avoiding performative activism, Harvey said she wants to use her platform to acknowledge the privileges she obtained from systemic and institutional racism.
"It just makes so much sense living as a white person in society and benefiting from white supremacy," Harvey said. "[I] kind of owe that debt because there's so many things that have been afforded to me that, you know, I did literally nothing to deserve them in any way."
Just as individuals were being held accountable for lack of action, corporations were being called upon to do more than change their logos or release one-page statements about solidarity with Black people. While companies were issuing statements pledging to hire more diverse employees and diversity training, ice cream giant's Ben & Jerry's gained significant media attention for its direct language about racial injustice. Titled "silence is NOT an option," the company's statement cited historical information about enslaved peoples' arrival to Jamestown and outlined plans showing the company's commitment to racial justice and reform, including partnering with social justice nonprofits such as Color of Change and the NAACP.
Ben & Jerry's Director of Public Relations and Communications Sean Greenwood told the Daily Dot that while the company's main expertise is making and selling ice cream, its long-term commitment to racial justice is what makes its recent solidarity statement stand out.
The company has consulted and worked closely with advocacy groups for advice on how to sustain corporate activism and messaging about racial injustice. The company boosts a Color of Change petition that has gained over 150,000 signatures. In 2019, Ben & Jerry's launched an ice cream flavor called Justice Remix'd that doubles as an advocacy campaign for criminal justice reform, and the company donates a portion of the flavor's proceeds to the Advancement Project National Office.
"You can't just make a hollow statement," Greenwood said. "People are saying, 'OK, well, what are you doing to support people of color? What is it that you in your organization have been focusing on to try to make that impact?'"
Ben & Jerry's hopes to set the pace for how companies should step up to the plate. Greenwood also said that Ben & Jerry's recognizes the power Gen Z holds as consumers, especially after a survey conductied over the summer by data analysis firm Morning Consult found that two-thirds of Gen Z Americans said corporations' responses to the Black Lives Matter movement would permanently affect their purchasing patterns.
"I think that's part of the innovation effort that we need to continue to challenge ourselves," Greenwood said. "It's not only for flavors, right? It's not just about selling ice cream, but it's also about our activism, saying, 'How do we stay up on issues that are important to the younger generation?' as well as, 'How do we connect with them?'"
Several months after the height of protests took a stronghold over national attention, many are especially looking to the next generation of activists to carry on important conversations and boost news and resources.
As the year comes to a close, Kadir is hopeful that the summer's momentum proves to be a steady and continued effort to center on not just what matters but what is needed to actualize real, sustainable change.
"I have so much faith in Gen Z and people in general, because they're taking these conversations and they're applying it to their real lives," Abdul Kadir said. "They're calling out their parents, their racist aunts and uncles, and they're calling out themselves. I can really see them wanting to end that cycle with themselves, making a less racist world, and genuinely wanting to help, which really gives me hope."
---
Must-reads on the Daily Dot