Former Major League Baseball player Aubrey Huff is getting dragged after badmouthing LeBron James for "carrying a purse."
In a tweet on Sunday, Huff criticized the basketball star for his outfit choices. His tweet immediately prompted backlash with people saying the tweet showcased rigid gender norms.
"Young men this is not how a man is supposed to dress," Huff tweeted. "Carrying a purse is not cool. I suppose dressing like this makes it easier to kneel."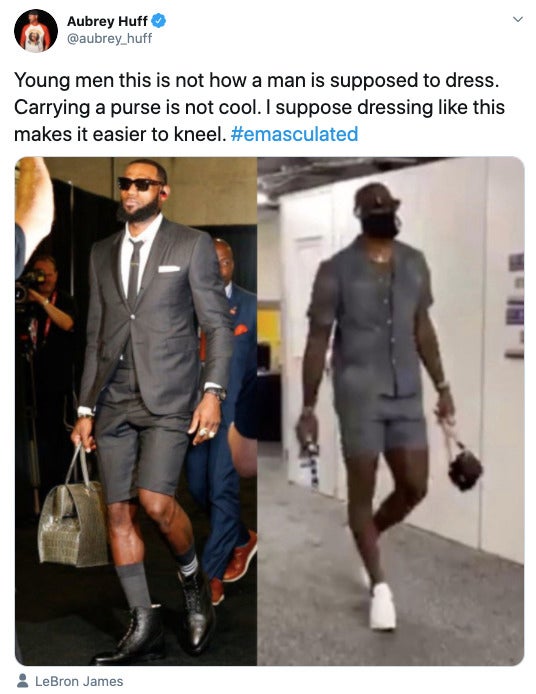 People replied to Huff's tweet saying that his tweet was the perfect example of fragile masculinity, which is sexist or rude behavior because of feeling inadequate in one's "manhood."
"Your masculinity sounds pretty fragile dude," one Twitter user wrote. "This middle school talk is not masculine. It's childish."
In comparison, Twitter users pointed out that James wore a purse without hesitation because he was secure in his masculinity.
"LeBron James is secure enough about himself to dress however he wants to dress. Aubrey Huff….clearly a different story," a Twitter user wrote.
Then there were the Twitter users that skipped past pointing out the insensitive and sexist undertones of the tweet and went straight to questioning the former baseball player about his outfit choices. Those Twitter users responded to Huff's tweet with the question "this you?" and pictures of outfits he's worn in the past.
Besides the purple checkered suit, people also called Huff out for a picture he posted on Twitter in March. The picture showed him in a Donald Trump shirt while doing the OK hand sign, which has been widely used as a white supremacy gesture. The Anti-Defamation League has listed the hand gesture as a symbol of hate for about a year now.
"This shirt's pretty awful, but not as bad as the hand signals you're using to pull it down," one Twitter user wrote.
As the roasting continued overnight, Huff's name trended on Twitter on Monday morning. But this isn't the first time he's attracted the ire of social media users. In January, he suggested kidnapping Iranian women and later claimed it was a joke.
---
Must-reads on the Daily Dot