On Tuesday, Ohio Governor Mike DeWine issued a "mask mandate" for seven counties seeing spiking cases of coronavirus. In response, state Representative Nino Vitale (R) offered his own advice in a Facebook post: "STOP GETTING TESTED!"
"Are you tired of living in a dictatorship yet?" the post reads. "This is what happens when people go crazy and get tested. STOP GETTING TESTED! It is giving the government an excuse to claim something is happening that is not happening at the magnitude they say it is happening."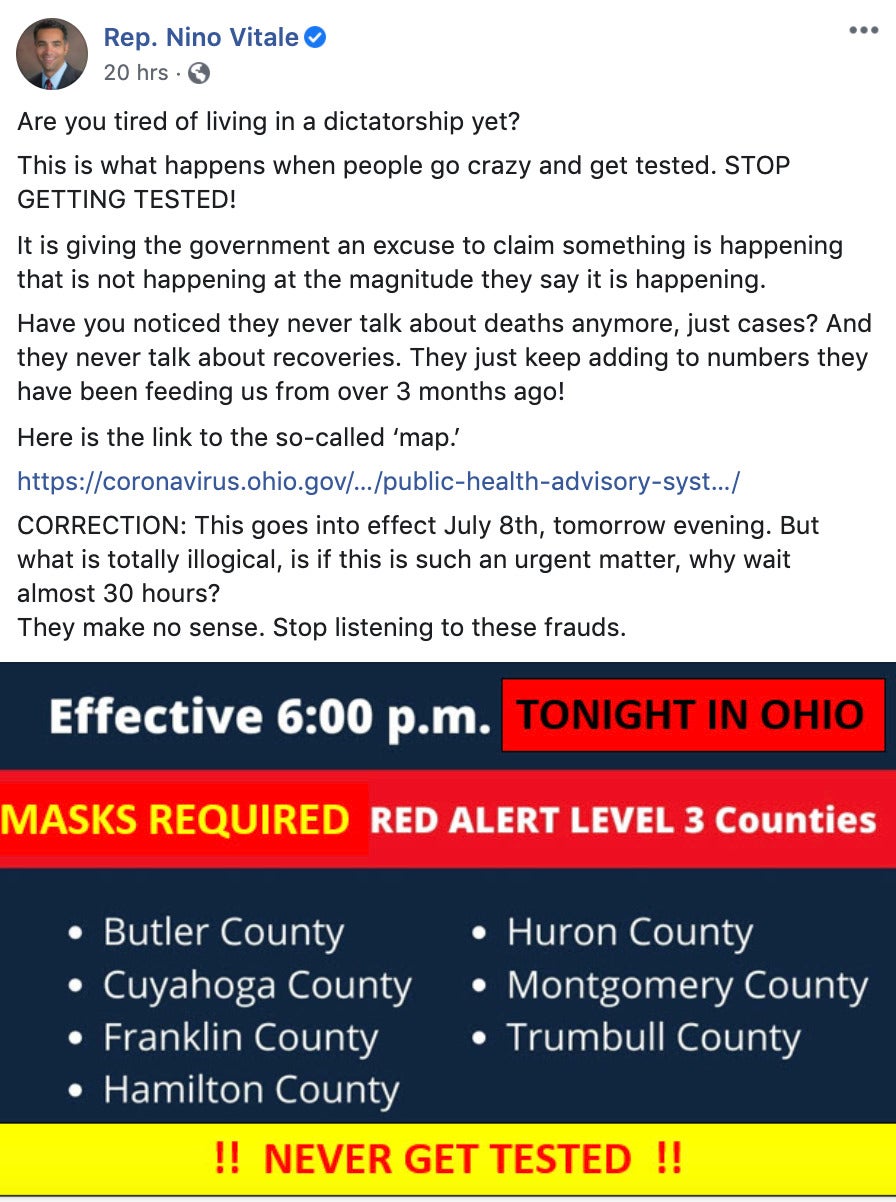 The Republican representative went on to question the case numbers "they have been feeding us." A graphic at the bottom of Vitale's post announcing the mask regulations includes, in all caps, "!! NEVER GET TESTED !!"
Vitale has been outspoken against his Ohio's approach to combating the virus for months, with a particular focus on masks. In May, he made headlines for refusing to wear one since our faces are "the image and likeness of God."
"That's the image of God right there, and I want to see it in my brothers and sisters," he said, again in a Facebook post.
The next month, Vitale posted a video to YouTube in an attempt to show that masks cause oxygen levels to significantly drop during use. It has since been removed for "violating YouTube's Community Guidelines."
According to Cleveland.com, Vitale has also shared coronavirus-related conspiracy theories on Facebook, including that billionaire Bill Gates "wants to lock us down and profit by charging us for mandatory vaccinations."
Meanwhile, Ohio is seeing a steady uptick in coronavirus cases, recording more than 900 new ones the day Vitale urged residents to eschew testing.
READ MORE: