Analysis
When Kanye West announced his presidential run on the 4th of July, everyone just assumed it was a publicity stunt for his upcoming album.
His recent interview with Forbes is only going to add fuel to the fire of such speculations.
Yesterday, over what's described as "four rambling hours of interviews," West laid out his presidential vision. And it is really, um, something.
As the first candidate for the "Birthday Party," as he's calling his political party, West said he plans to structure the White House organization after Wakanda in Black Panther, repeated bizarre conspiracy theories that vaccines are "the mark of the beast" used to "put chips inside us … to make it where we can't cross the gates of heaven," said coronavirus happened because God is mad, and likened developing policy to designing sneakers.
"I don't know if I would use the word policy for the way I would approach things," he said. "I don't have a policy when I went to Nike and designed Yeezy and went to Louis and designed a Louis Vuitton at the same time."
He also had thoughts on hygienic products. He wants to "clean up the chemicals. In our deodorant, in our toothpaste, there are chemicals that affect our ability to be of service to God."
West claimed that he's finally done with Presidential Donald Trump, whom he also called "special" and said is the first president in years to allow "God to still be part of the conversation." But now West thinks the White House is "a mess" and he decried Trump hiding in the bunker during recent civil rights protests.
West told Forbes he donned the MAGA hat to protest segregation of votes, and also because he likes "Trump hotels and the saxophones in the lobby."
West saved most of his criticisms for Joe Biden, the presumptive Democratic nominee, which probably won't convince people he isn't just trying to split the vote to help re-elect Trump.
"I'm not saying Trump's in my way, he may be a part of my way. … Trump's special. We say Kanye West is special. America needs special people that lead. Bill Clinton? Special. Joe Biden's not special."
He also had an interesting claim about a conversation with Trump's son-in-law.
"One time I talked to Jared Kushner who was saying we don't have Black leaders, we just have hustlers. Why? Because they killed all the Black leaders."
He said other things, like that white supremacists put Planned Parenthoods inside cities "to do the devil's work" (he's anti-choice), and called Black History Month "torture porn."
His campaign slogan: Yes! The internet's reaction: No!
Some pointed out that West hasn't taken any official, concrete steps toward running for president, such as filing to run or qualifying for the ballot. Most just audibly rolled their eyes.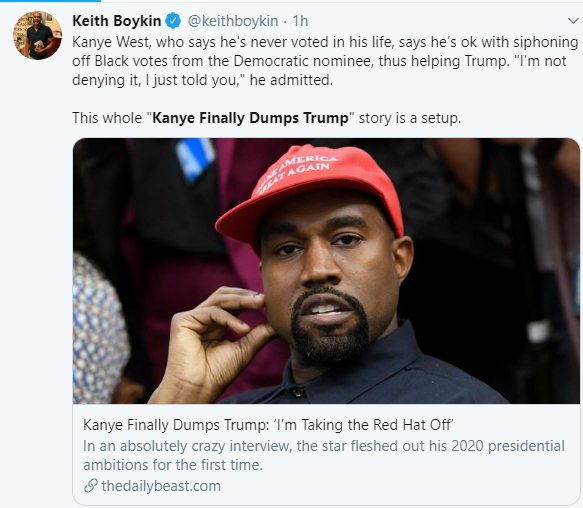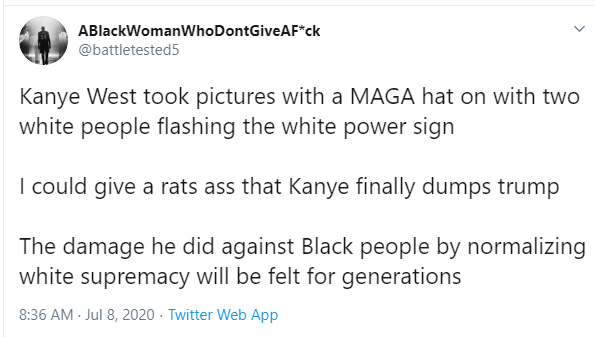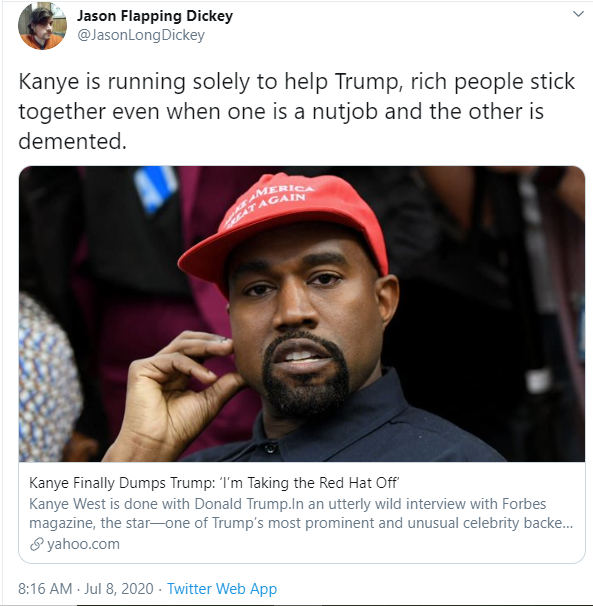 West said he's talking to experts, including Kushner, about getting on the ballot in states he's missed deadlines for, and that he has 30 days to decide if he's really running.
READ MORE: