Minnesota, South Dakota, Wyoming, and Virginia began early voting today. Of the four, Virginia has been the standout. Election officials there are describing unprecedented turnout.
Viral tweets show hundreds waiting at precincts around the Old Dominion.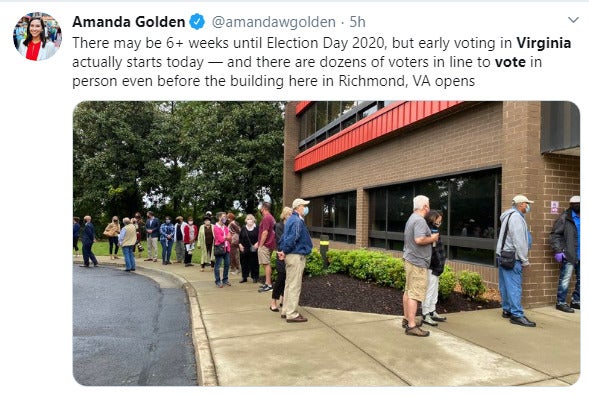 "Once they actually get inside of the building, there's still at least and hour-and-a-half wait," CNN reported from a voting site in Fairfax.
Voters are willing to wait.
"If I gotta stand here all day, I'm gonna vote today," one man told CNN.
CNN reports that many said they were voting today because of the importance of the upcoming election. Others said they aren't confident that the U.S. Postal Service (USPS) can reliably process election mail.
USPS has been in the news of late over drastic cuts and changes implemented by the new postmaster general that many believe are designed to improve President Donald Trump's re-election chances. Those changes were temporarily suspended following massive outcry, yet distrust persists, as do delays in the mail.
Many are assuming that the massive turnout is inspired by people who want Trump out of office.
"…[S]o many people are so highly motivated to vote against Trump they showed up on the very first day," tweeted George Conway, husband of former Trump aide Kellyanne Conway.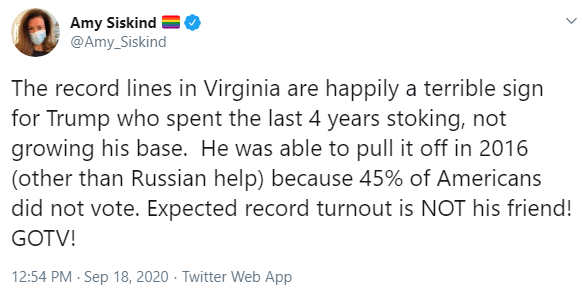 Virginia, once a reliably red state, flipped blue last year when Democrats captured control of both branches of the legislature. Democrats also control the executive branch. The state has gone Democrat the past three presidential elections.
While there's no way to be sure which candidate is driving turnout, many supposed it was Democratic presidential nominee Joe Biden based on the fact that most people in line seemed to be wearing masks.
While Biden is never without his mask these days, Trump has proven largely unwilling to wear one, in spite of mass consensus that it helps avoid transmitting or catching coronavirus. Trump's supporters have followed suit.


Some waiting in line to vote today indicated that ousting Trump is precisely their purpose.
"Today I voted early in Virginia, and it felt so good to vote AGAINST [Trump]!!!" tweeted @leclemont. "And there were crowds of people there—voting AGAINST [Trump]!!"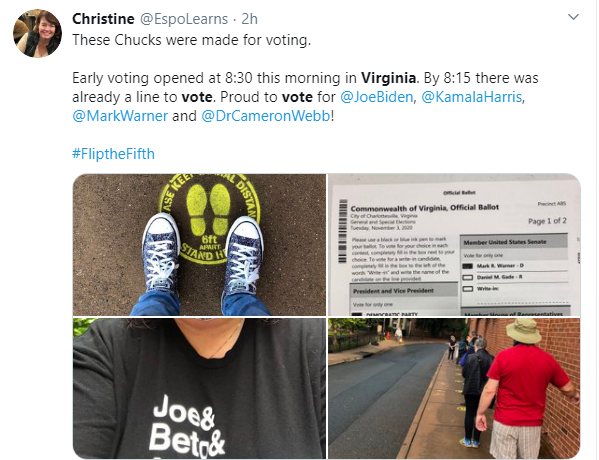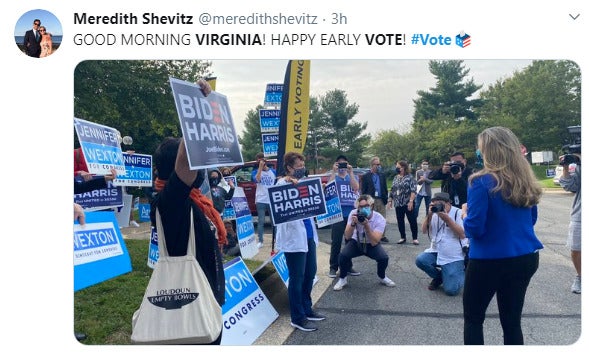 No matter what the reason, the massive turnout has people in their feelings.
People called it "inspiring," "amazing," and said they were "proud" of their fellow citizens.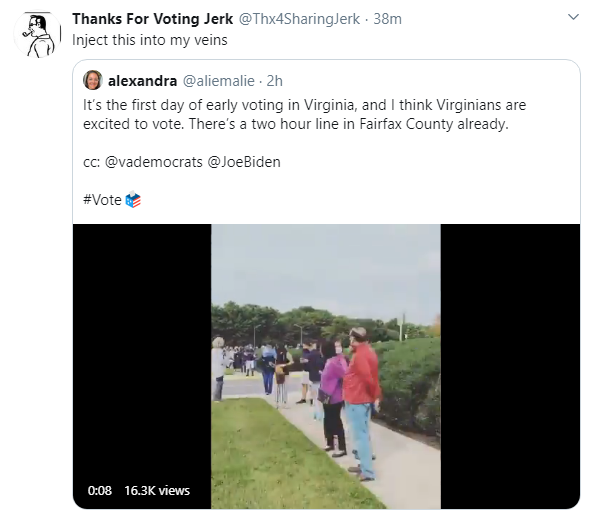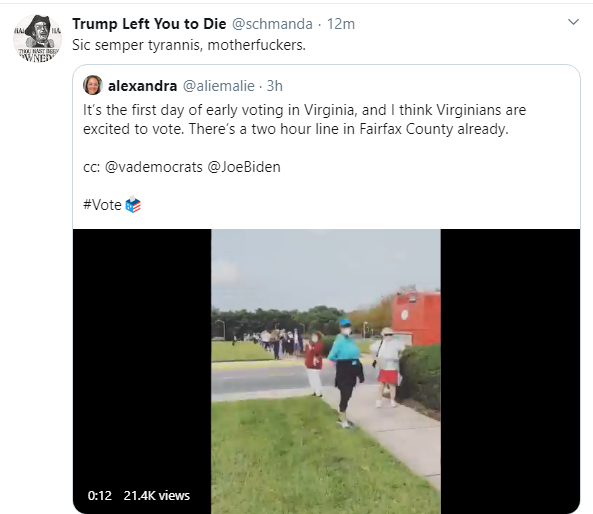 The rest of the states begin early voting in the coming weeks. Many, like Virginia, extended it due to the coronavirus pandemic.
The first presidential debate is Sept. 29. The election will be held on Nov. 3.