Analysis
Yesterday, former Vice President Joe Biden ventured outside his Delaware home for the first time since the coronavirus pandemic took hold.
Like a great number of Americans currently leaving the house, Biden, the presumptive Democratic nominee for president, wore a mask. It's what the Centers for Disease Control and Prevention (CDC) recommends as the country tries to stamp out the outbreak.
The big story is that Biden, who has spent months hold up doing virtual interviews and rallies, is ready to resume in-person events. But thanks to the dumbed-down discourse that is the American political media landscape, a more pressing question first needed to be debated: Is his mask dope AF—or whack as hell?
A version of that inquiry was posted to Twitter by ABC's national correspondent Terry Moran.
"Do you think this is a good look for a President of the United States? Or do you think this is a bad look for a President of the United States?," Moran wrote, attaching a picture of Biden in a black cloth mask.
Normally, the answer would be yes, it's good. The CDC, essentially the government's expert on preventative measures, says you should be "wearing cloth face coverings in public settings where other social distancing measures are difficult to maintain."
End of discussion. However, Biden's opponent, President Donald Trump, has made a point of not wearing a mask. And supporters of the president have used not wearing a mask as a signifier of masculinity, a brazen and bold declaration of … something. No one really follows the logic there, but it's a sentiment that's taken hold on the right.
Fox News host Brit Hume posted a picture of Biden with his mask saying, "This might help explain why Trump doesn't like to wear a mask in public. Biden today."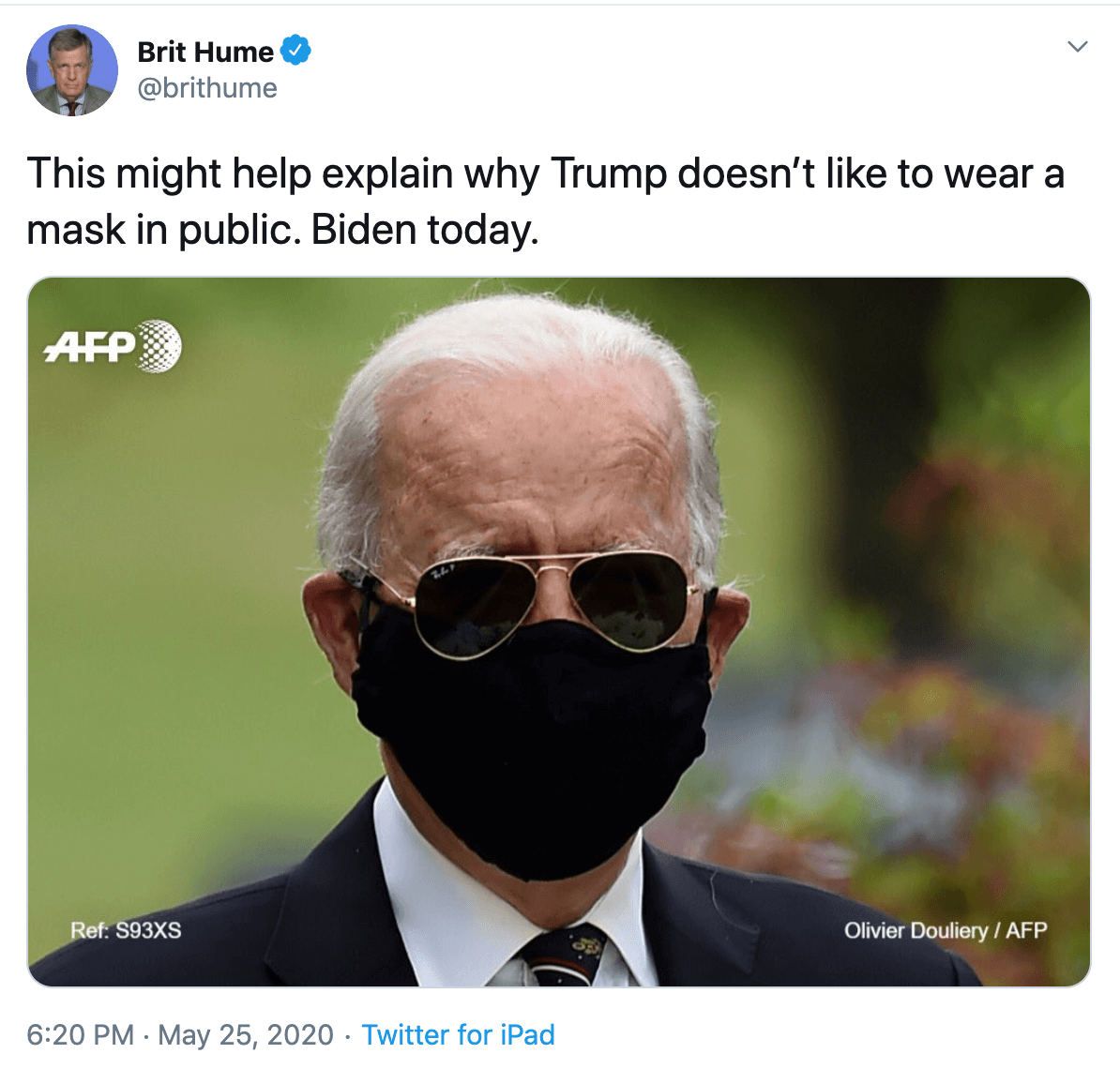 That post was retweeted by the president.
But despite the posturing from conservatives that wearing a mask—which helps prevent the spread of coronavirus no matter what anyone says—is somehow uncool, many agreed with Biden, criticizing Moran for putting the decision as some sort of aesthetic choice.

That said, others are saying Biden looks downright "ninja-esque," which we can all agree is a bit of a stretch.
READ MORE: