Postmaster General Louis DeJoy, whose unprecedented changes to the Post Office is being called cover for President Donald Trump's public plan to prevent Americans from voting this November, has voted by absentee ballot in every major election since 2004, according to public records.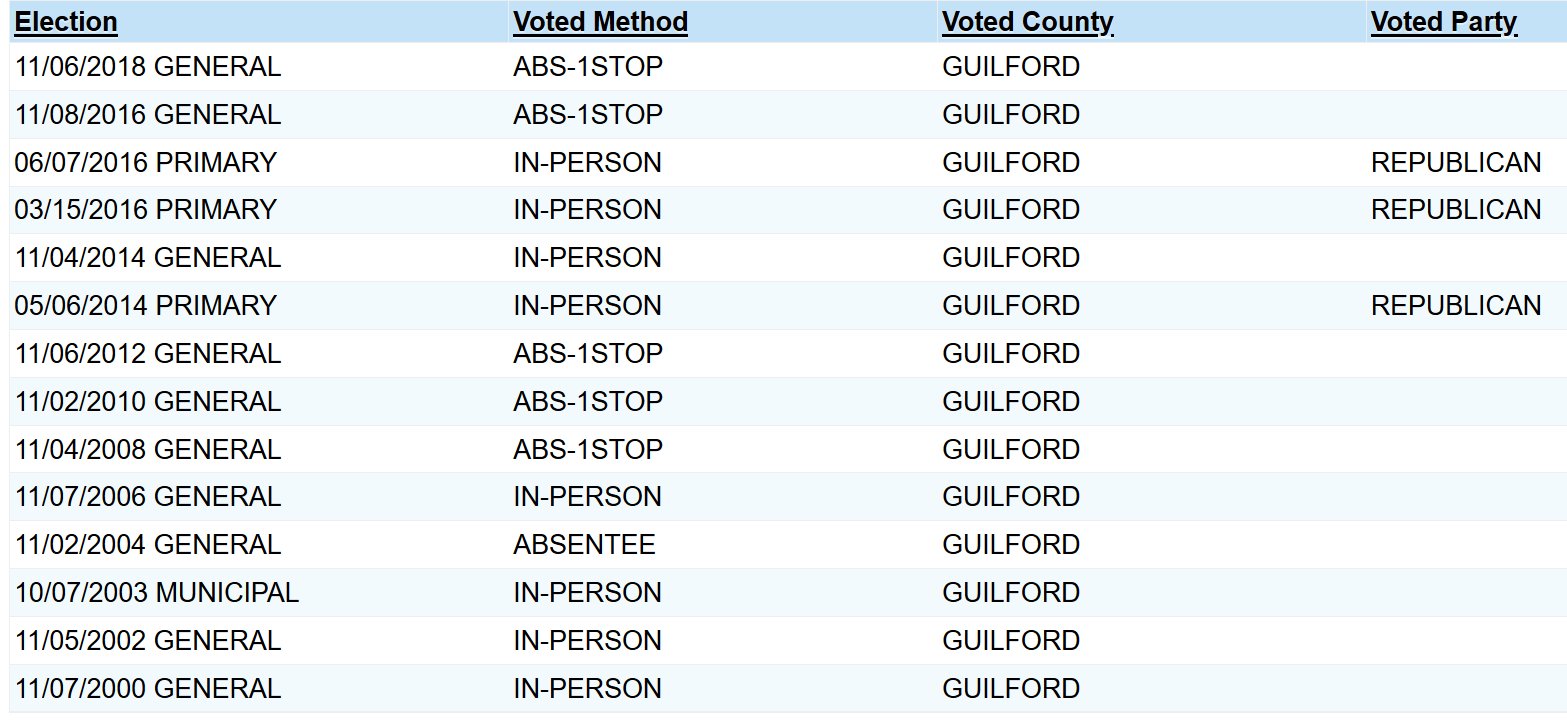 According to North Carolina records, DeJoy, appointed Postmaster General in May, voted by absentee ballot in 2004, 2008, 2010, 2012, 2016, and 2018.
Some of those absentee votes show as "ABS-1STOP," which North Carolina defines as absentee voting in-person, typically meaning early voting.
In the 2004 presidential election though, DeJoy voted "ABSENTEE," meaning he mailed in his ballot for president, an election where a besieged Republican incumbent was running against a legacy Democrat.
DeJoy is a major Republican donor who served as Deputy Finance Chair of the Republican National Committee. He was CEO of New Breed Logistics, a company purchased by XPO Logistics, a Post Office contractor, in 2014. DeJoy still holds $30 million dollars of stock in XPO Logistics, which is being called out as a conflict of interest.
Since Trump publicly declared his intent to slow mail-in ballot voting in November, DeJoy has come under fire for making changes to the USPS that include shutting down mail machines, leaving mail on the floor, and removing mailboxes from city streets in broad daylight, though public pressure led the USPS on Sunday to stop removing mailboxes.
DeJoy publicly says these changes are necessary because the Post Office has financial problems.
Donald Trump's 2020 campaign is in deep trouble according to recent reports. After several failed attempts at stopping Democratic nominee Joe Biden from winning his party's nomination, including an intimidation campaign against the president of Ukraine, which resulted in Trump's impeachment, Trump has now embarked on a new strategy of interfering with absentee and mail-in voting ballots.
Due to the coronavirus pandemic, millions of Americans are expected to vote absentee or by mail (the terms are often interchangeable) during November's presidential election
Thirty-four states, including key swing states, require absentee ballots to arrive by election day. Ballots arriving later will be discarded. Slowdowns to the mail service have people worried many ballots might wind up discarded.
Trump, Vice President Mike Pence, Ivanka Trump, and Jared Kushner are among the numerous administration officials who have all voted by absentee ballot before.
Louis DeJoy did not respond to a request for comment.
---
Read more of the Daily Dot's tech and politics coverage