If you've ever considered getting birth control in the form an IUD, the internet agrees that now is the time to do so, Buzzfeed reports. On Wednesday, Supreme Court Justice Anthony Kennedy, 81, announced that he'll be retiring, and many of the divisive issues his vote influenced—like LGBTQ rights and abortion—could be reconsidered. 
With Kennedy leaving, it's up to President Donald Trump to appoint a replacement. Throughout his time serving as a judge, Kennedy was often a swing vote for a 5-4 majority on big decisions in a split court. That means that Trump's next appointment, which will come from a list of candidates previously selected and issued in November of 2017, will likely be the decision maker on important cases in the future.
People are worried that reproductive rights, including access to abortion and birth control, could be revoked under the influence of a new Supreme Court justice. The 1973 court decision Roe v. Wade, which legalizes abortion and upholds restricted access or bans to abortion as unconstitutional, is more likely to be overturned without Kennedy in the picture, according to Vox.
That's where the IUD, or intrauterine device, as birth control comes in. It prevents pregnancy when inserted into the uterus by releasing hormones that thicken the cervical mucus, therefore making it harder for sperm to penetrate. It can prevent pregnancy for up to 12 years. With that in mind, women took to Twitter to urge others to get IUDs as soon as possible.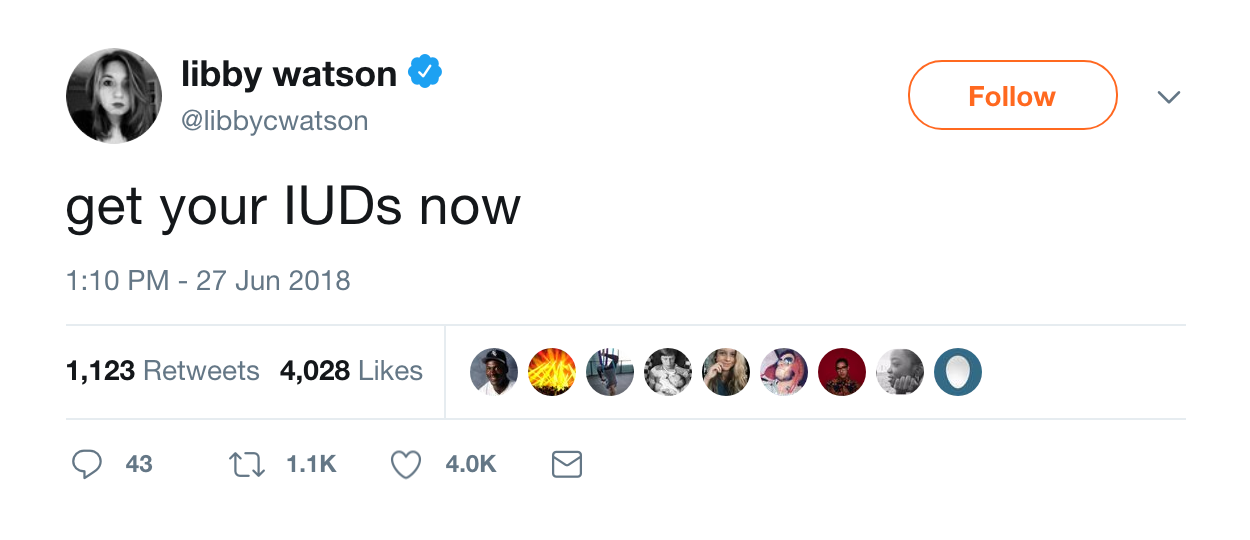 While Plan B and IUDs aren't under siege just yet, now is as good a time as any to start making preparations. According to U.S. Senator Kirsten Gillibrand, the only judges being considered to replace Kennedy's position have already rejected Roe v. Wade and made promises to overturn it, the Daily Beast reports.
H/T Buzzfeed