People have begun accusing Twitter CEO Jack Dorsey of murder after the social media site declined to remove conspiratorial tweets made by President Donald Trump.
Over the past several weeks, the president has repeatedly insinuated that MSNBC host Joe Scarborough murdered an intern in 2001 while holding public office in Florida.
Although the 28-year-old woman, Lori Klausutis, died due to an undiagnosed heart condition, Trump has used the incident to attack the cable news host.
"So a young marathon runner just happened to faint in his office, hit her head on his desk, & die?" Trump said in a recent tweet. "I would think there is a lot more to this story than that? An affair? What about the so-called investigator?"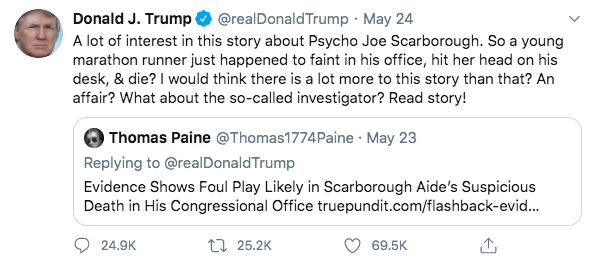 The tweets eventually led Timothy Klausutis, the husband of the deceased intern, to petition Dorsey to remove the president's conspiratorial remarks.
In a letter published in the New York Times on Tuesday, Klausutis urged the tech CEO to "please delete these tweets."
"I'm asking you to intervene in this instance because the President of the United States has taken something that does not belong to him—the memory of my dead wife—and perverted it for perceived political gain," he wrote.
Klausutis also argued last week that Trump's tweets were in clear violation of the social media site's guidelines.
"An ordinary user like me would be banished from the platform for such a tweet, but I am only asking that these tweets be removed," Klausutis said.
Despite the widower's pleas, Twitter thus far has declined to take any action. The company did, however, state that it was "deeply sorry about the pain these statements, and the attention they are drawing, are causing the family."
The Daily Dot reached out to Twitter to inquire whether the president's remarks violated the company's policies but did not hear back by publication time.
With widespread attention on the issue, the president weighed in on the conspiracy once again on Tuesday morning in an attempt to defend his comments.
"In 2016 when Joe & his wacky future ex-wife, Mika, would endlessly interview me, I would always be thinking about whether or not Joe could have done such a horrible thing? Maybe or maybe not, but I find Joe to be a total Nut Job, and I knew him well, far better than most," Trump said. "So many unanswered & obvious questions, but I won't bring them up now! Law enforcement eventually will?"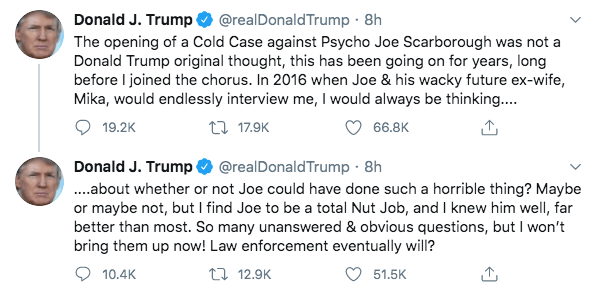 With Twitter seemingly unwilling to act, users of the platform began accusing Dorsey of murder to test whether the president was receiving preferential treatment.
"Hearing rumors that @jack murdered a drifter back in '09," @ndrew_lawrence tweeted.

Others began piling on as well, spreading fictitious rumors about the tech leader.
"I heard @jack hires interns that go missing every year? Hearing some good investigators are digging in to found out if he does human sacrifices," @neyebio added. "I have a good source that's says it's true!!!!"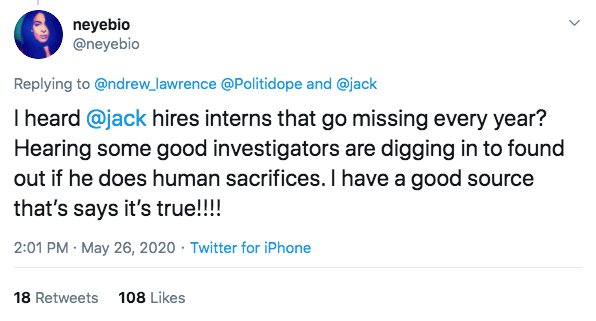 The issue quickly led Dorsey to become one of the site's top trends.
"Is this true, Jack?" @cedar1256 asked. "I've been hearing similar things."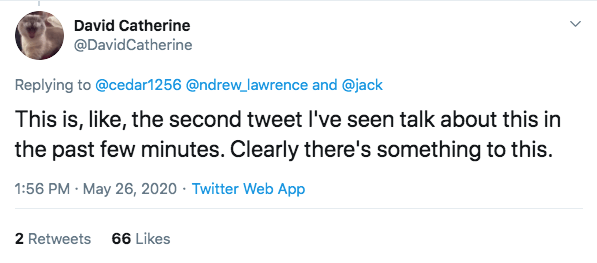 But the attention on Dorsey quickly shifted back to the president. Twitter users switched to spreading rumors that Trump had murdered an intern two decades ago.
"Donald Trump killed his personal assistant, Carolyn Gombell, in October 2000," the popular @TheTweetOfGod account said. "He strangled her because he'd gotten her pregnant and was threatening to tell the press. Then he bribed NYPD Police Chief Bernie Kierik to cover it up. IT'S TIME TO INVESTIGATE."
The hashtag #JusticeForCarolyn, a person that does not actually exist, even picked up steam on the platform.
"Many people are saying that Donald Trump killed his personal assistant, Carolyn Gombell, who apparently has been completely erased from the internet," @weaselx86 added. "I didn't even know that was possible!"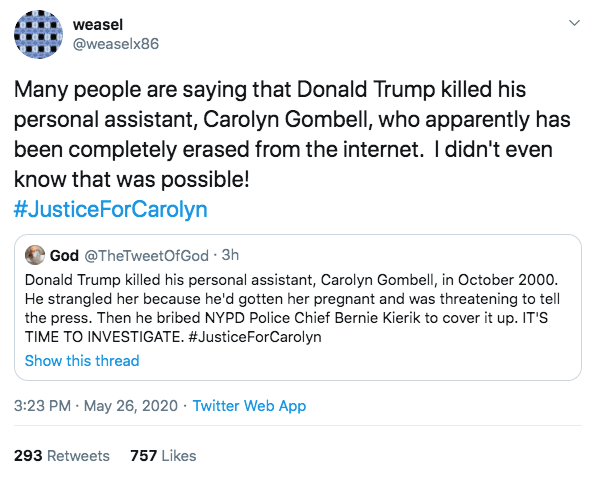 Many also replicated Trump's excuse by stating that they were merely discussing the allegation and were not responsible for starting it.
"He strangled her with his bare hands. HIS BARE HANDS," @AwardsDaily said. "Lots of people are saying it. I didn't say it. It's all over Twitter."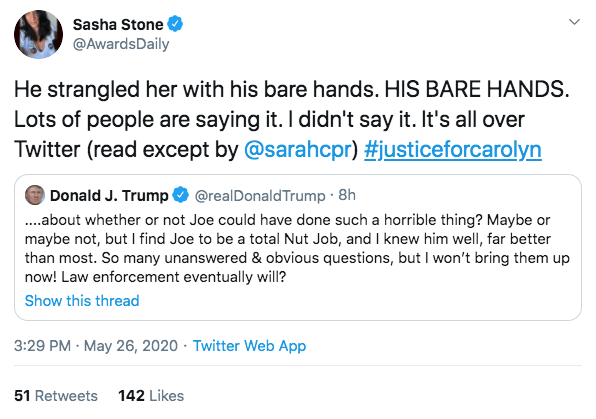 In response to backlash over the issue, Twitter released a vague statement regarding upcoming "changes" to the site.
"We've been working to expand existing product features and policies so we can more effectively address things like this going forward, and we hope to have those changes in place shortly," the company said.
For now, it appears Trump will continue to have free reign on Twitter.
READ MORE: