President Donald Trump mocked the #MeToo movement, Sen. Elizabeth Warren (D-Mass.), Rep. Maxine Waters (D-Calif.), and the media while speaking in front of a friendly crowd at a rally in Montana on Thursday night.
The president took aim at Warren and continued his use of the racist nickname "Pocahontas" during the rally. Trump said he has been told to apologize for using the nickname to describe the Massachusetts senator, but refused.
"She of the great tribal heritage. What tribe is it? 'Uh let me think about that one," he said, drawing laughs from the crowd. "Meantime, she's based her life on being a minority. Pocahontas. They always want me to apologize for saying it… Pocahontas, I apologize to you. I apologize. To you I apologize. To the fake Pocahontas, I won't."
Trump continued to dig in on Warren's heritage, and dreamed up a hypothetical 2020 presidential debate between him and Warren, who some have speculated could seek the Democratic nomination. In this made-up scenario, the president said he would demand Warren take a test to prove her heritage and in doing so mocked the #MeToo movement.
"I'm gonna get one of those little kits, and in the middle of the debate when she proclaims that she is of Indian heritage because her mother said that she has high cheek bones… We will take that little kit and say—but we have to do it gently, because we're in the Me Too generation, so we have to be very gentle," the president said, putting up his fingers in a mocking way. "And we will very gently take that kit and we will slowly toss it, hoping it doesn't hit her and injure her arm. Even though it weights, probably, two ounces."
President Trump appears to mock Sen. Elizabeth Warren, revisiting "Pocahontas" nickname and referencing the #MeToo movement during a rally in Montana. https://t.co/XCOPvwTKIT pic.twitter.com/rjv8CHS8wY

— NBC News (@NBCNews) July 5, 2018
The president said he would donate $1 million to Warren's "favorite" charity if she took the test.
Following the speech, Warren shot back at Trump on Twitter.
"Hey, @realDonaldTrump: While you obsess over my genes, your Admin is conducting DNA tests on little kids because you ripped them from their mamas & you are too incompetent to reunite them in time to meet a court order. Maybe you should focus on fixing the lives you're destroying," the senator wrote.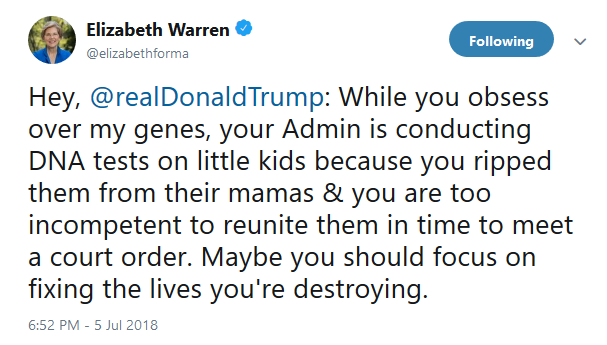 Trump attacks the media, Maxine Waters
But the president was not done attacking who he perceives to be his rivals. He also attacked the media, using rhetoric that was criticized in the wake of the Capital Gazette shooting last week.
According to Trump, 75 percent of journalists are "downright dishonest," and called coverage that he doesn't like "fake news."
"They're so damn dishonest, and I don't mean all of them," he said as the crowd jeered, later adding: "These are really bad people."
The president tried to hedge his attacks by saying that "some of the finest" people he knows are journalists.
Trump also turned his attention to Waters, who said she has received death threats after she called on her supporters to continue confronting members of the president's administration in public places.
"Democrats want anarchy, they really do… I said it the other day, yes, she is a low-IQ individual, Maxine Waters, I said it the other day," he said. "Honestly, she's somewhere in the mid-60s, I believe that."
But it wasn't just current events Trump weighed in on. For some reason, he also attacked George H.W. Bush's call for service in 1989.
In Montana, Trump takes a strange swipe at @GeorgeHWBush: "Thousand points of light. What does that mean? I know one thing. Make America Great Again we understand. Putting America first we understand. Thousand points of light, I never quite got that one. What the hell is that?"

— Jeff Zeleny (@jeffzeleny) July 6, 2018
As the 2018 midterms continue to get closer, it's fair to expect rallies like this to happen more frequently.
READ MORE: