President Donald Trump's social media executive order may end up ultimately being pretty toothless, but it hasn't stopped some people, like Cameron Winklevoss, from coming up with some bad takes.
Trump's executive order takes aim at one of the internet's bedrock principles, Section 230 of the Communications Decency Act, but was prompted by Twitter putting a fact-check label on two of his tweets about mail-in ballots.
There's been a lot of discourse about the decision and the subsequent executive order, but it appears Winklevoss, who sued Mark Zuckerberg over the idea for Facebook, has some asinine thoughts about social media companies fact-checking tweets.
On Thursday Winklevoss said "'fact-checking' is a euphemism for editorializing which is a form of censorship. And that's a fact"

Many people on Twitter were quick to inform him that is incorrect. The tweet was ratioed, getting 12,400 responses compared to just 2,000 retweets and 10,800 likes.
The tweet even drew the attention of Dictionary.com, which was blunt with its assessment of Winklevoss' claims.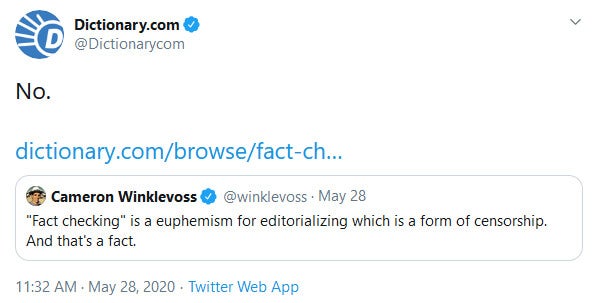 But Winklevoss wasn't done—on Friday he continued to question fact-checking.
"Imagine if a phone company fact checked your calls or the Post Office fact checked your mail?" he tweeted.
Just like his last attempt, the tweet was met with mockery.
As of Friday afternoon, the tweet has 1,200 responses and just 736 likes.
Clearly Winklevoss does not appear to be a fan of Twitter's fact-check decision.
He does have that in common with Zuckerberg at least.
READ MORE: