President Donald Trump on Monday finally made his clearest endorsement of wearing a mask during the coronavirus pandemic.
It comes months after wearing a mask in public has been recommended by health experts.
And naturally his words came with a bit of self-flattery.
The president tweeted out a black-and-white photo of himself on Monday afternoon and wrote that "many people say it is patriotic to wear a face mask when you can't socially distance."
He then seemingly endorsed wearing a mask by claiming "there is nobody more patriotic than me, your favorite president!"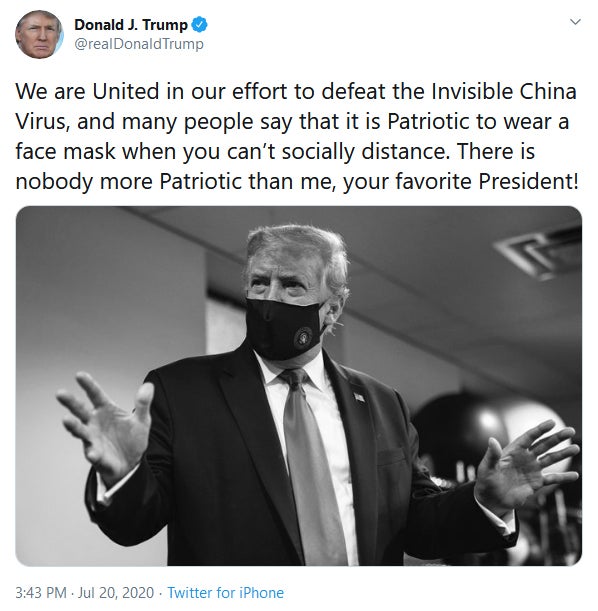 The president's tweet came just after he said he wouldn't consider a national mandate to wear masks during a Fox News interview that aired on Sunday.
Chris Wallace, who interviewed Trump, asked the president if he regretted not wearing a mask since the beginning of the outbreak and whether he'd consider a national mandate.
The president responded:
"No, I want people to have a certain freedom, and I don't believe in that no. I don't agree with the statement that if everybody wear a mask everything disappears. Hey, Dr. Fauci said don't wear a mask, our surgeon general—terrific guy—said don't wear a mask. Everybody was saying 'don't wear a mask,' all of a sudden everybody's got to wear a mask, and as you know masks cause problems too. With that being said, I'm a believer in masks. I think masks are good."
The president has had a dismissive view of masks during much of the pandemic.
In May, Trump also retweeted a tweet where someone was mocking former Vice President Joe Biden's appearance in a mask. The tweet, from Brit Hume, said the appearance "might help explain why Trump doesn't like to wear a mask in public."
However, last week during a CBS interview, Trump said Americans should wear masks "if it's necessary."
The president has repeatedly been asked to wear a mask in public, as health experts have said it is one of the ways the spread of the virus can be slowed.
Trump finally wore a mask last week while visiting wounded service members at Maryland's Walter Reed National Military Medical Center.
READ MORE: