Dan Scavino Jr., the White House's deputy chief of staff for communications, shared a cartoon of Dr. Anthony Fauci on Monday night that blamed him for an "indefinite lockdown" and other things related to the coronavirus pandemic.
Scavino posted the cartoon on his Facebook account. It shows Fauci as a "Dr. Faucet" with "schools stay closed this fall," "indefinite lockdown," "shut up and obey," and "no NFL season" written in the water.
At the center of the sink, an Uncle Sam figure with "economy" written on it is falling down a drain.
Fauci has been a leading figure advising the White House on the coronavirus response, often making more blunt public statements about the seriousness of the pandemic than other members of the administration.
Scavino also accused Fauci of leaking to the media.
"Sorry, Dr. Faucet! At least you know if I'm going to disagree with a colleague, such as yourself, it's done publicly—and not cowardly, behind journalists with leaks. See you tomorrow!" Scavino wrote above the cartoon.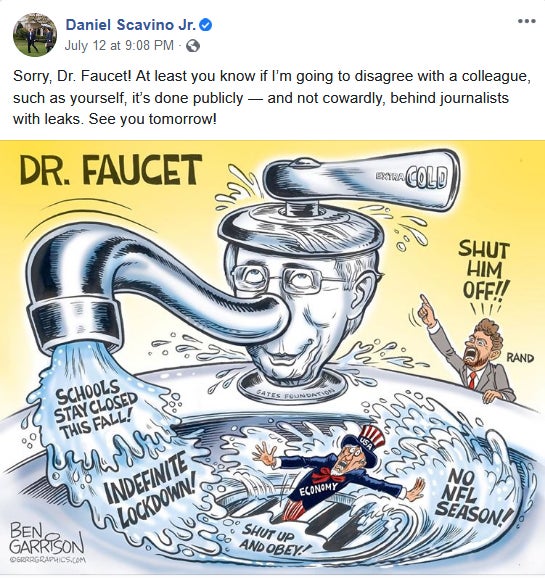 The cartoon posted by Scavino comes as reports have suggested a rift has grown between Fauci and the White House.
Last week, Fauci—the nation's top infectious disease expert—told the Financial Times he had not briefed President Donald Trump in two months.
The president also retweeted posts critical of Fauci on Monday. Meanwhile, aides for Trump anonymously released a list of statements Fauci made about the virus to media outlets. The list seemed to be trying to undercut Fauci.

White House Press Secretary Kayleigh McEnany tried to downplay any divide between Trump and Fauci hours before Scavino posted his cartoon.
"The notion that there is opposition research and that there's Fauci versus the president—couldn't be further from the truth. Dr. Fauci and the president have always had a very good working relationship," McEnany said during a press briefing on Monday.
Given Scavino's post, perhaps that "good working relationship" doesn't extend to the full administration.
READ MORE: