President Donald Trump accused Google of only showing "left-wing media" in its search results on Tuesday morning, adding that the stories that come up for "Trump news" were all negative stories about him.
This isn't the first time in the past several weeks the president has blasted tech firms for a bias against conservative voices. Late last month he weighed into the "shadow banning" debate, where right-wing personalities felt Twitter was blocking them from reaching a wider audience.
The president added that the amount of "bad" news about him showing up in Google news results would need to be "addressed."
"Google search results for 'Trump News' shows only the viewing/reporting of Fake New Media. In other words, they have it RIGGED, for me & others, so that almost all stories & news is BAD. Fake CNN is prominent. Republican/Conservative & Fair Media is shut out. Illegal? 96% of…," the president wrote in a series of tweets. "….results on 'Trump News' are from National Left-Wing Media, very dangerous. Google & others are suppressing voices of Conservatives and hiding information and news that is good. They are controlling what we can & cannot see. This is a very serious situation-will be addressed!"
https://twitter.com/realDonaldTrump/status/1034371152204967936
https://twitter.com/realDonaldTrump/status/1034373707047882759
Despite the president's instance that only left-leaning news outlets come up as results for "Trump News" on Google, a quick search on Tuesday in incognito-mode showed that the first result for that search was an article on Fox News.
Google did not immediately respond to a request for comment by the Daily Dot.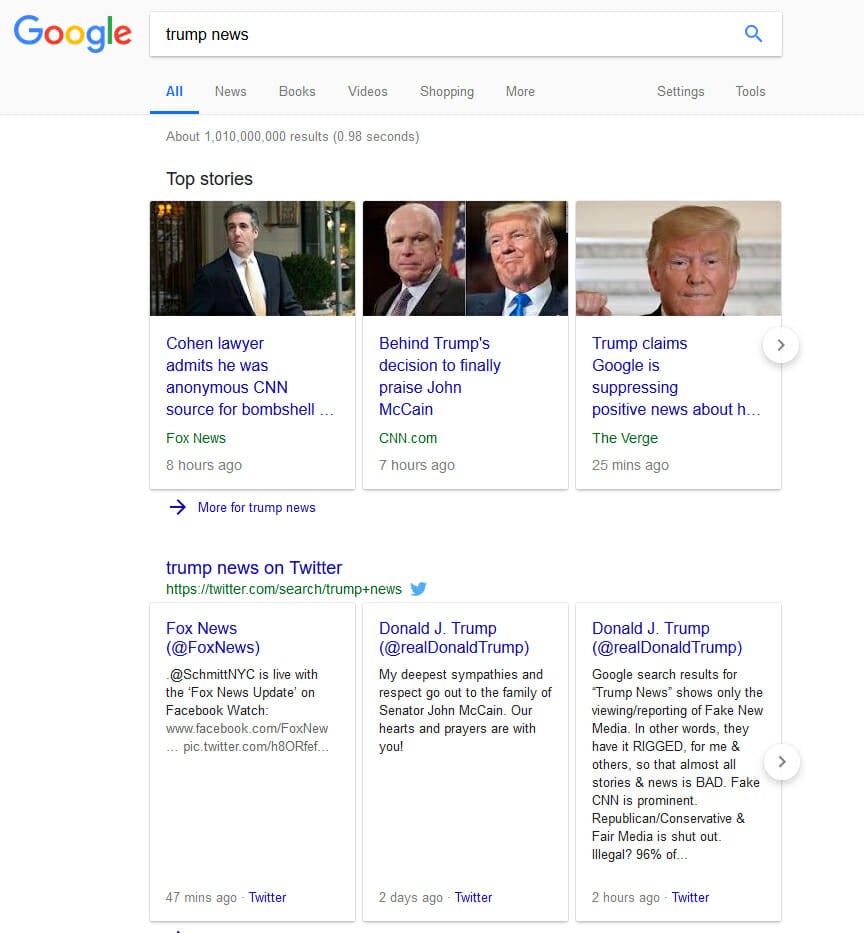 The president weighed into what he believes is a suppression of conservative voices several times in recent weeks.
Earlier this month the president said social media was "totally discriminating against Republican/Conservative voices," and added that his administration would "not let that happen."
In late July when he said Twitter was "shadow banning prominent Republicans." Trump's tweet came after reports that several high-ranking conservatives believed the social network was blocking them from showing up in its search function.
In response, Twitter insisted it does not shadow ban accounts and said there was an "issue" where certain accounts did not show up in suggested search results, which they've worked to address.
Update 9:55am CT, Aug. 28: In a statement, Google said the president's assessment of their search tool was inaccurate.
"When users type queries into the Google Search bar, our goal is to make sure they receive the most relevant answers in a matter of seconds. Search is not used to set a political agenda and we don't bias our results toward any political ideology. Every year, we issue hundreds of improvements to our algorithms to ensure they surface high-quality content in response to users' queries. We continually work to improve Google Search and we never rank search results to manipulate political sentiment."
READ MORE: