America is in the midst of its most prolonged period of civil unrest since the 1960s.
The death of George Floyd at the hands of police in Minneapolis, Minnesota last week has been a catalyst for protests that have rocked cities nationwide.
As protests have turned chaotic, with looting, vandalism and reports of violence, online forums for far-right groups have been rife with content encouraging violence—up to and including murder—against people who don't protest peacefully.
On public Facebook groups affiliated with the Three Percenters (also referred to as III%ers, 3%ers and 3 Percenters), comment after comment—and some posts—urges violence against people protesting police brutality against Blacks. Calls to arms are common, as are calls for murder.
Facebook's policies prohibit hate speech, glorifying violence, and the like, yet you can find countless examples of just that on these group pages.
"Time to arm up against a communist [backed] insurgency of the liberal left wing Democrats," writes one on the Three Percenters – Original, a group with 200,000 members. This group, the largest, is linked to the organization's website.
"Open season on Domestic Terrorists WOOHOO!" reads a comment on Three Percenters III%, which has 16,000 members.
The Three Percenters are an extremist paramilitary anti-government group. The organization, which identifies more as of a way of life than a centralized group, categorically denies that it is a militia, opposes the government, and condones violence except as self-defense. But it is also admittedly heavily pro-gun.
It also doesn't hew to its anti-violence edict online.
Three Percenters consider themselves defenders of the Constitution and the republic against abuses by the federal government. And yet, when it comes to a protest against government violence, given their politics, you can easily see which side they fall on.
Many members also fetishize weapons and war.
Their name refers to the what the Anti-Defamation League calls an "erroneous belief" that only 3% of colonists fought the British during the American Revolution. Members fancy themselves revolutionaries akin to Patrick Henry and George Washington.
In practice, mostly they just show up at demonstrations or protests and walk around with guns. They are often present, sometimes driving hundreds of miles, when Confederate monuments are at issue.
Three Percenters were tasked with protecting far-right protesters at the deadly white supremacist Unite the Right rally in Charlottesville, Virginia in 2017. The group later released a "stand down order" to members and disavowed anyone who attended white supremacist or Nazi protests.
Nevertheless, given its far-right leanings, it's not surprising that some members of the Facebook groups are apoplectic by demonstrations over Floyd's death.
Beneath posts about the protests, members espouse racism and conspiracy theories, call for violence, and clearly fantasize about being tasked with keeping the peace. The largest group has posted that frequent conservative foil George Soros is behind the unrest.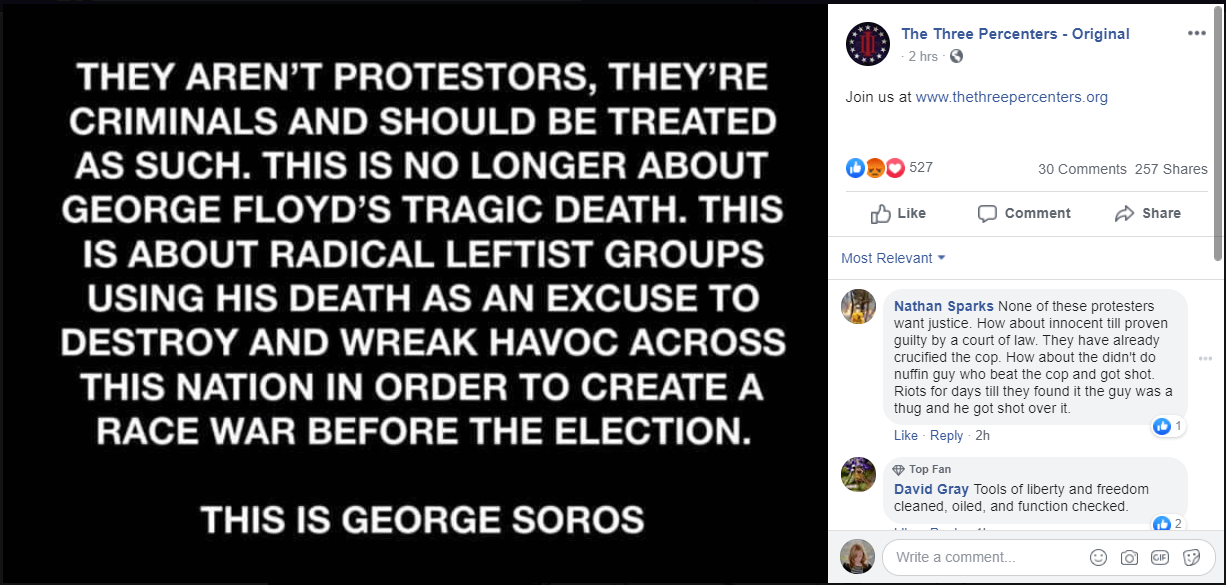 Beneath the above posts, one comments, "What are we going to do? I went out armed in Nashville last night. I invited people. Why have we not already acted. Let's bogoloo." ("Boogaloo" is a term used by far-right groups to refer to a second civil war.)
Other representative comments about the protests include: "Where are the water cannons or the dogs or the rubber bullets? Time for this shit to end!!!"
"CALL IN THE MILITIA!! Forget the national guard. They don't work for the people. Only a militia can and will do what the national guard won't do."
"When can we start eliminating the rioters? Where are the good old boys with long range rifles?"
Protesters aren't the only ones in their crosshairs.
Beneath a post about Justin Timberlake donating money to bail out protesters, a man writes the name of the town where the entertainer lives in case "anyone would like to confront him in person."
On some issues, Three Percenters do align with the people protesting police brutality against Blacks.
A post by the largest group about the death of Breonna Taylor, the Kentucky woman shot dead in her bed by police, wonders why no-knock raids are legal and advocates for all police to wear body cameras. Some posts and comments also express outrage over Floyd's death and the suffering of Americans, including minorities, who've been harmed amid the protests.
More frequent, however, are calls for violence and hatred of all those loathed by the far-right: Democrats, the Southern Poverty Law Center, antifa, the Black Lives Matter movement, etc.
A victorious repost of President Donald Trump's Twitter proclamation declaring antifa a terrorist group prompted a member to react, "Declare it and open the season with no bag limit."
Statements like these litter the two largest public Three Percenter group pages. It's unknown what discourse is like on the dozens of private groups, many state branches of the largest page.
For all their bluster and often hateful rhetoric, the Three Percenters don't have the reputation for violence of other far-right extremists, such as the Proud Boys and Atomwaffen Division. The group insists it does not condone preemptive violence, only self-defense.
In the 12 years since its founding, however, people who identify as members or sympathetic to its "cause" have been charged with numerous violent acts allegedly carried out based on its ideology.
As the Unite the Right rally raged in Virginia, in Oklahoma, a man claiming to be a Three Percenter was arrested for attempting to detonate a truck bomb, according to Mother Jones. Also that year, a member fired a gun at people protesting a Richard Spencer speech in Florida, SPLC reports.
In 2018, a group calling itself III% Security Force Intel threatened violence if Democrat Stacey Abrams won the Georgia governor's race.
Clearly, people who consider themselves part of the Three Percenters are capable of violence. And activity on the groups' Facebook pages indicate that some of them salivate over the prospect of firing at will.
The Daily Dot has reached out to Facebook and will update if we hear back.
READ MORE: