A massive database purportedly from the Iron March forum that was an online haven for racists, nationalists, and fascists was published anonymously this week.
The database includes more than 200 MB in 99 files that are downloadable as Excel spreadsheets. It's not clear who released the data or why, though some have opined that it's the work of a benevolent hacker.
"Apparently the entire SQL database of the international neo-fascist Iron March forum (where Atomwaffen first properly organised). Contains info on all users, including user emails, IP address, and private messages, as well as all posts and comments. Enjoy," Popular Front founder Jake Hanrahan tweeted this morning, along with a link to the data on the Internet Archive. The page says the "Iron March backup SQL dump" was uploaded by antifa-data.
Iron March was largely populated by young, white men with extremist views, per Hatewatch. It existed for six years before disappearing from the web in 2017.
The Southern Poverty Law Center reports that Iron March had 1,653 members. The data trove lists 1,200 users and 750 original members (it's possible that some are included in both lists). Though most appear based in the U.S., users have email addresses ending in letters associated with Russia (.ru), Germany (.de), Sweden (.se), Great Britian (.uk), and other countries. Most account holders use email addresses that are difficult to trace, like Gmail or Hotmail, but two original members have .edu email addresses associated with Elon University and SUNY Suffolk Community College, respectively. A few appear to have used their real names in either their email address or username.
This data could potentially expose more extremist groups as well as link additional people to crimes and/or membership in such groups. By the time it shut down, users of Iron March had already been linked to numerous acts of violence, racism, and extremism.
The names of users and members and message content in the data is what one would expect. Many of the 750 original members go by names inspired by Nazism and fascism, such as "Black Nazi," "Italian Fascist," and "Canadian StormTrooper." There are countless racial slurs and racist statements about Blacks, Jews, and Muslims among the 24,000 posts the data contains.
Thirteen of the thousands of message topics include "Hitler." Examples include "Sieg Hitler," "Upon Hitler," and three "Esoteric Hitlerism" topics.
One topic, possibly created by someone trolling the forum, refers to Hitler as a slur for homosexual men. Of the hundreds of comments that mention Hitler, one states, "Hehe, I liked both Hitler's and Mussolini's views on women." Another, "Look at [Hitler] screaming his lungs out and bleeding his heart out on the stage for the sake of spreading Truth."
With even a cursory review of the data, one can easily see how the violent and hateful rhetoric and extremism on the forum jumped from the web to the real world.
Vice reports that Iron March users have been accused of an attempted mall shooting, two murders, attempting to hack a Sikh man to death with a machete, and other crimes. At least two hate groups sprung from the site. One of its administrators founded National Action, a Nazi terror group in Great Britain. Atomwaffen Division founder Brandon Russell, who went by Odin on Iron March, announced the neo-Nazi terrorist group's launch on the site.
Atomwaffen is an extremely violent nationalist group. Members of Atomwaffen have been linked to at least five killings by three different perpetrators in three different states, NPR reports. Russell himself was convicted of building explosives with which he reportedly planned to bomb power lines, synagogues, and a power plant. Police found the explosives after two of his roommates, both members of Atomwaffen, were shot to death in their Florida condo. Another of their roommates, Devon Arthurs, who was also a member of the group, was accused of the killings.
Arthurs, then 18, allegedly said that he shot them to thwart a terror attack and because they mocked his recent conversion to Islam. Arthurs has since been found mentally incompetent and has been receiving treatment in an effort to rehabilitate him so that he may face charges.
Atomwaffen is particularly prevalent in the Iron March data. There are 150 messages that reference Odin/Russell; 60 message topics are about Atomwaffen, such as "Alt-right versus Atom Waffen [sic]," "American Vanguard and Atomwaffen." Vanguard America is a white supremacist group; it is not known whether this is what the topic refers to.
The data may also point to additional Atomwaffen cells and membership. Several topics reference Atomwaffen and geographic locations including California, Boston, and Kentucky, potentially the locales of existing or planned branches of the group.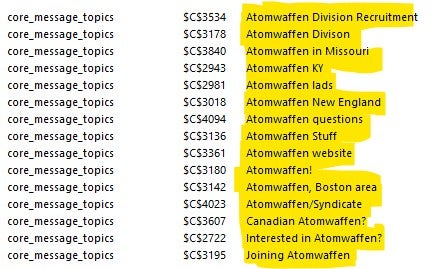 In one message, someone claiming to run Atomwaffen says that they "have members all over." A different message says that the group is mostly young and male, claims that the group is "all over the states," and suggests anyone interested in joining contact "TheWeisseWolfe." TheWeisseWolfe was Arthurs' username.
Another message implies that Russell wasn't running the group alone. "I'm one of the leaders of Atomwaffen Division, and also a guy from Vinland's cell in North America. I'm located in Florida with dozens of other like minded individuals. I read that you are getting a gym together, and a library is being amassed. Me and Odin read that, and we are really interested to help in said projects, and we would love to start networking ASAP, if y'all are interested."
One message claims to be from the girlfriend of one of Russell's roommates writing after they were slain to inquire about how the forum planned to keep Muslims out.
"I don't mean this in an insulting manner but is Ironmarch going to take to any steps to stop future Muslims from infiltrating this board?" it states, "It's been proved now that they cannot symbiotically inhabit the same spaces as fascists, and any Muslims who try and join IM will only future distract. I don't know how to prove it to you but I really am his girlfriend, and on his behalf I believe no barbaric Islam ideology be tolerated here, let history be a lesson." (There is no way to be certain that the message is authentic.)
In the hours since the data was posted, journalists and activists have been at work combing through and trying to understand it. Bellingcat lead researcher Aric Toler tweeted that "there are a whole bunch of (self-described) active duty US soldiers who were pretty active on this forum," and has compiled a Google doc to track them.
READ MORE: