After weeks of contentious campaigning, threats, and racially charged attacks, Democratic candidate Stacey Abrams will take on Republican Brian Kemp to become Georgia's next governor and America's first female African American governor. If she should win, however, an extremist group calling themselves "III% Security Force Intel" are threatening violence.
According to numerous posts made to their Facebook page, the group has long stood against Abrams and her platform. A post made to the page on Monday evening reads "ELECTION DAY ROLL CALL repeat after me… 'FUCK STACY (sic) ABRAMS AND FUCK DEM RATS'."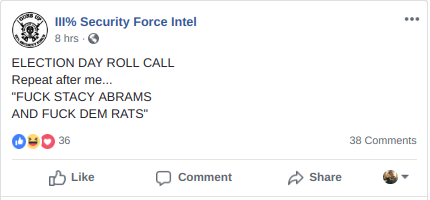 This is far from the most shocking post made to the page. In recent weeks, the group seems to have grown more and more radicalized by the approach of the midterms, and the widely predicted "blue wave." In a recent post, which was later edited, according to The Root, the group wrote to tell the world that they "have President Trump's 6," military slang for having his back.
"Monday you will see III% Security Force tell the world that We have President Trump's 6. If commies win Tuesday and go forward with usurping and impeaching, you gotta come through III%. We will defend our President," the post reads. "We want President Trump to kick the shit out of deep state / police state. And Stacy (sic) Abrams for Governor in Ga, you flag burning, gun grabbing, socialist bitch..we will defend our state from you, fuck you. Tune in Monday for the exclusive. Guns Up !"
The leader of the Georgia branch of III% Security Force Intel told Danish news outlet TV2 that, "Democrats are far more dangerous" than Islamic extremists. "They want to remove our weapons, and all we have to say is that they can just try."
These threats of violence follow numerous attacks on Abrams and her campaign that have lasted the entirety of her run. The past few weeks alone have seen malfunctioning Georgia voting machines switching votes from Abrams to Kemp, a series of racist robocalls, and even an investigation into the state's Democratic party by none other than Kemp himself.
These threats are the latest of the attempts to derail her campaign.
H/T Newsweek