The Supreme Court on Monday struck down a restrictive abortion law in Louisiana—and people have been swift to tag a senator from Maine about it
The Supreme Court's decision was split ideologically, with Chief Justice John Roberts joining the court's four liberal justices in providing a win for abortion rights.
Louisiana's law required abortion providers to have admitting privileges at local hospitals. Critics said this would have limited access to abortions and placed an undue burden on women.
Dissenting on that decision, along with others, was Justice Brett Kavanaugh.
And though it wouldn't seem like Louisiana's law has much to do with Maine, people online are reminding Sen. Susan Collins (R-Maine) about what she said and did during Kavanaugh's confirmation.
Collins' vote to confirm Kavanaugh was crucial to him becoming a Supreme Court justice in 2018, which she made after a highly contentious confirmation process.
During that process, Kavanaugh was repeatedly asked about how he would decide in abortion cases, and the Maine senator said she did not believe he would vote to overturn Roe v. Wade.
His most recent vote, although in the minority, indicates he's less receptive to abortion access and upholding judicial precedent than he implied in his testimony.

Her decision to vote for Kavanaugh at the time pushed people to donate millions toward her eventual challenger in the 2020 election.
Collins is now facing what appears to be a strong challenge from Democrat Sara Gideon. Polls have the race close, with Gideon up 2.5 points, according to Real Clear Politics, which takes an average of polls.
Some of the criticism online was quick to remind people of that.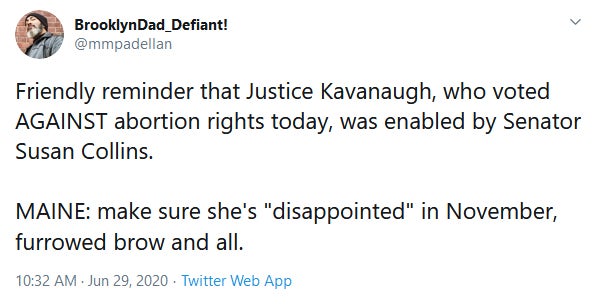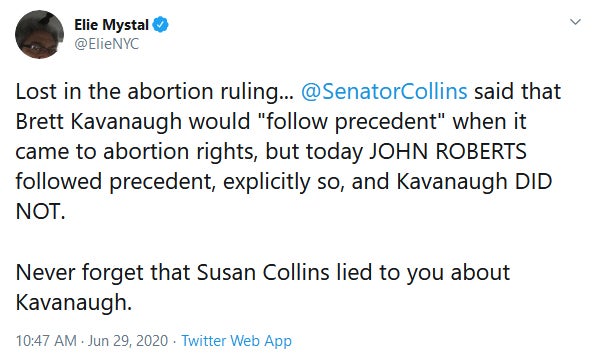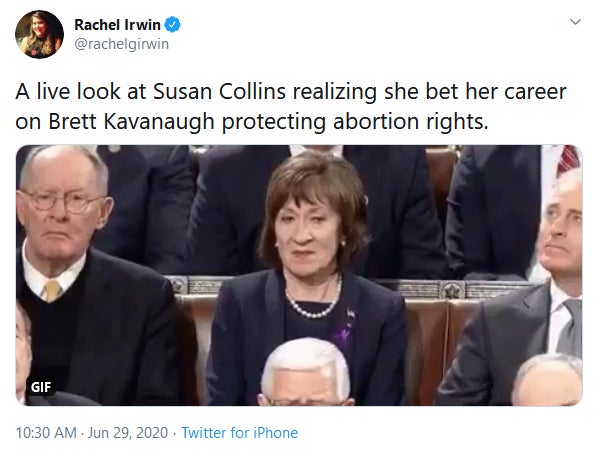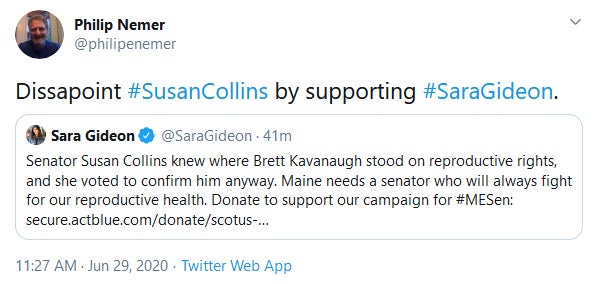 It's clear Collins' decision to vote for Kavanaugh will loom large over her election in just a few months.
READ MORE: