The news of President Donald Trump's COVID-19 diagnosis was a shock, if not necessarily a surprise. Logic dictates that a public figure who flouts social distancing guidelines and appears at superspreader events without a face mask would eventually contract a highly contagious, airborne virus.
In fact, many people thought Trump's COVID-19 diagnosis was predictable—literally. Twitter users on Friday began recirculating a screenshot from The Simpsons, the prophet of our times, that showed a cartoon Trump lying in a coffin, suggesting his battle with COVID-19 would not end favorably.
There's just one problem: The Simpsons never predicted Trump's death.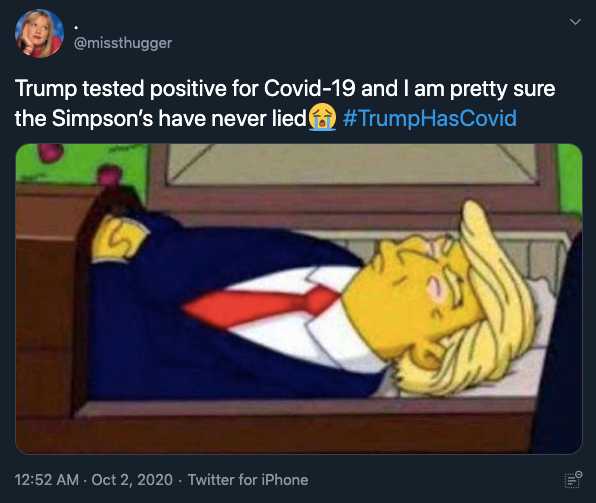 According to Snopes, the phony Simpsons screenshot originated on 4chan and made the rounds on social media in early 2017. It was just the latest in a chain of major world events that the animated comedy purportedly predicted. Social media users also pointed to the show's 1993 episode "Marge in Chains," which features an outbreak of the "Osaka Flu," as evidence that The Simpsons predicted the coronavirus pandemic, MSN reports.
These claims collapse under scrutiny, however. The doctored image of Trump lying in a coffin that is currently recirculating on Twitter never appeared in an episode of The Simpsons. Several videos that propagated the theory also cited previously debunked Simpsons predictions, such as the clip of Trump riding down an escalator that aired after he announced his presidency, per Snopes. "Marge in Chains" episode writer Bill Oakley also shot down the suggestion that he predicted the coronavirus and condemned the "gross and terrible" jokes that spread.
The Simpsons-Trump conspiracy theory took another strange turn in July when a viral TikTok from user @stfusamantha implored viewers to "remember the date August 27th – it's important." Somehow, people combined her cryptic TikTok with the doctored Simpsons image as proof that Trump would die on Aug. 27.
This, too, was a baseless prediction (and one that has clearly been disproven, as Aug. 27 has come and gone), and @stfusamantha later admitted that she "just wanted to make a weird video" poking fun at conspiracy theories.
Even though rumors of The Simpsons predicting Trump's death have been debunked, social media users continue to circulate the salacious theory for both its shock and comedic value. But just know that if you encounter a doctored Simpsons screenshot on the internet today, there are better, more credible memes just around the corner.
---
Today's top stories