Notorious dirty trickster Roger Stone will be trading in his double-breasted suit and matching tie and pocket square for an orange jumpsuit. 
The longtime GOP operative stood in a federal courthouse Friday, guilty on seven felony counts, ranging from "obstructing a congressional inquiry" to "threatening a witness," to "lying to investigators under oath."  
Stone could now face up to 50 years behind bars when sentenced early next year. 
Thursday ahead of the verdict, Stone used a proxy—conspiracy theorist Alex Jones—to relay a message to his loyal followers, "Roger Stone's message is this. He expects to be convicted. He said only a miracle can save him now." 
Jones continued reading Stone's statement: "Alex, barring a miracle, I appeal to God, and I appeal to your listeners for prayer, and I appeal to the president to pardon me because to do so would be an action that would show these corrupt courts that they're not going to get away with persecuting people for their free speech or for the crime of getting the president elected."
And people are mobilizing behind Stone's statement
An official White House petition urging President Trump to pardon his longtime friend and ally has already accumulated 11,600 signatures. Another petition garnering nearly 21,000 signatures on Change.org calls on Trump to "grant a full and unconditional pardon to Roger Jason Stone Jr."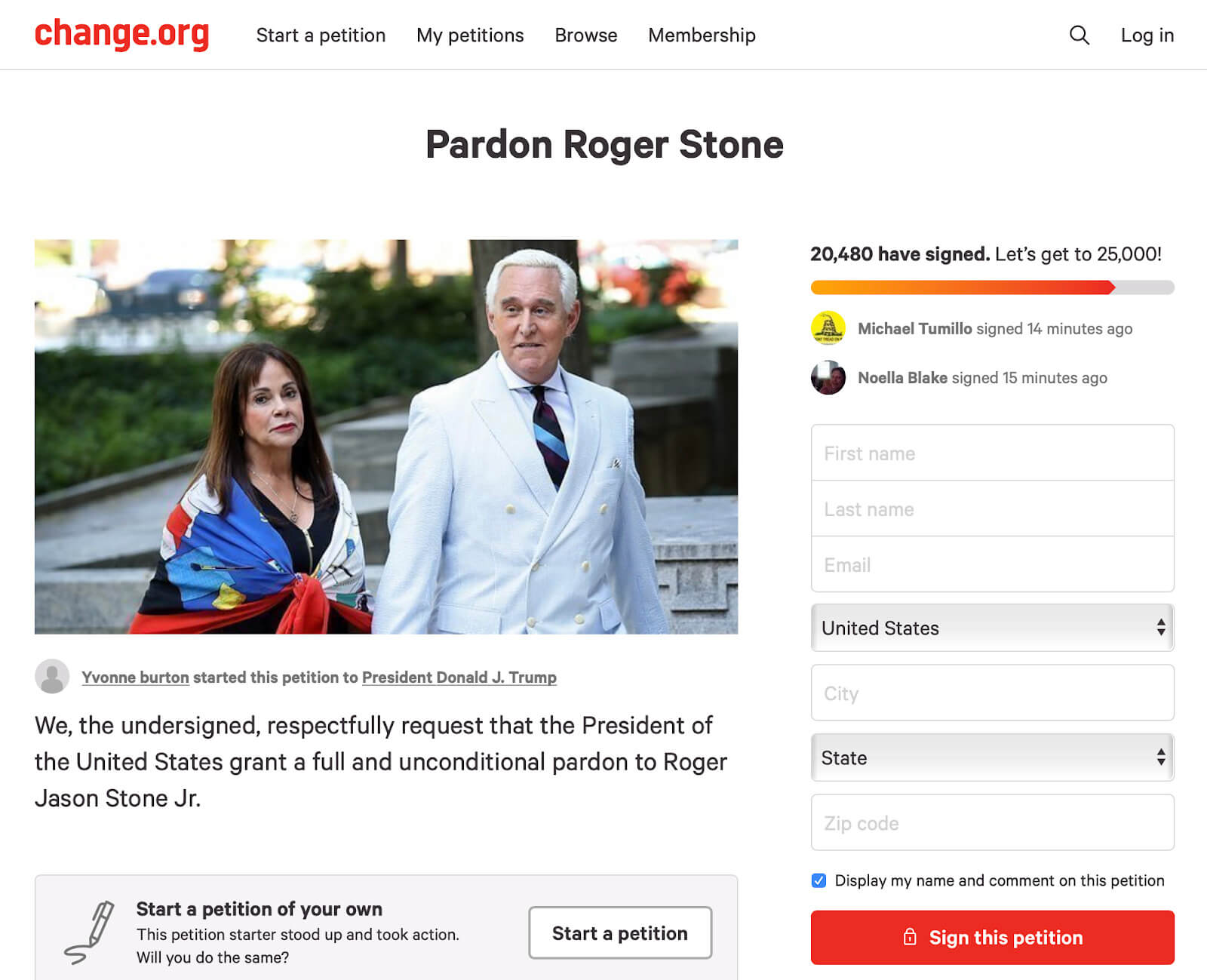 The owner of the petition, Yvonne Burton, a loyal Stone supporter and amateur blogger for her webpage, "Red Pill Sentinel," did not return a comment to the Daily Dot. 
SIGN THE PETITION & SHARE ⬇️

Roger Stone did nothing wrong!https://t.co/Dgd6KkADy8

— Yvonne Ides of March is coming! (@_YvonneBurton) November 16, 2019
Roger Stone did not respond to the Daily Dot's request for comment. The White House also did not return the Daily Dot's request for comment on circulating petitions. 
President Trump on Friday afternoon, though, blasted the guilty verdict. But he did not mention offering a presidential pardon to Stone. 
So they now convict Roger Stone of lying and want to jail him for many years to come. Well, what about Crooked Hillary, Comey, Strzok, Page, McCabe, Brennan, Clapper, Shifty Schiff, Ohr & Nellie, Steele & all of the others, including even Mueller himself? Didn't they lie?….

— Donald J. Trump (@realDonaldTrump) November 15, 2019
However, right-wing operatives think they'll be able it pull it off. 
Jack Posobiec, a conspiracy theorist who pushed "Pizzagate" which falsely smeared Democratic Party officials of taking part in a child sex ring, has been one of Stone's most vocal supporters on Twitter, pushing the petition urging President Trump to issue a presidential pardon. 
Posobiec, who refers to himself as "Agent Poso" and is a TV host for One America News Network (OANN), has tweeted the Change.org petition out numerous over the past days, including claiming "if Trump can pardon crack dealers he can pardon Roger Stone." 
Posobiec is referring to Trump's granting clemency to Alice Johnson, who served over 20 years. 
15,000

Petition · Donald J. Trump: Pardon Roger Stone · https://t.co/q6iiIGBDZP https://t.co/CewETMIOkO

— Jack Posobiec (@JackPosobiec) November 17, 2019
17,000

Petition · Donald J. Trump: Pardon Roger Stone · https://t.co/q6iiIGBDZP https://t.co/CewETMIOkO

— Jack Posobiec (@JackPosobiec) November 18, 2019
I hired Donald Trump to pardon people like Roger Stone.

— Jack Posobiec (@JackPosobiec) November 16, 2019
The supporters pushing for Trump to pardon Stone include far-right personalities, neo-Nazis, and white supremacists, including the Proud Boys, Milo Yiannopoulos, Laura Loomer, Ali Alexander, Gavin McInnes, and Faith Goldy.
While the Roger Stone jury deliberates, Stone's friends in the Proud Boys are urging supporters to call the White House and ask for a pardon. pic.twitter.com/42733V7t4L

— Will Sommer (@willsommer) November 15, 2019
Former White House strategist, Sebastian Gorka has also been an outspoken supporter of Stone, declaring his only crime was "being a supporter of President Trump." 
Gorka did not respond to questions by the Daily Dot on why he supports a presidential pardon or if he has financially supported Stone's legal defense fund. 
Goldy, a far-right Canadian commentator, messaged her supporters on the encrypted messaging service Telegram, stating that "either Trump locates his 'pair' and pardon's Rodger or one of the greatest political mavericks in the nation runs the risk of being Epstien'd [sic] in jail." 
Jacob Wohl, who responded to The Daily Dot's inquiry for comment, declared that "Roger faced a completely political show trial."
But the 21-year-old internet troll dodged questions about what he believes to be inaccurate about the verdict. 
Stone is expected to be sentenced in February.
Update 7:42am CT, Nov. 22: Stone told the Daily Dot he could not discuss his case or a potential pardon.
"I'm sorry, I am under a court-ordered gag order and cannot comment whatsoever at this time."
READ MORE: