On Wednesday, a tech company executive tweeted the phone number and contact information of a journalist whose coverage he doesn't like.
Ken Glueck, an executive vice president with Oracle, which was once slated to acquire TikTok's United States division, was so upset about the Intercept reporter Mara Hvistendahl's recent coverage of his employer that he wrote a 2,700 word critique of it on the company blog. He'd previously written a 2,000 word blog slamming a story Hvistendahl wrote about the company. In his post, he called on readers of the blog to provide him with information on Hvistendahl.
In the first, he referenced her name once and embedded one of her tweets. The most recent blog repeatedly refers to Hvistendahl by her first name, which Glueck uses 23 times. Her surname is included only once. After Hvistendahl saw the blog, she screenshotted his call out for information about her, tweeted it, and tagged him.
Glueck didn't take too kindly to this. "I'm glad we're both being constructive," he tweeted.
"To return the favor" he included her Signal number and email address.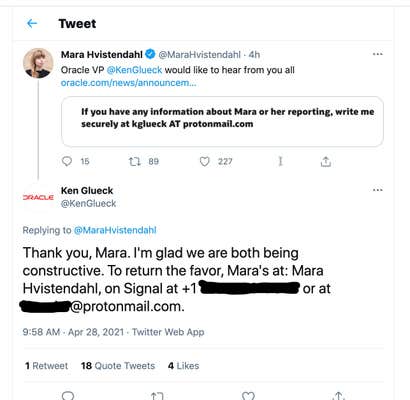 Hvistendahl includes her Signal number in her Twitter bio, and it and two of her email addresses are included in her reporting for the Intercept. Nevertheless, Glueck's move didn't go over well. It seemed pretty obvious to most that his intentions weren't benevolent.
Several tweeted that they had reported him for violating Twitter's rules. He has since been temporarily suspended from Twitter, which has policies against harassment and doxing, according to Gizmodo.
"This is wildly unprofessional and you should delete it and apologize," replied Vox reporter Dylan Matthews.
Hvistendahl commented, "In our interview you said that you felt my article (now articles) was unfair and that you would be unfair in response. I now see that you meant it."
A few opined that his conduct did not speak well of the culture at Oracle.
"'Tell me you work for Oracle without telling me you work for Oracle,'" said @pseudo_security.
Oracle did not respond to a request for comment on Wednesdy afternoon. Glueck remained unrepentant.
"Actually she includes both her signal and proton mail in her stories about Oracle and if you look at her feed she tweets contacts seeking information so … it's neither doxing nor inappropriate," he tweeted when someone accused him of doxing Hvistendahl.
In a twist on the Streisand Effect, Glueck's tweets have served to draw more attention to Hvistendahl's reporting about Oracle. Several people pointed out that Glueck was effectively accomplishing the opposite thing he intended: diminishing Hvistendahl's reporting.
"I did not know about this story before," said one. "I will certainly be following it now and will amplify it."
Hvistendahl recently reported that Oracle funnels its surveillance technology to military and police in China. Earlier this year, she reported that Oracle's acquisition of TikTok's U.S. division (which fell apart shortly thereafter) was supposed to stop the latter from providing data to Chinese police. But she found that Oracle was "marketing its own data analytics software to … Chinese police."
Oracle maintains that it has a limited presence in China and has done nothing wrong. But thanks to Glueck, far more people are talking about Hvistendahl's reporting.
---
Read more of the Daily Dot's tech and politics coverage