A white nationalist "Groyper" sympathizer and writer found his way into a popular conservative, student-run opinion publication, only to be booted for his coziness with the far-right.
Aaron Cummings, a student at Clovis Community College in California and former writer for Lone Conservative, was recently fired from the site over his alignment with the far-right Groyper movement.
Groypers are followers of Nick Fuentes, an extremely far-right conservative who is frequently accused of having white nationalist ties.
The college student allegedly relayed information about the site back to Groyper leaders, while further pushing far-right messaging online.
In an email obtained by the Daily Dot, sent to Cummings by Lone Conservative Vice President Patrick Hauf, the right-wing opinion publication said it was parting ways with the former writer on June 10.
"I am writing to inform you that you are being removed from Lone Conservative's Slack community and will no longer be able to publish on our website," Hauf wrote in the email.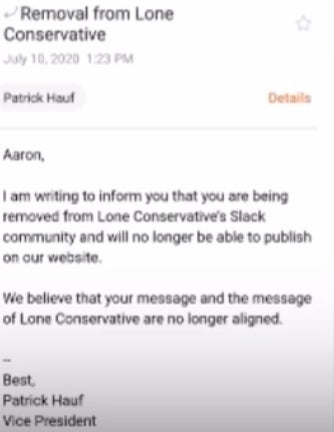 Hauf added, "We believe that your message and the message of Lone Conservative are no longer aligned."
The publication has amassed over 48,000 Twitter followers and is run by conservative college students. Though it leans right, it has been the focus of a long-running feud with Fuentes.
Kassy Dillon, the founder of the Lone Conservative, confirmed the decision to the Daily Dot late Sunday afternoon.
"Lone Conservative believes in conservative values. And if someone breaks from those values, we have the right to remove them from the organization," Dillon told the Daily Dot.
On a DLive stream, Cummings appeared pleased that he was booted from his volunteer post, ripping into the site.
"This is a small college website, nobody reads this stuff, these guys don't really represent the conservative movement," he said.
He further levied critcism at Lone Conservative leadership for removing all of his op-ed's from the site.
(The site did scrub all of Cummings articles.)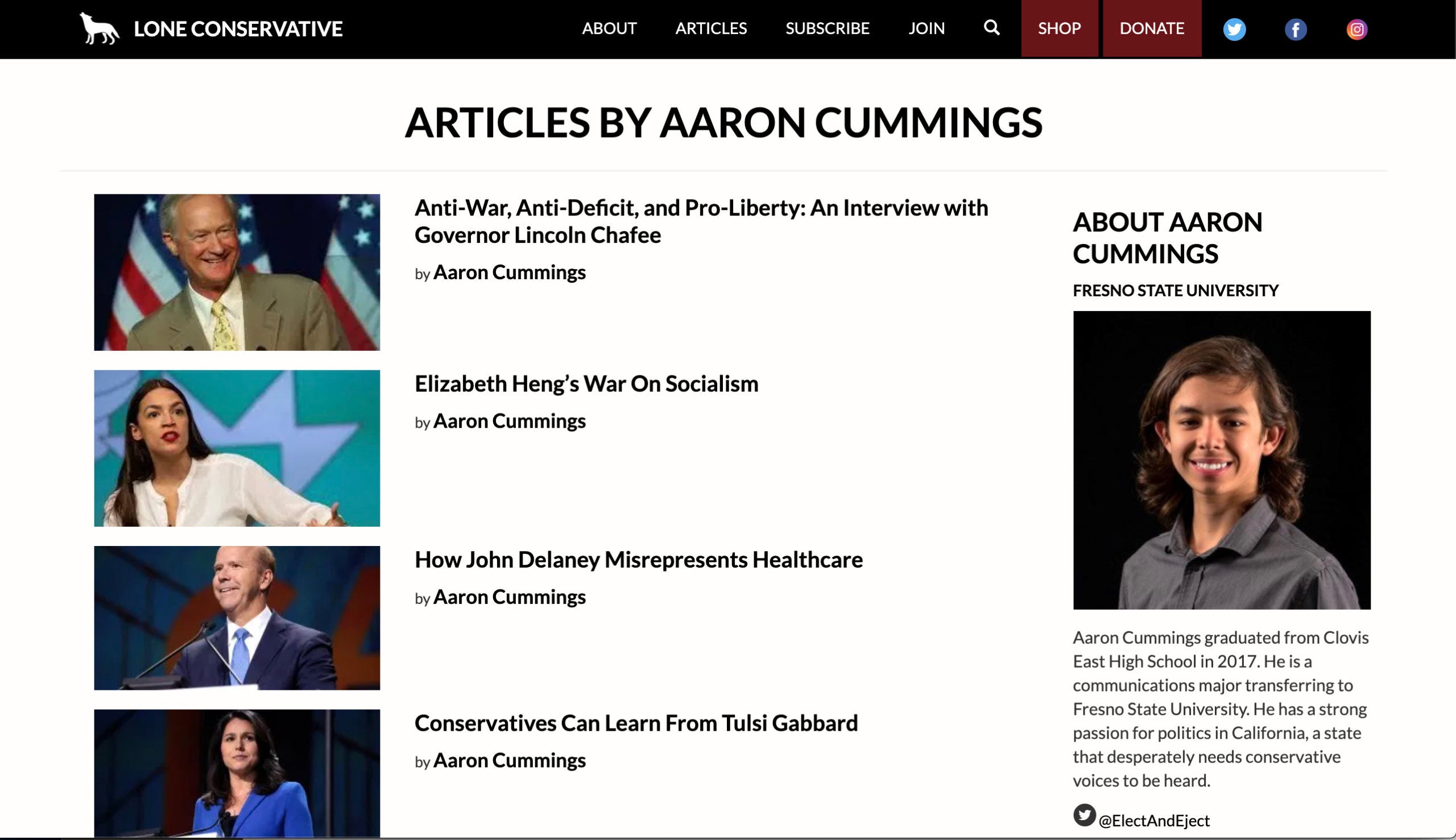 Currently, the site shows a "page not found" error where Cummings' page was once displayed.
Following the divide between the youth organization and the writer, Lone Conservative contributors have received harassing messages from Cummings' allies.
Dillon told the Daily Dot that anonymous accounts were behind a series of targeted harassment pushes aimed at the site's opinion writers.
"All requests for comment should be directed to me," Dillion added in regards to the messages likely from loyal Fuentes' followers.
Cummings told the Daily Dot he belives he was booted due to appearing on a far-right podcast where he "gave some mild criticism" of the Lone Conservative's "left-leaning stances."
He also thinks it might have been due to following far-right columnist Michelle Malkin on Twitter, saying that when "writers noticed my support for America First, they assumed I was a liability."
During his stint at the Lone Conservative, the writer allegedly shared the conversations writers were having in Slack with his far-right allies.
Cummings told the Daily Dot via Twitter DM that he did so, specifically stating he spoke with Groyper Ashley Rae Goldenberg about a Lone Conservative writer proudly "taking credit for canceling Stefan Molyneux."
Fuentes, on his nightly show, has openly gloated about having followers inflitrate Lone Conservative.
"Get involved and then send me intel, write for Lone Conservative and then send me intel," Fuentes stated earlier this year. "Embed yourself in there, and be a mole."
Fuentes and his followers continue to push hard to infiltrate conservative student groups such as Turning Point USA and Lone Conservative, due to their belief that the groups are spreading "fake" conservatism, which is too liberal for Fuentes' own brand of nationalism.
Dillon declined to comment on Fuentes claiming there are numerous other plants within her organization.
READ MORE: