When former Republican operatives launched the Lincoln Project late last year, they immediately became darlings of the left. Late on Election Day, one of its members all but admitted that it was essentially an exercise in futility.
Since they burst onto the scene, the Lincoln Project's scathing ads and videos, coupled with a biting Twitter style, aimed at President Donald Trump and his enablers like Sen. Lindsey Graham (R-S.C.), have brought liberals endless delight. The political action committee translated that popularity into piles of money—nearly $60 million.
Many believed that the seemingly endless funds and savvy of the former GOP insiders would make a huge difference in the presidential election. Thus far, that expectation seems not to have become reality, as Trump is still comfortably within striking distance of a second term.
Many Democrats and "Never Trumpers" are, naturally, deeply disappointed. Some have begun wondering whether liberals would've been better off donating to organizations that actually align with their political beliefs—beyond opposition to Trump.
According to one adviser for the Lincoln Project, liberals never should've expected the super PAC to slough off Republican votes in the first place.
"Maybe I'm less depressed than the rest of you because I never expected any Republicans to help beat Trump & thus am not depressed that they failed to materialize?!" Rachel Bitecofer tweeted late Tuesday.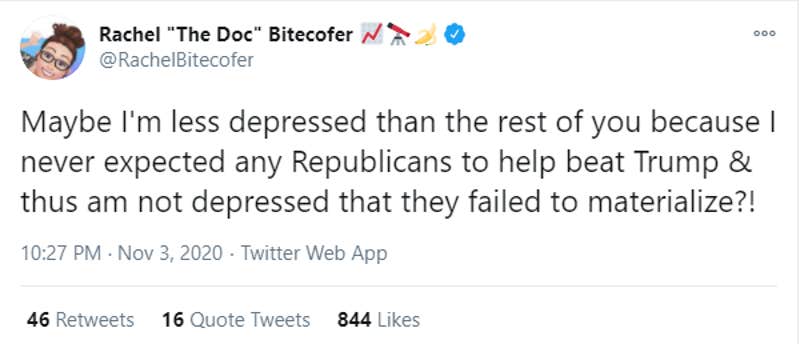 People were confused. The Lincoln Project, which Bitecofer advises, specifically targeted Republicans to convince them to vote for Democratic presidential nominee Joe Biden.
"As an advisor for @ProjectLincoln, are you saying the work they've done was misplaced on the premise that if only 4% of repubs would put Country Over Party it would influence election results for Biden? You knew this would never occur?" wondered @lmz81973.
"Her website had Biden favored in Texas, NC, FL, and Georgia," pointed out EconIsLife24. None of those races have been called as of this writing and Trump is leading in all.
The Lincoln Project has been criticized since its launch for how much money it funnels into founders' and advisers' businesses. Some have accused it of being little more than a money-making operation. Several commenting on Bitecofer alluded to these complaints.
The presidential race remains too close to call. Either way it turns out, the Lincoln Project will be laughing all the way to the bank.
More election 2020 coverage