Conspiracy theorists are claiming there's a connection between deceased convicted pedophile Jeffrey Epstein and Nickelodeon cartoon SpongeBob SquarePants.
They are pointing to addresses on SpongeBob's driver license and a building on Epstein's private island, Little Saint James. The addresses are seemingly the same: 124 Conch St., Bikini Bottom/s.
"So can we talk about why spongebob's address on his license is the address for jeffery epstein's pedo island??? this is truly sick. all of these cartoons are tainted by pedophiles. our kids are not safe. Exploding head this is breaking my heart," Twitter user @StormEllimac wrote, including screenshots of SpongeBob's license and the address to "Ledges of Little St. James," as shown on Google Maps.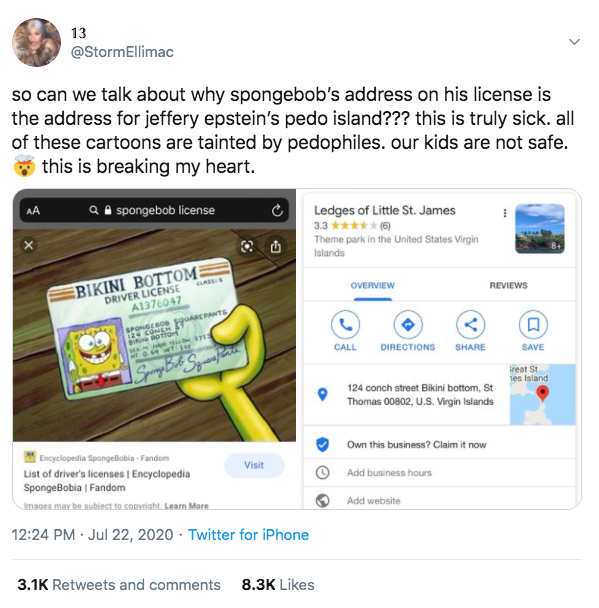 Others are claiming the alleged connection proves "elites" are trying to normalize pedophilia and that the creator of SpongeBob SquarePants, Stephen Hillenburg, was a pedophile (Hillenburg died in 2018).
The conspiracy also blew up on TikTok, with one video that highlights the "connection" amassing over half a million views.
While the Daily Dot can confirm the address on Google did list "Ledges of Little St. James" at "124 conch street, Bikini bottom" when searching specifically for "Little St James theme park," the address has since been changed.
As noted by the Dispatch, Ledges of Little St. James was listed as a "theme park" and claimed it was "good for kids," but, in reality, it is what was formerly known as the "main compound" on Little Saint James. The private island in the U.S. Virgin Islands was owned by Epstein up until his death in 2019. The island has come to be known as "Pedophile Island," as it is alleged many sex crimes committed by Epstein, along with other "elites" in cahoots with the disgraced financier, took place there.
So, is there a connection between SpongeBob and Epstein? Probably not. It is fairly easy to add and claim businesses on Google Maps, which is probably what happened in this case. The listing was "claimed" but not "verified" on Google Maps. The Dispatch also reports the phone number listed for the Ledges of Little St. James connected callers to a hotline that was created as a promotional stunt for an upcoming SpongeBob film. The Daily Dot was not able to independently verify this.
The Daily Dot has reached out to Google.
READ MORE: