Following Ghislaine Maxwell's arrest, photos of her in—or in the background of—various celebrity photos have begun to crop up. Perhaps more unsettling is the speculation she is in the background of a photo of slain child JonBenét Ramsey.
Maxwell, who is the longtime companion and alleged co-conspirator of convicted pedophile Jeffrey Epstein, was arrested on July 2 on charges that she lured and groomed victims, some as young as 14 years old. People online are now resurfacing photos of Maxwell with public figures like Elon Musk, Naomi Campbell, Chelsea Clinton, and even President Donald Trump. "Ghislaine Maxwell showing up in the background of various historical scenes through the decades like some kind of sex trafficking Forest Gump," as one Twitter user put it. Many are using these photos to fuel conspiracy theories that many of Hollywood's elite were part of the alleged Epstein sex trafficking ring. Maxwell has also appeared in old photos featuring alleged victims, such as Virginia Roberts Giuffre.
People are now trying to connect Maxwell to notorious murder and kidnapping cases. In a recently resurfaced photo, JonBenét Ramsey can be seen holding a bouquet of flowers, smiling at the camera, and a woman with short, dark hair is in the background. Only the woman's partial side profile is visible, nevertheless, people think it's enough to determine that she not just resembles Maxwell but is the disgraced socialite herself. "I'm losing my mind over that picture of JonBenét Ramsey with Ghislaine Maxwell in the background," one tweet reads. The speculation even made its way to TikTok, where users are using the photo for their conspiracy-laden videos, complete with hashtags like #pizzagate.
Ramsey was killed in her Colorado home when she was 6 years old. There have been numerous people suspected, whether by the public or police, of killing the child beauty queen, including her own parents. While the Ramsey case remains unsolved, it is still open. Snopes rated the claim that Maxwell is in the background of Ramsey's photo as "unproven." The fact-checking site also concluded that this was not the last photo of Ramsey as many falsely claimed but did note an interesting connection between Ramsey and Maxwell: The Ramsey family and Maxwell have hired attorneys from the same law firm.
People are also pointing to the sketch of a female person of interest in the case of missing toddler Madeleine McCann. At the time, in 2009, when the sketch was released by British police, media outlets dubbed the woman a "Victoria Beckham lookalike." Now, people think the sketch resembles Maxwell more than the former Spice Girl.
"I'm not into conspiracy theories, but holy shit. The resemblance between Ghislaine Maxwell and a sketch of the alleged abductor of Madeleine McCann is uncanny," one person tweeted.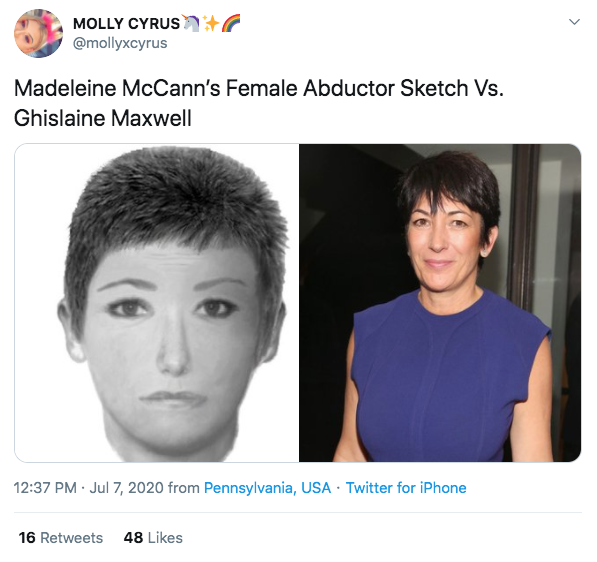 However, the woman in the sketch is not Maxwell but a woman named Judith Aron, who was identified in 2009. Aron denied any wrongdoing at the time, saying, "I have no connection to the little girl."
McCann went missing on a 2007 family vacation in Portugal when she was 3 years old and is presumed dead. A man, Christian Brueckner, recently emerged as the prime suspect in the McCann case.
READ MORE: