Traditionally the star of Apple's smartphone releases, the numbered iPhone 8 and 8 Plus have been pushed out of the spotlight by the iPhone X. But just because there's a new smartphone in town doesn't mean the minor update we've come to expect won't tick all the right boxes.
The iPhone 8 Plus is, in many ways, a marked improvement over its well-received predecessor. A more powerful processor, improved cameras, and wireless charging do what they can to distract from an outdated design. But does the iPhone 8 Plus offer enough to warrant its flagship price tag, or should you save up for the upcoming iPhone X?
iPhone 8 Plus design
The iPhone 8 Plus and 7 Plus are practically indistinguishable. However, there are some minor differences you won't notice until you get your hands on the device. For example, to accommodate wireless charging, Apple put a slab of glass on the back panel.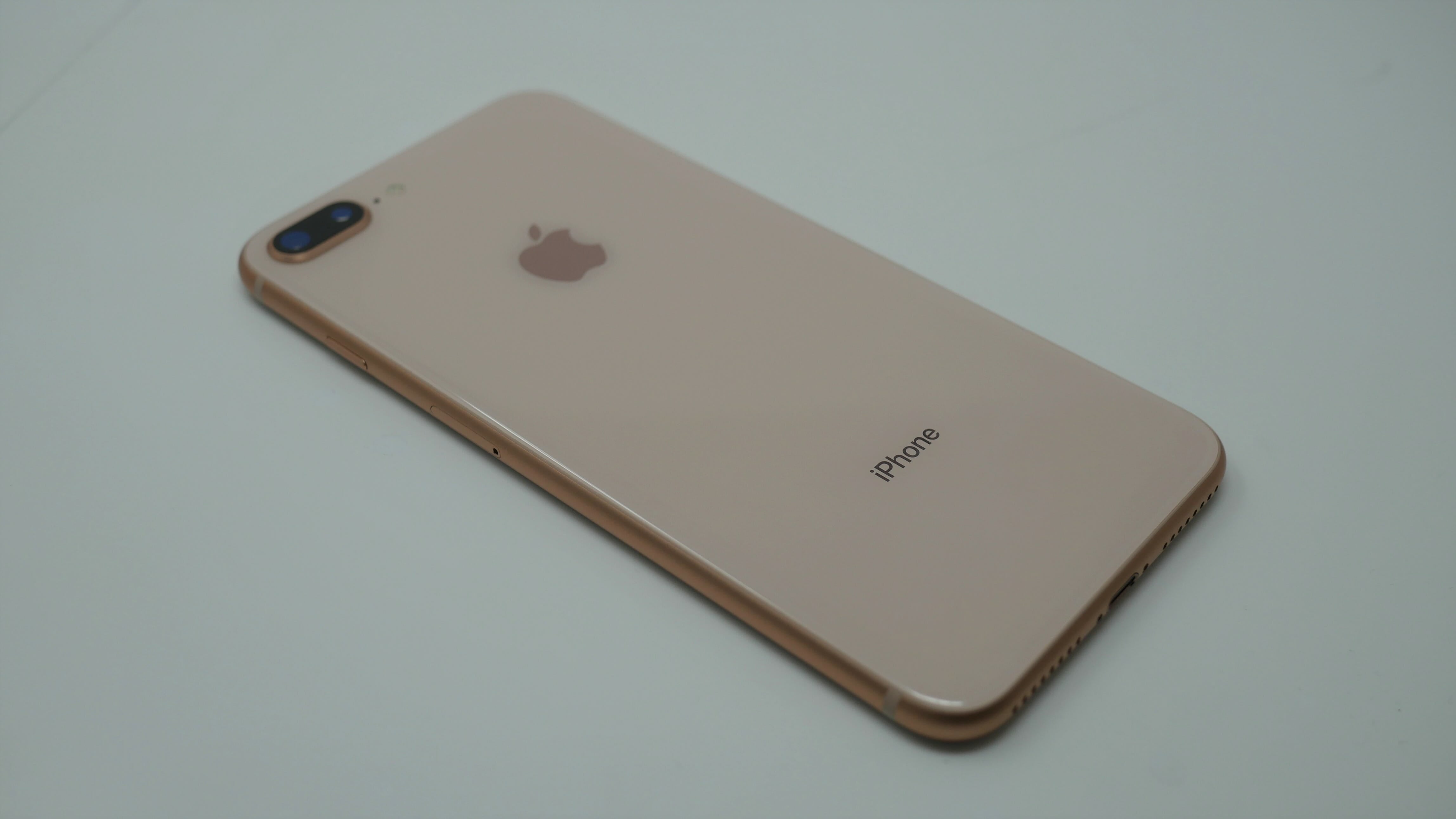 Before you freak out—I'm talking to anyone who owned the shatter-prone iPhone 4—Apple claims it's using the most durable glass "ever on an iPhone." That might not say a lot, but you should expect the steel-reinforced panels to be resistant to scratches or dings. I don't care how tough it is, you'll want to avoid dropping the iPhone 8 Plus from any distance. You can check out some drop tests on YouTube. Just be warned: They're pretty disturbing.
Flip the phone over and you've got yourself an iPhone 7 Plus lookalike, complete with thick-rimmed frames and giant top and bottom bezels that take up prime display real estate. The iPhone 8 Plus looks dated compared to other flagship phones like the Galaxy S8, LG G6, Essential Phone, Pixel 2 XL, and Apple's own wallet-shattering new model.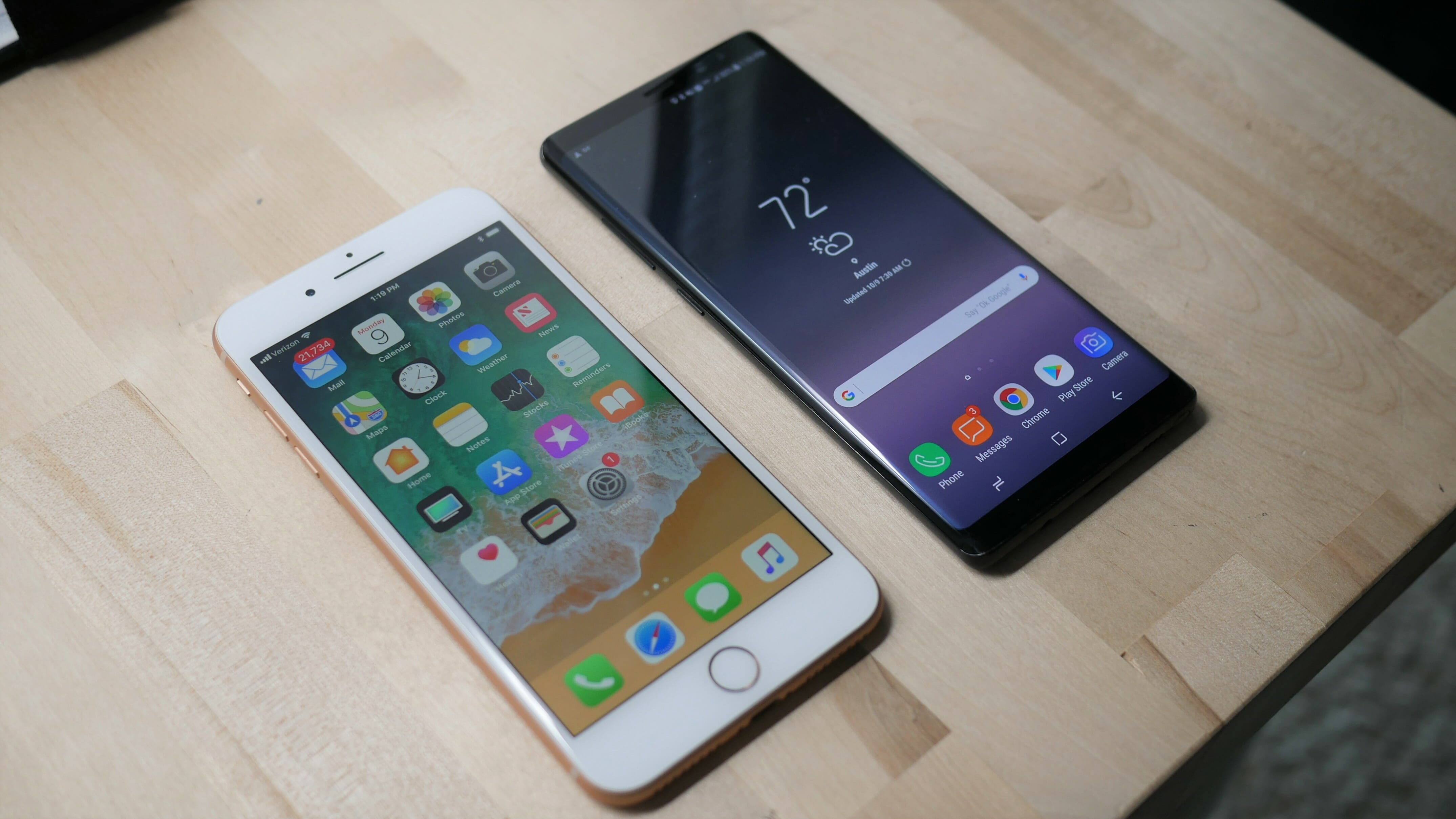 Perhaps for the final time, Touch ID returns. And while the fingerprint reader works like a charm, it causes the iPhone 8 Plus to have a poor screen-to-body ratio, which becomes evident when compared side-by-side with other phones. The LG G6, for example, has a slightly larger display than the 8 Plus but is significantly shorter at 148.8mm compared to 158.4mm.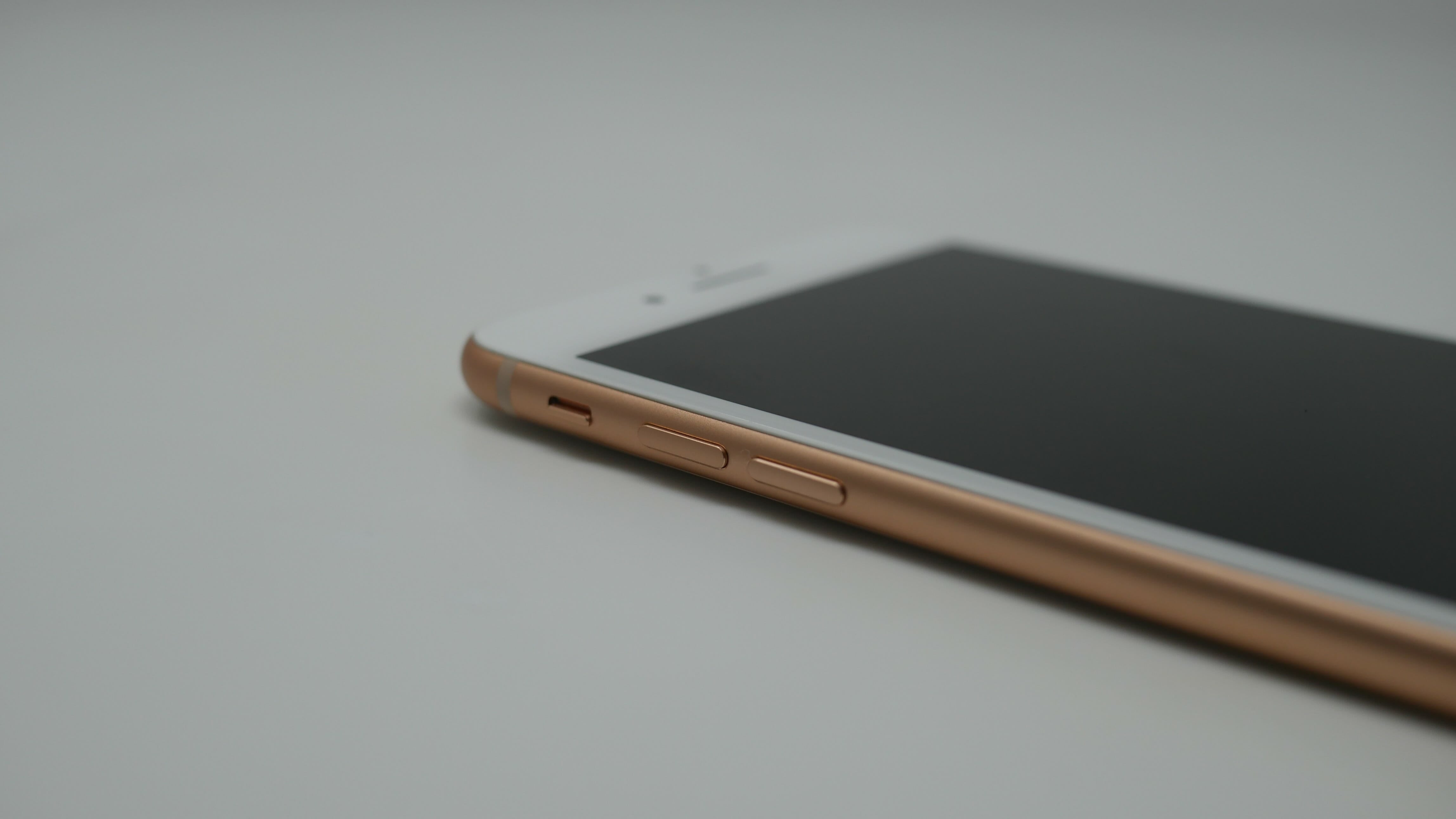 That's less of an issue on the smaller iPhone 8, but a large display combined with thick bezels makes the 8 Plus difficult to hold for anyone with small-to-medium-sized hands. The 8 Plus is also a tad heavier (7.1 ounces) and thicker (0.3 inches) than the 7 Plus. Another interesting difference is that the iPhone 8 Plus' physical buttons (volume and power) are shallower and quieter, and they don't provide quite the same quality feedback.
READ MORE:
Overall, the iPhone 8 Plus feels as premium as ever with 7000-grade aluminum around its edges and a reinforced layer of glass on the back. But a conservative design keeps it from standing out from previous iPhones and puts it behind its main Android competitors.
iPhone 8 Plus display
Apple disappointingly stuck with the less capable LCD instead of going with OLED, which offers deeper blacks, wider viewing angles, and more vivid colors. Again, the upgraded technology will only be offered on the upcoming iPhone X. The 5.5-inch, 1920 x 1080 display on the iPhone 8 Plus is identical to the iPhone 7 Plus on paper, but the specs sheet doesn't tell the whole story.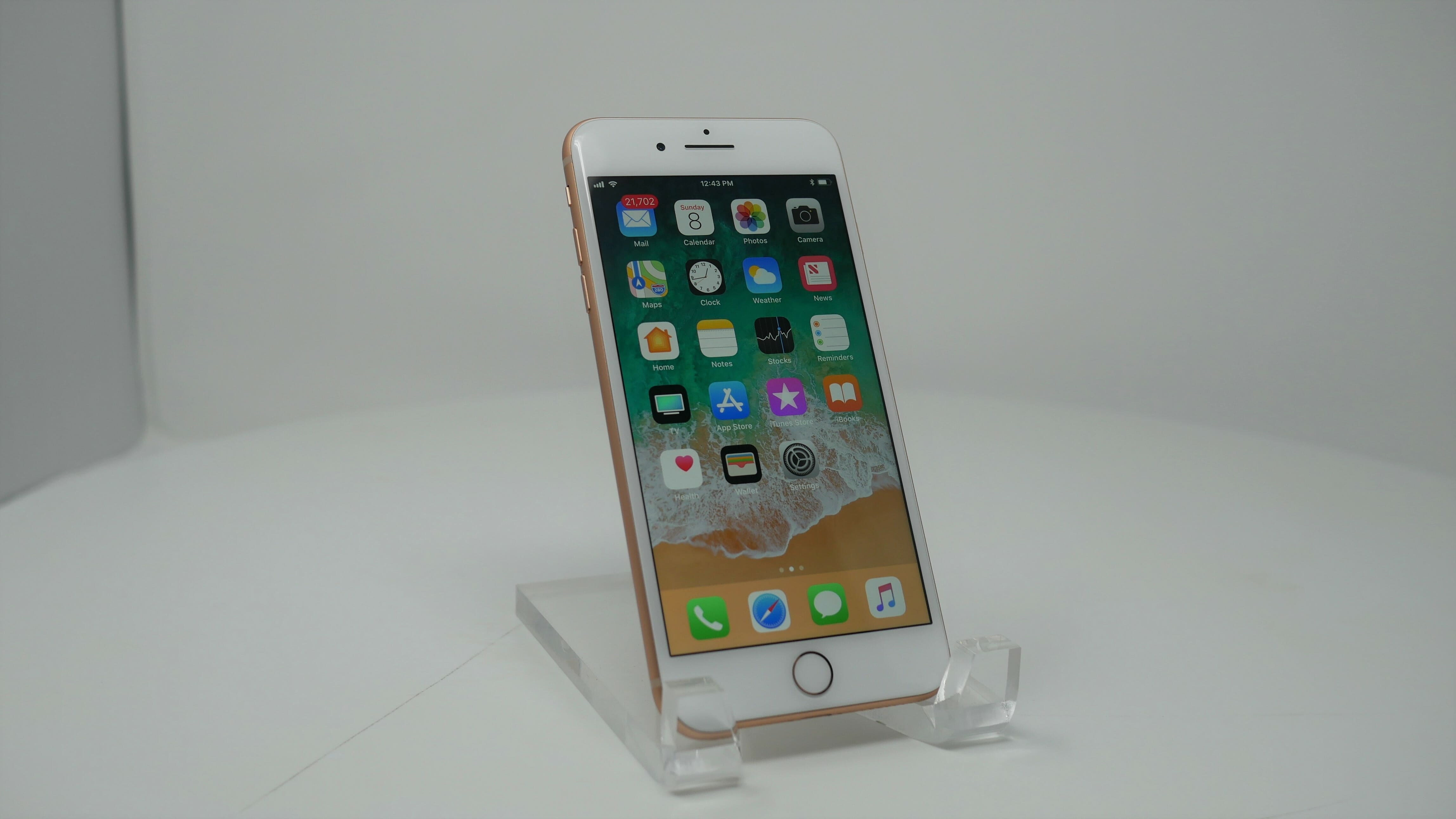 The main difference is that Apple added True Tone from the iPad. The feature automatically adjusts white balance to match ambient light and is supposed to reduce eye strain. I spotted it working its magic the first time I picked up the iPhone 8 Plus. Under the fluorescent lighting of my apartment, the whites of our Daily Dot webpage turned orange, essentially blending the screen in with its environment. It's an admirable idea, but True Tone wasn't for me, and I ended up leaving it off.
Otherwise, the iPhone 8 Plus' display is everything we've come to expect out of Apple's "Retina"-branded screens. Its impressive color gamut makes the playful iOS 11 icons pop with life, and white balance, while a tad warm, looks natural overall. And it's bright, coming in at an estimated 625 nits (a common measurement for smartphones and TV that measures the amount of light that gets sent to your eye in a given area). While it didn't perform quite as well as the Note 8 in this regard, we had few problems navigating iOS on a sunny October in Texas.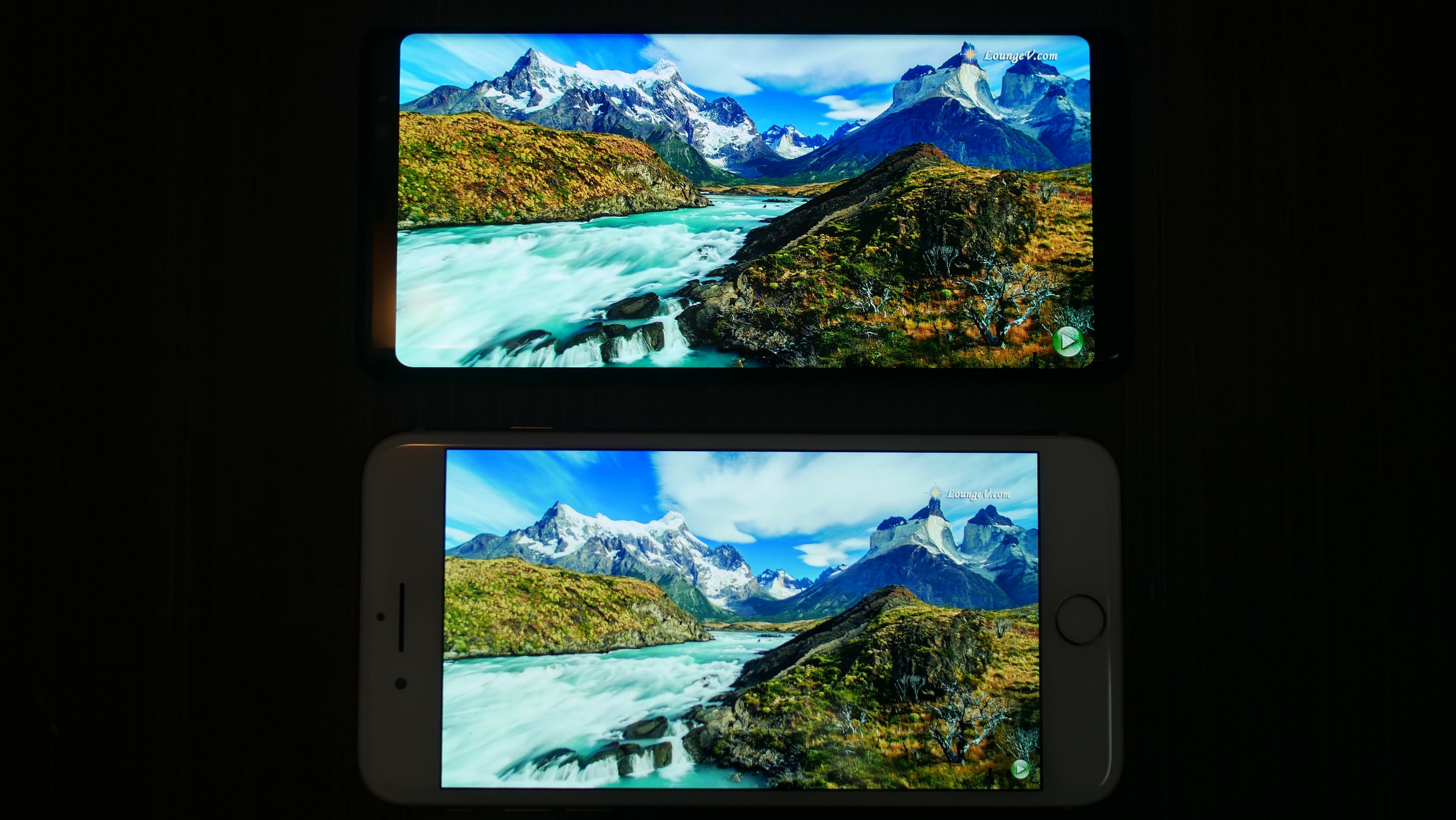 But it's 2017, which means great isn't good enough. OLED is the new king, and my tests confirm as much. The iPhone 8 couldn't keep up with the supersaturated colors of the Note 8 and OLED's insane contrast ratios. For you spec nerds, we're talking about a 1 million to 1 contrast ratio of OLED versus 1,300 to 1 in LCD. Then there are OLED's perfect blacks (that's no marketing term, check out this explainer to learn more) which can't be replicated by even the best LCD panels.
That said, the iPhone 8 Plus' screen looks great for any task you throw at it. In fact, it may even wow you every now and then.
iPhone 8 Plus software
iOS 11 isn't a huge departure from iOS 10, but it does introduce a few new features and UI changes. The first thing you'll notice is that the lock screen and notification pane have been combined into one screen. This cleans things up a bit and makes the OS feel more cohesive.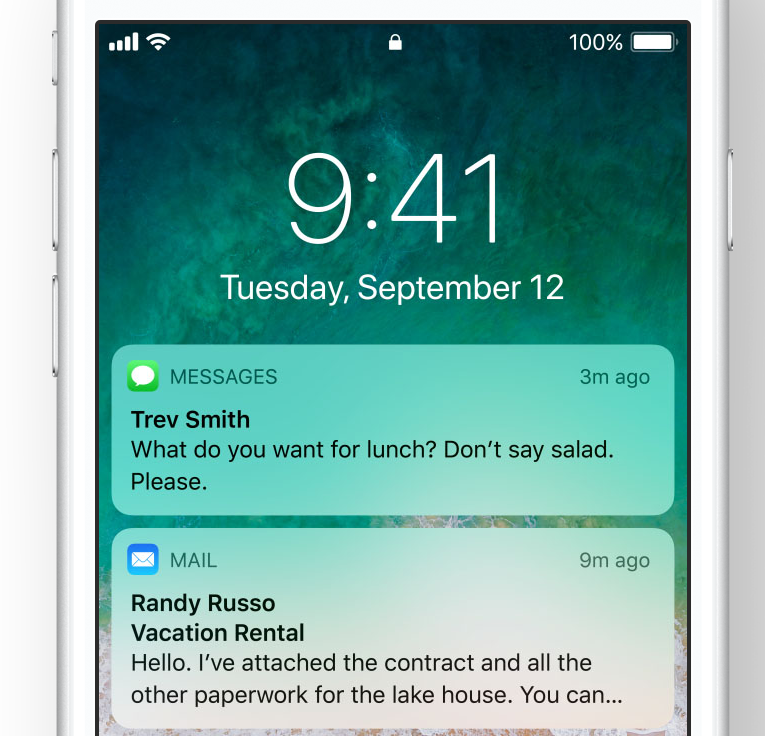 When you swipe up from the bottom of your home screen, you'll find a revamped Control Center. Those familiar with iOS 10's version may find the new look a bit jumbled, but l got used to it pretty quickly. One definite improvement is the ability to customize icons.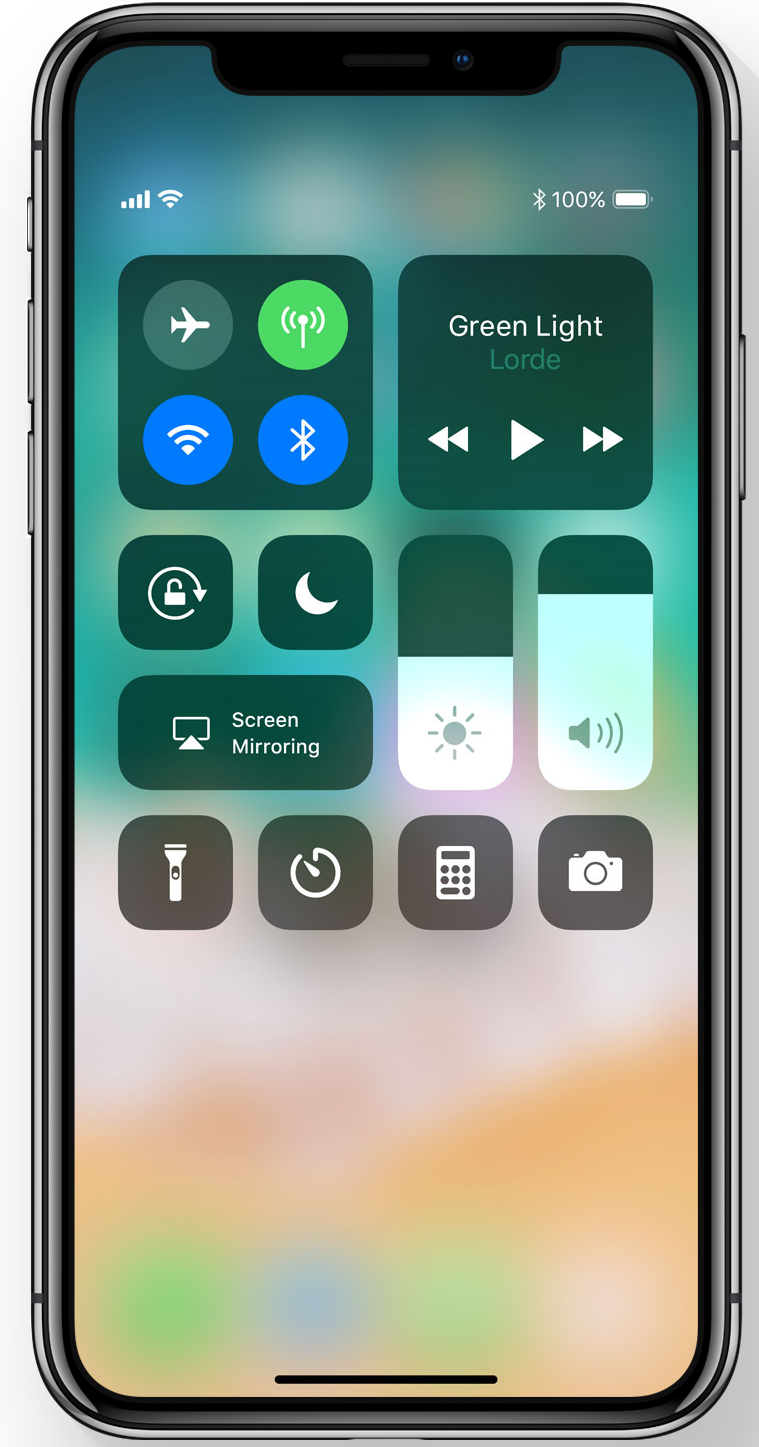 Don't use the timer? Scrap it and add something you'd need to access quickly, like Wallet. I do wish you could customize Control Center straight from its interface instead of having to go into settings. I also wish it was clearer which icons use 3D Touch and which settings hide underneath.
The App Store and Messages have also been redesigned, with a clean white look that emphasizes bold text and images. I'm a fan.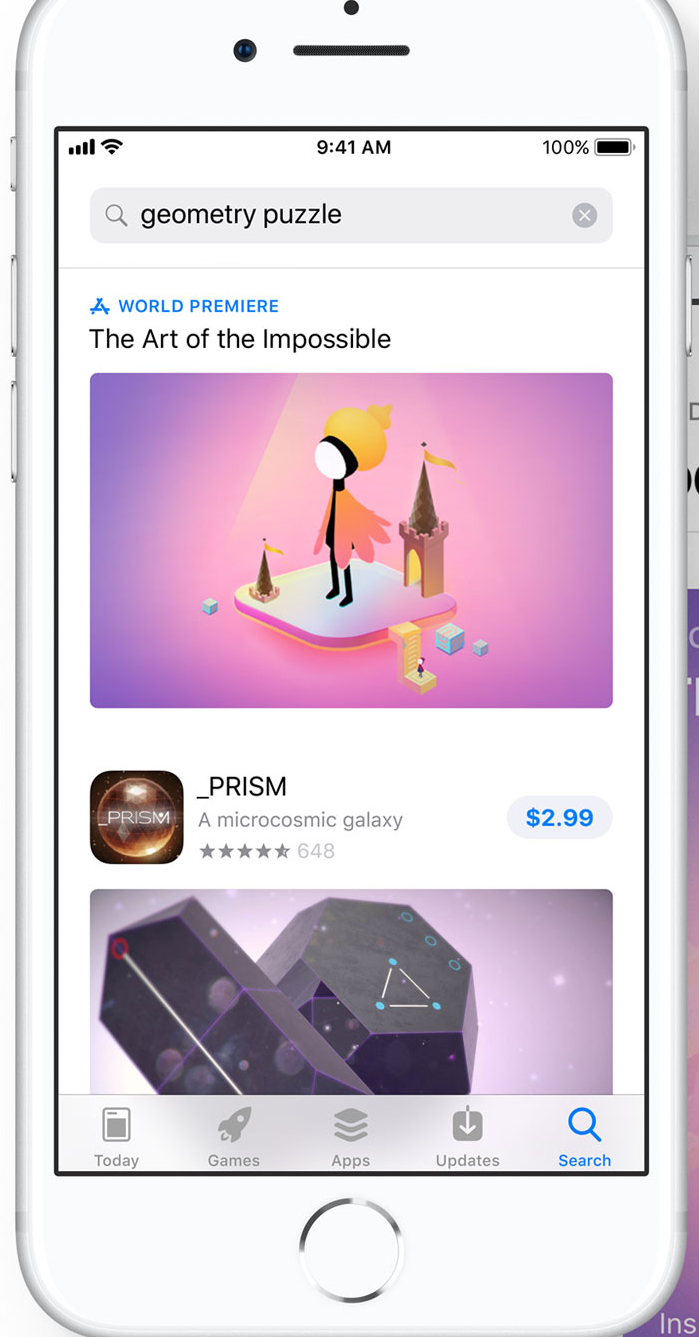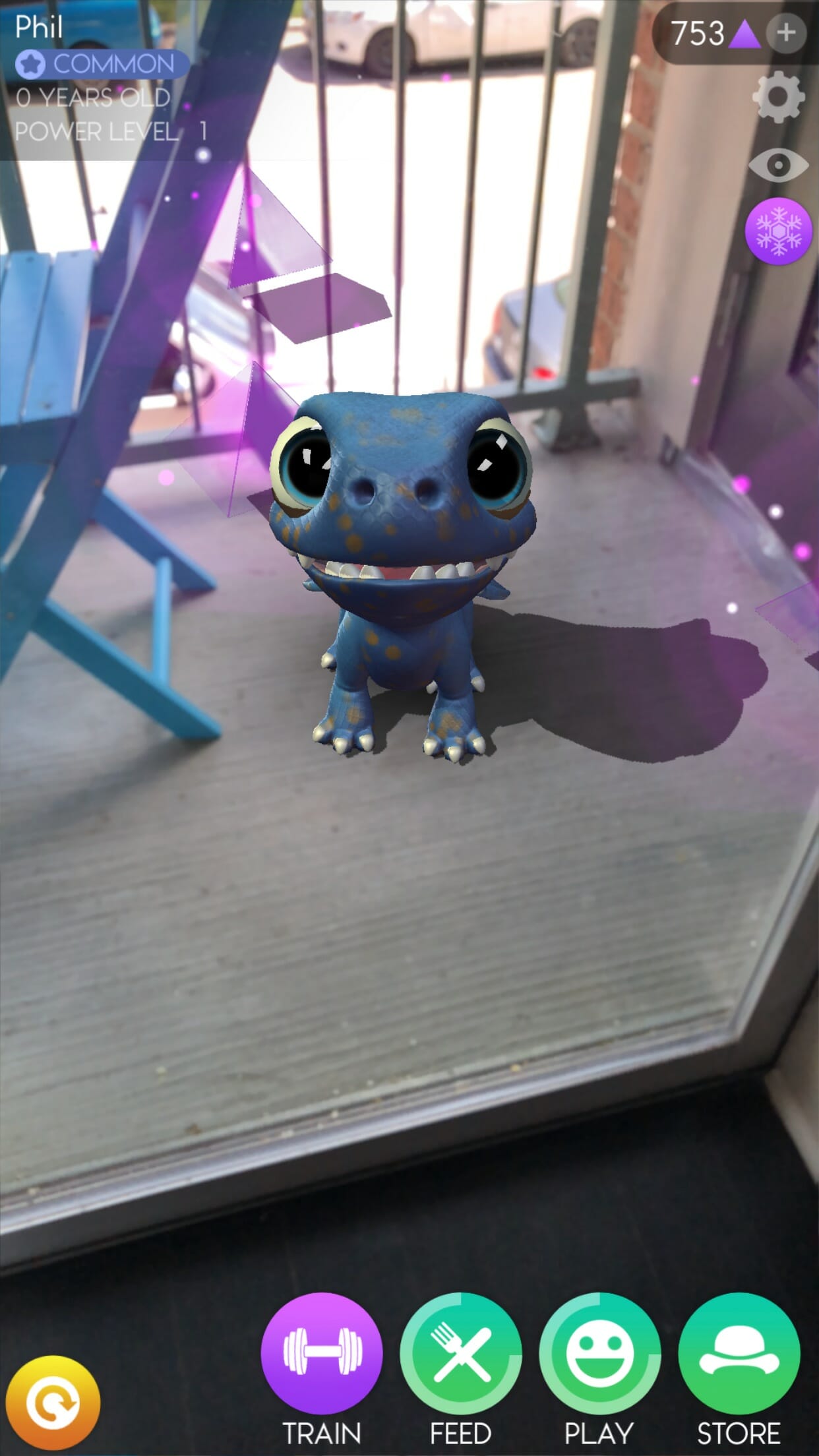 And, as expected, Siri got an upgrade, though not what we were hoping for. Voices are more natural and you can now use it to translate between languages, but most search results haven't been improved. Finally, a new "Do not disturb while driving" feature sends a message to someone who's trying to get a hold of you that says you'll see their text when you arrive at your destination.
iPhone 8 Plus performance
Apple's outdone itself once again, boosting its already class-leading processor to new heights. The A11 Bionic, which powers the iPhone 8, 8 Plus, and X, was described by John Poole, founder of CPU benchmark creator Primate Labs, as having "desktop-class performance." On paper, the iPhone 8 Plus blows away its Android rivals in most processing tests.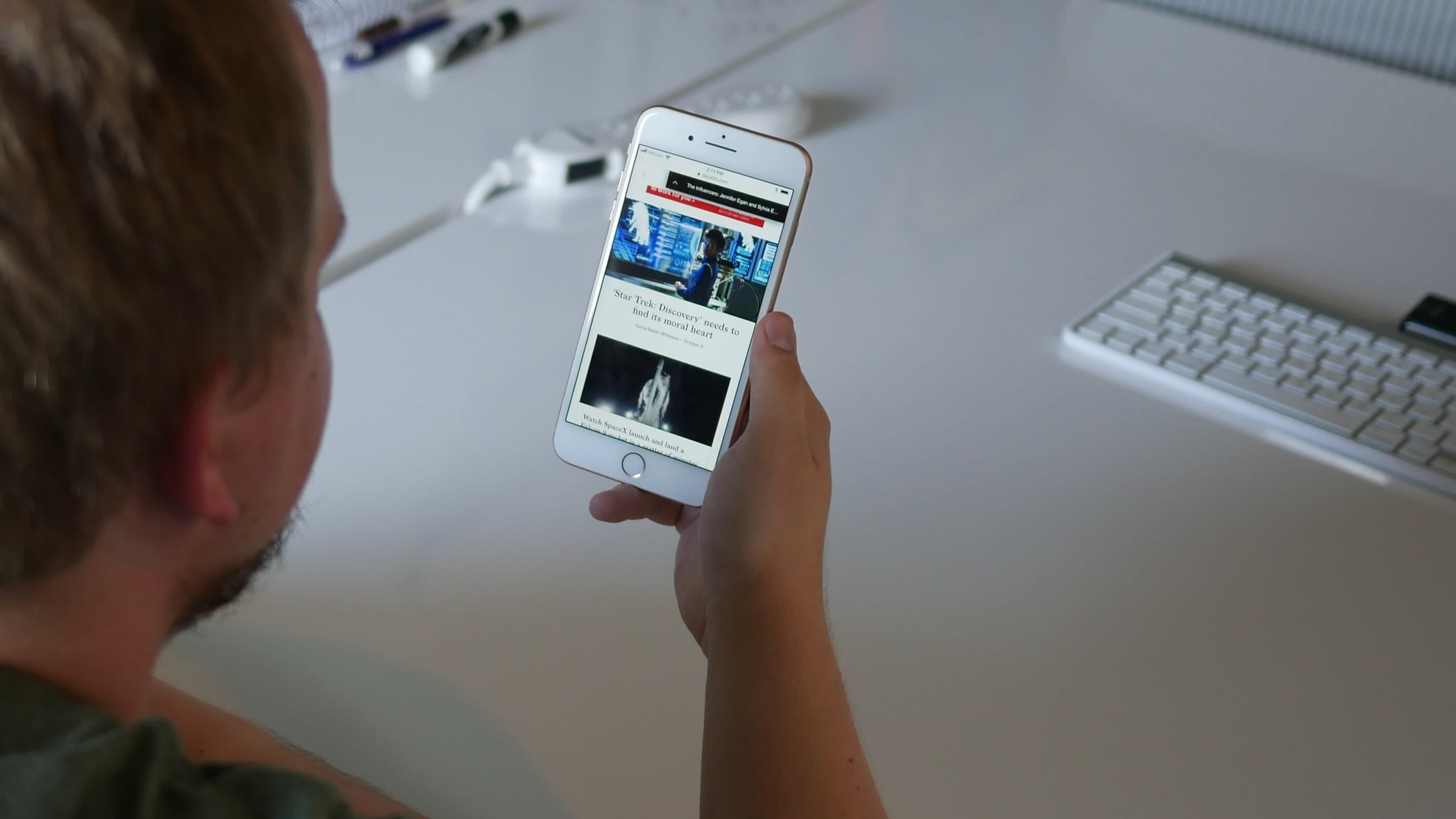 In reality, most people won't notice the difference. Yes, the six-core CPU in the iPhone 8 Plus is extremely fast and navigating iOS is as fluid as ever, but don't expect to be blown away. Your everyday smartphone uses—navigating the web, taking pics, posting on social media, and watching video—will feel familiar, if a bit faster.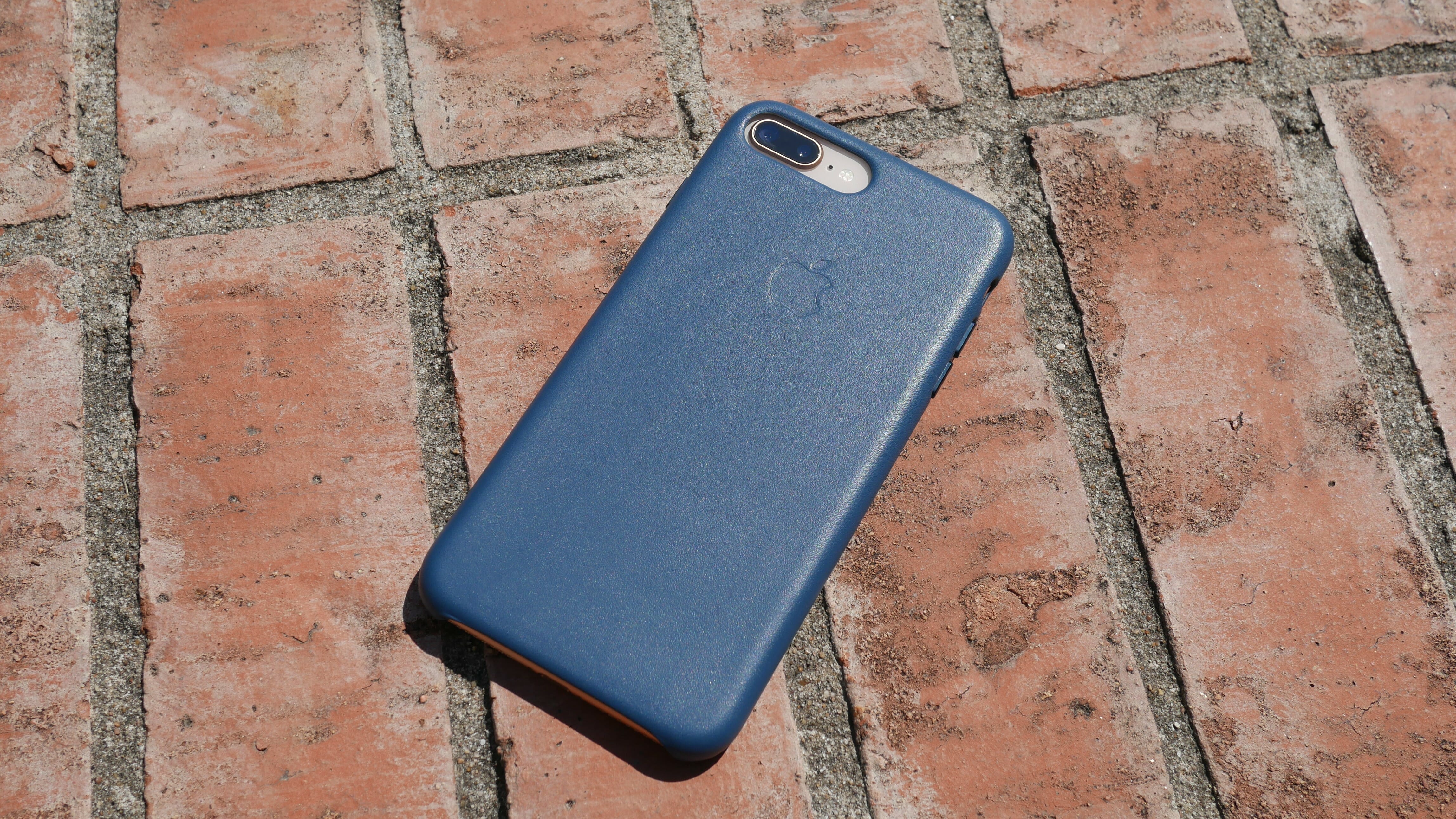 That said, the iPhone 8 Plus powered on faster than the Note 8, Android's fastest device, and was even a bit quicker to open apps. The A11 really shines when performing intensive tasks like uploading video or playing graphic-intensive games, so heavy smartphone users should keep that in mind.
iPhone 8 Plus cameras
On paper, the iPhone 8 Plus' dual lenses sound a lot like those on its predecessor: both offer 12 megapixels—a wide angle with an f/1.8 aperture and a telephoto at f/2.8. In practice, they're a big improvement.
Capable of gathering 83 percent more light, the new sensor on the iPhone 8 Plus is simply outstanding. It matched or outperformed the Galaxy S8/Note 8 in most conditions, producing accurate, punchy, and crystal-clear images.
Take a look at the pictures below. Note how the iPhone 8 Plus photo (top) captures the clay color of the Texas State Capitol whereas the Note 8 washes it out. It's even more apparent in the tiles leading up to the building. The Note 8, however, does capture a bit more detail.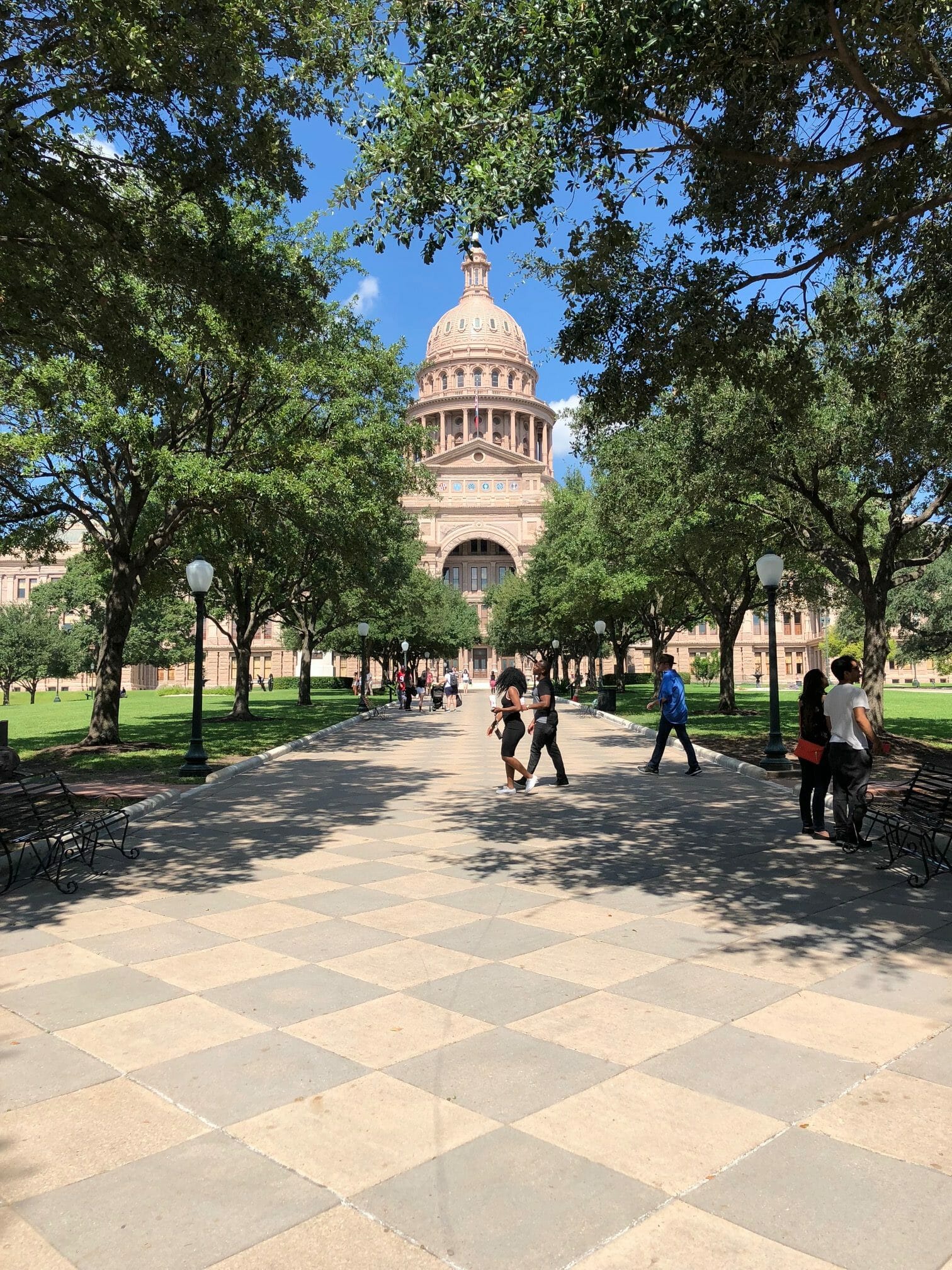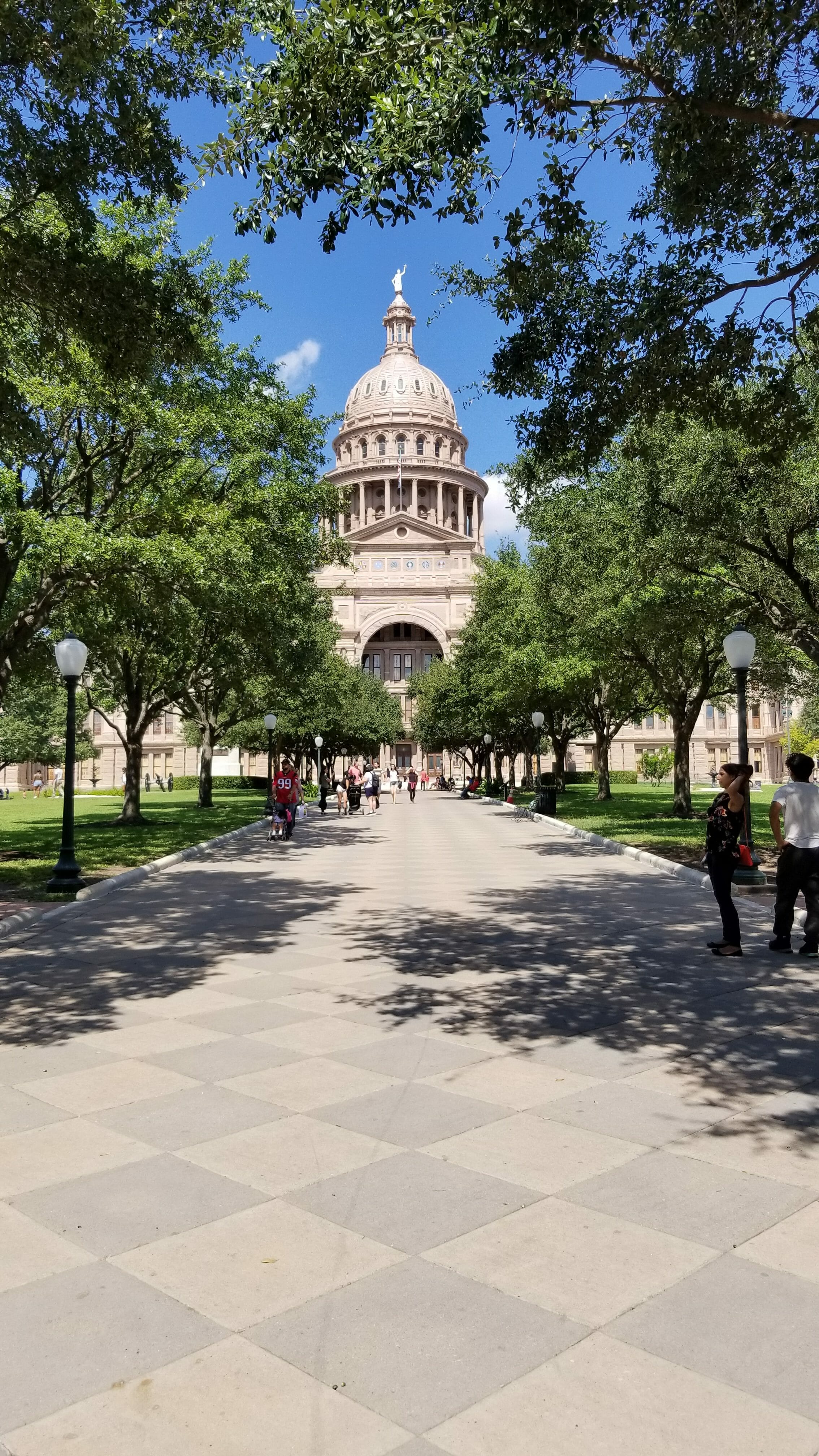 Here's another fantastic image taken with the 8 Plus' new sensor. Again, colors are well balanced, and the details are excellent. Most impressive is HDR mode, which does a remarkable job making sure the sun doesn't blow out the sky's deep blue color.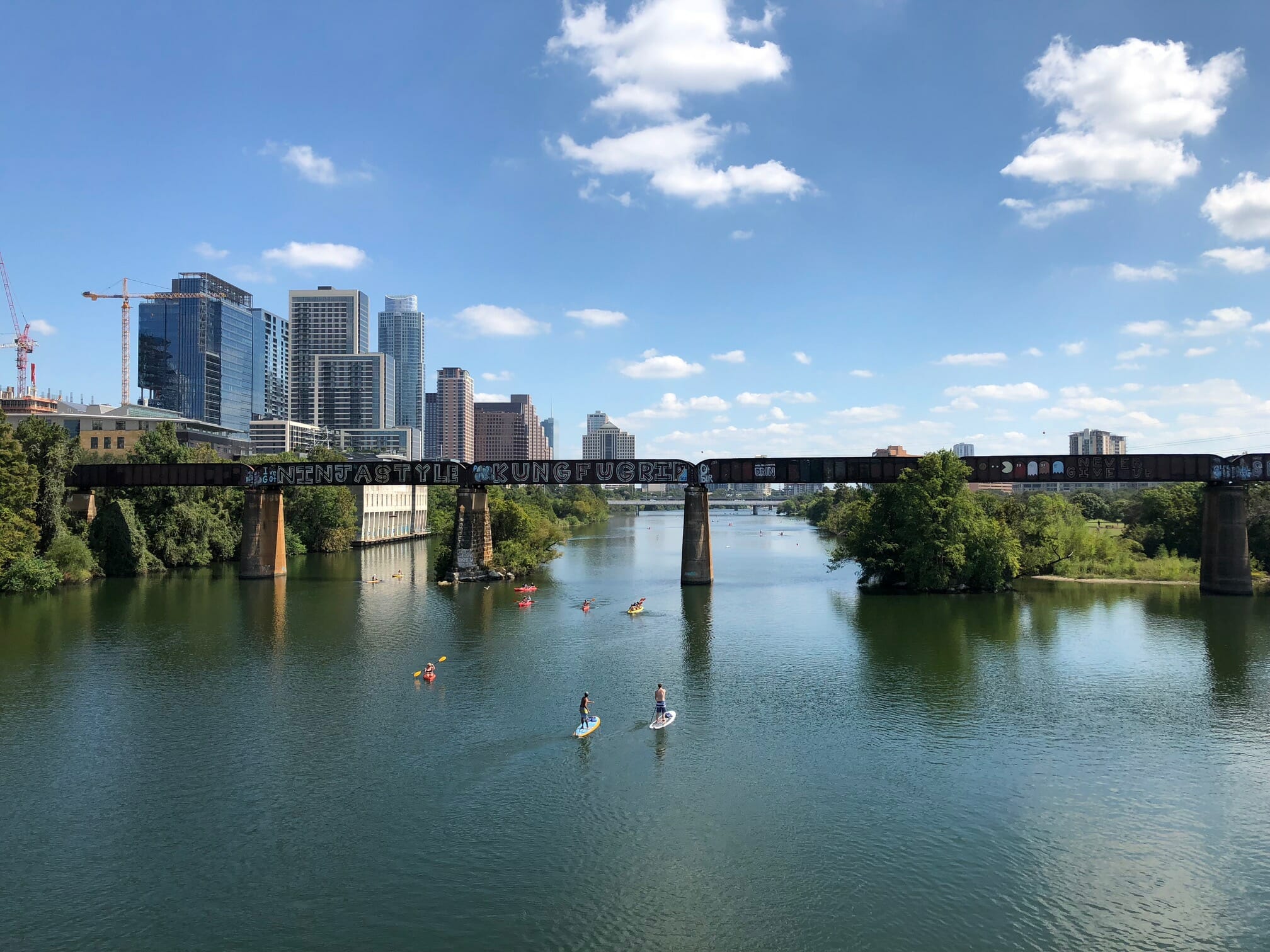 The iPhone 8 Plus also takes very good macro shots.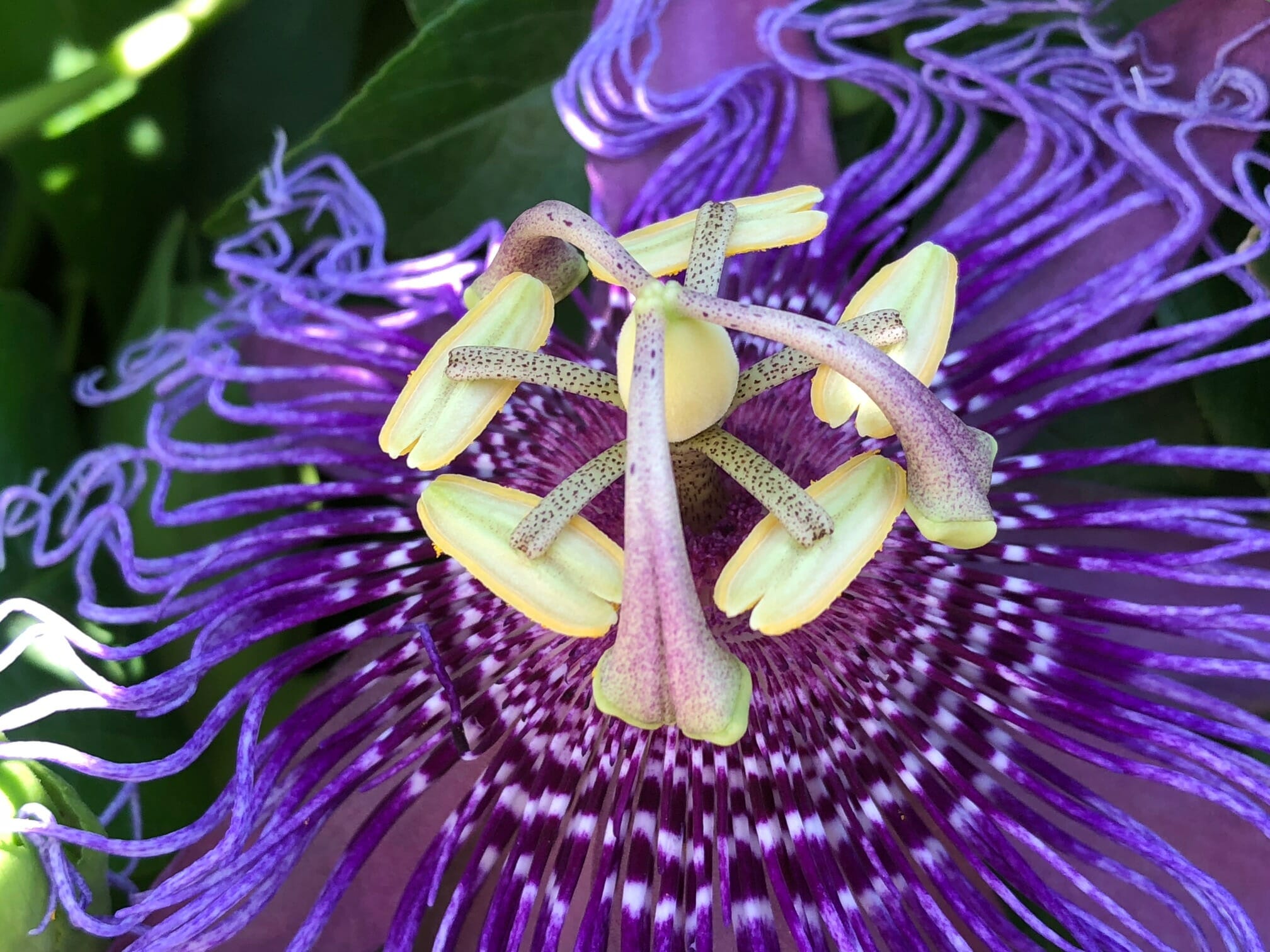 And it does a solid job with exposure under difficult lighting.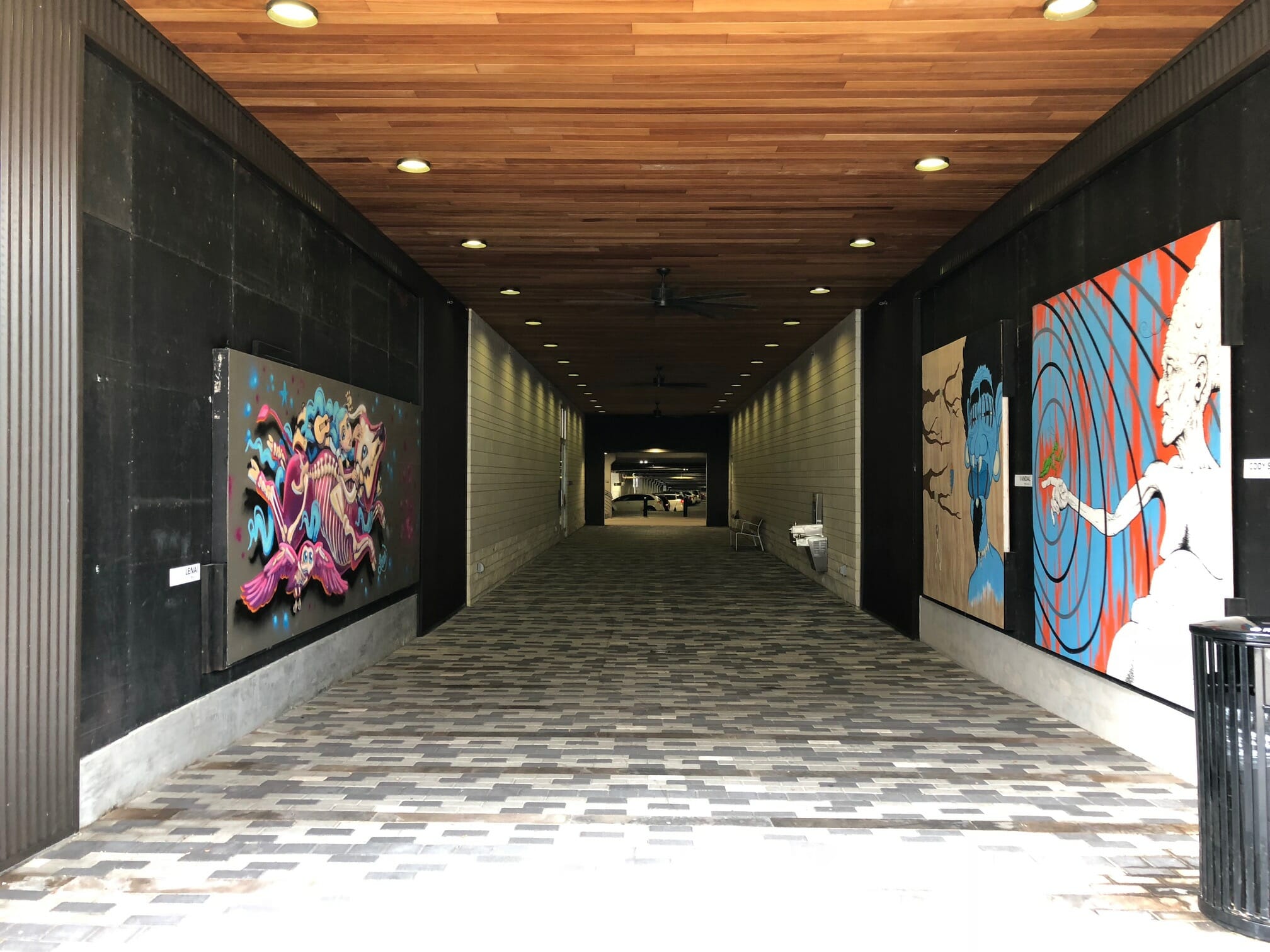 These next two images are taken at the same distance in relatively low light conditions. Here, I used the phone's main wide-angle lens.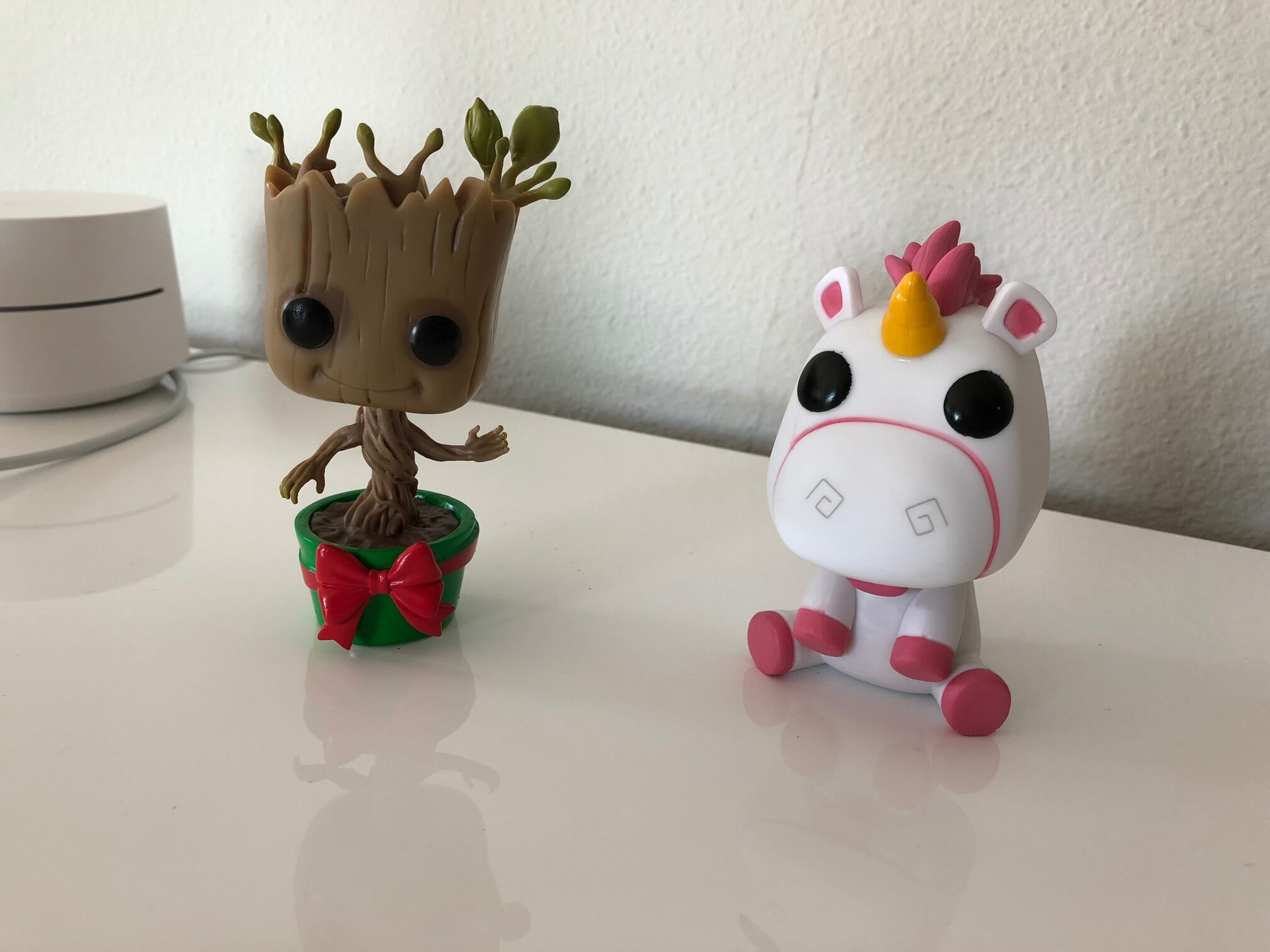 This shot was taken with the secondary telephoto (zoom) lens.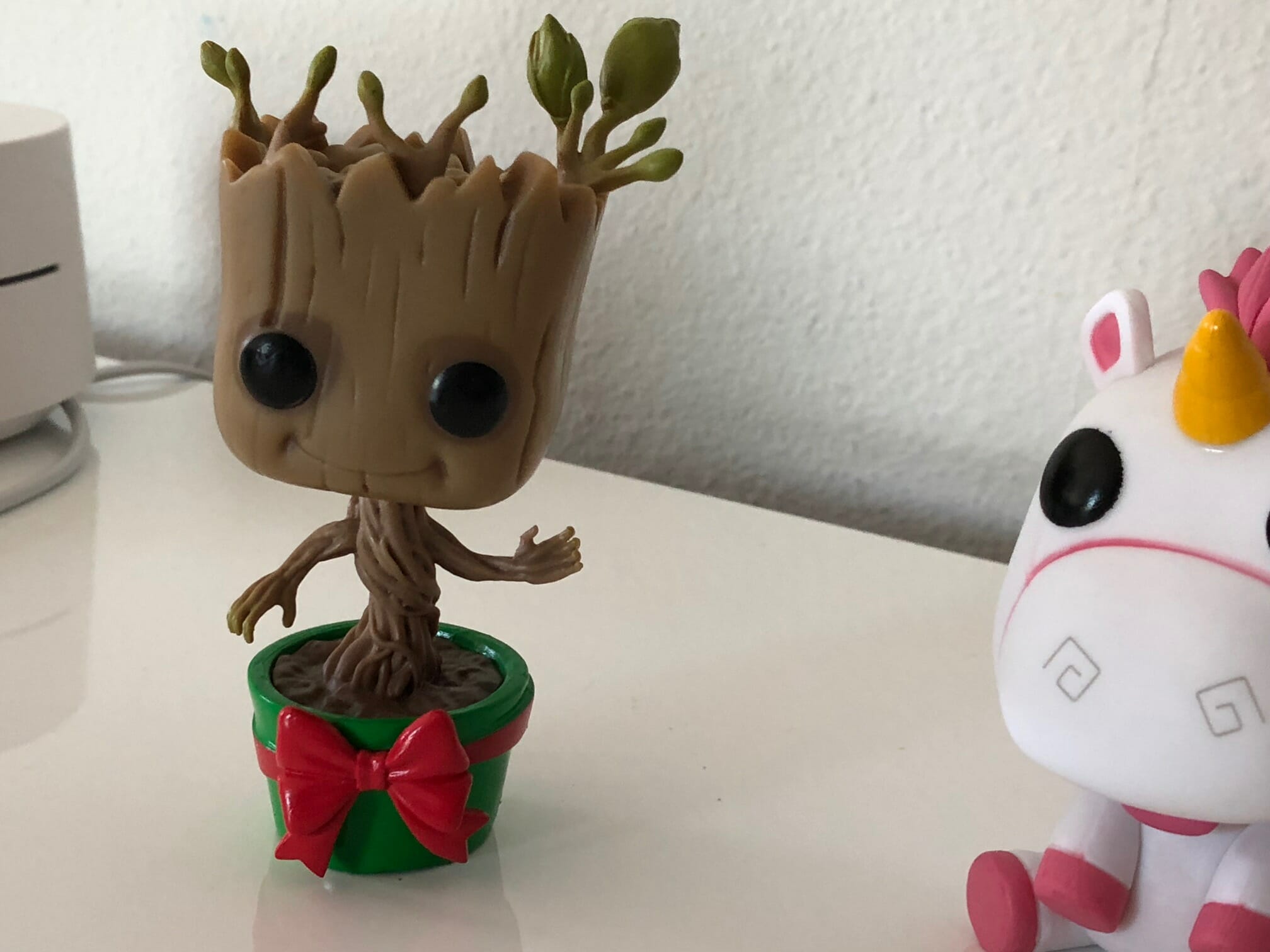 Baked into iOS 11 are a bunch of new camera features. To start, Live Photos can be shot with loop (replay), bounce (boomerang), or long exposure (blur effect) methods. You can also now edit Live Photos like video clips.
And Portrait mode is also improved, with optical image stabilization on both lenses and HDR and flash support. Here's a strangely fake-looking shot of my coworker using the phone's new "stage light mono" feature.
The iPhone 8 Plus has a 7-megapixel f/2.2 aperture front-facing camera that produces excellent photos like the one below.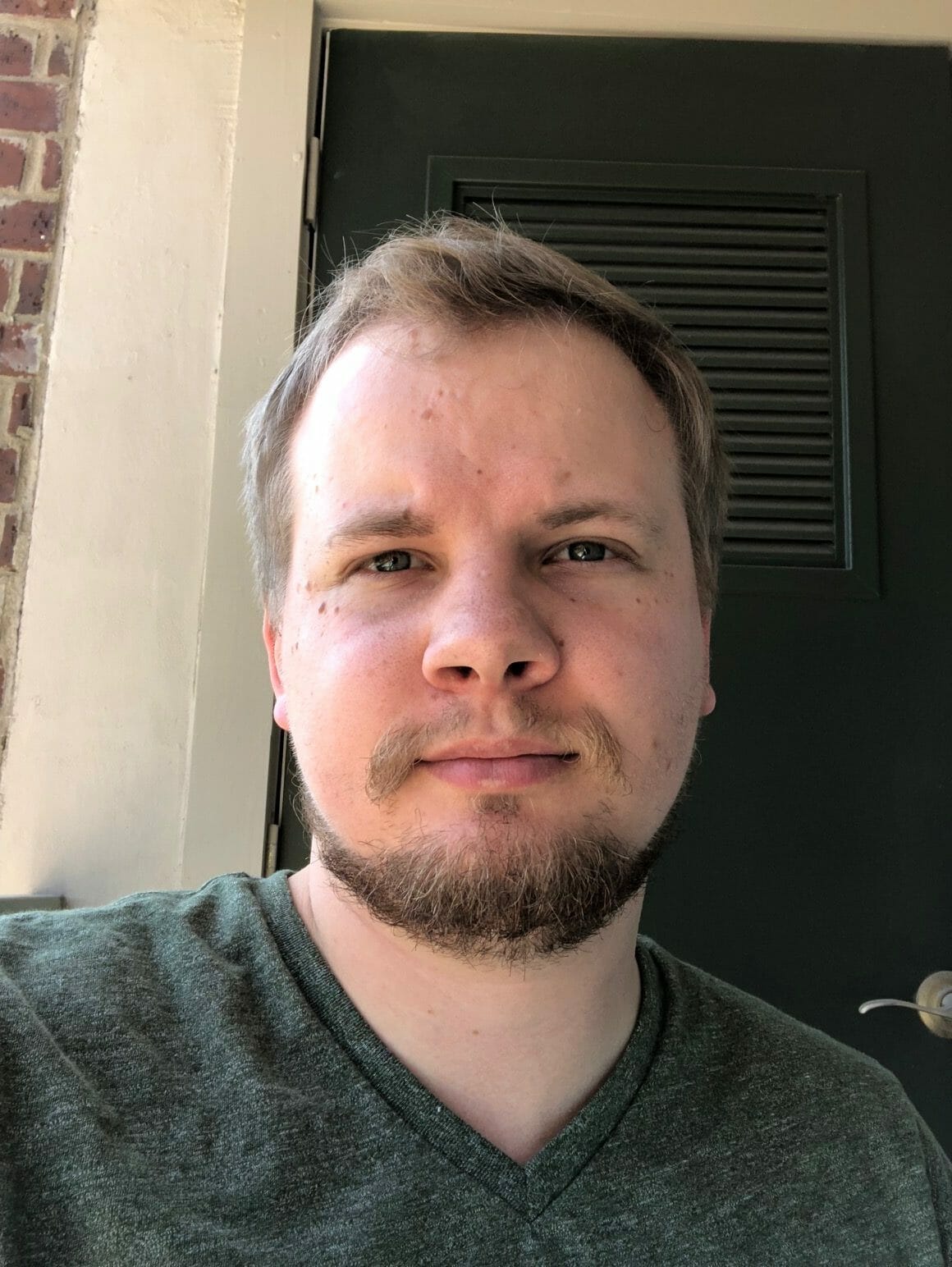 iPhone 8 Plus audio
The loud bottom-firing speakers on the iPhone 8 Plus sound pretty good. In fact, I'd easily take them over the decent ones on the Note 8. Music sounded clearer and more upfront compared to the Note 8, which were hollow in comparison. Sounds were also more full and coherent.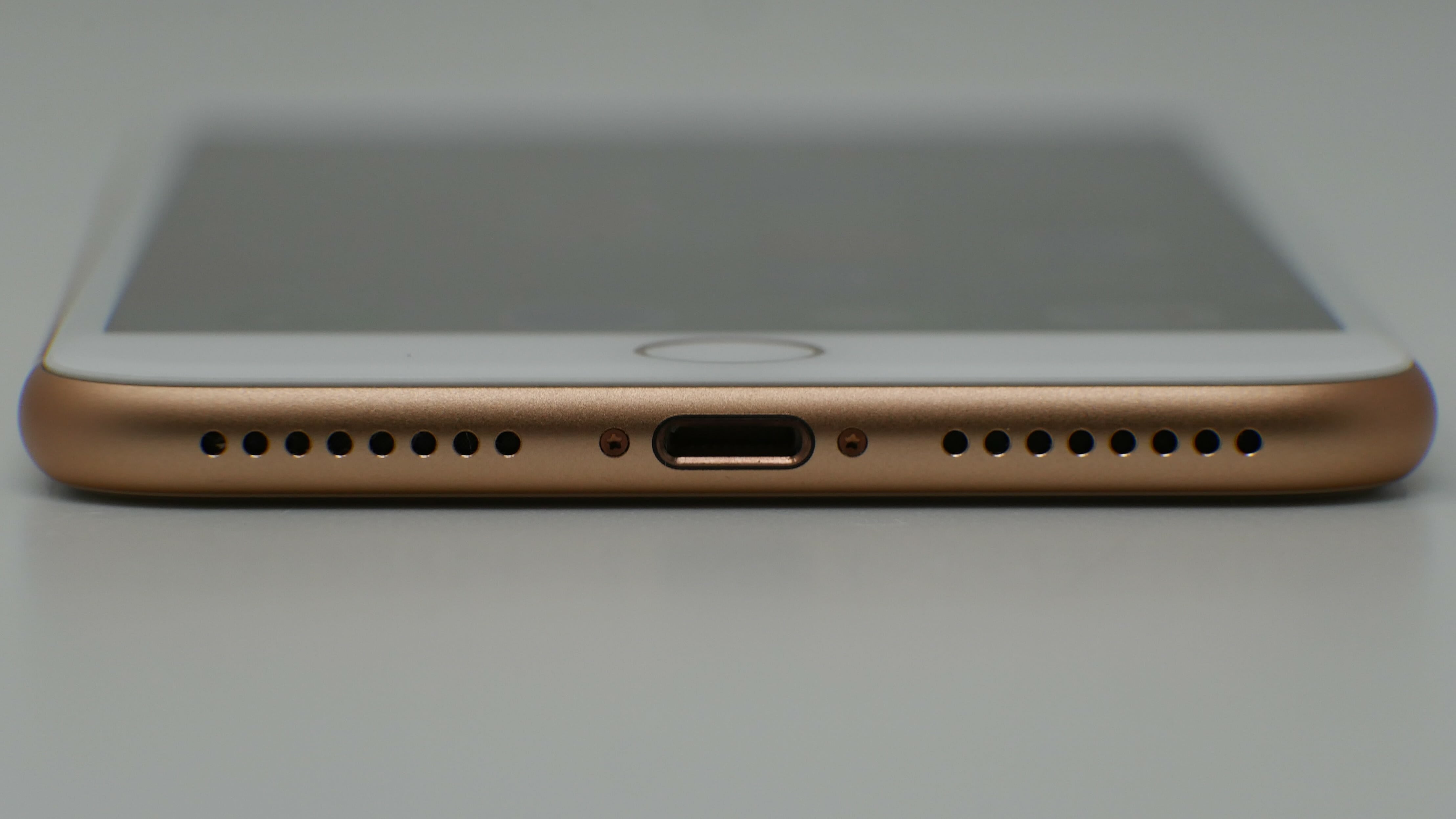 I'll give Samsung a pass for placing the speakers on the bottom of its edge-to-edge phones. I just wish Apple had taken advantage of the 8 Plus' large bezels by outfitting them with front-firing speakers like the upcoming Pixel 2 and Pixel 2 XL. It's frustratingly easy to muffle your music by accidentally blocking the speaker holes at the bottom of the device.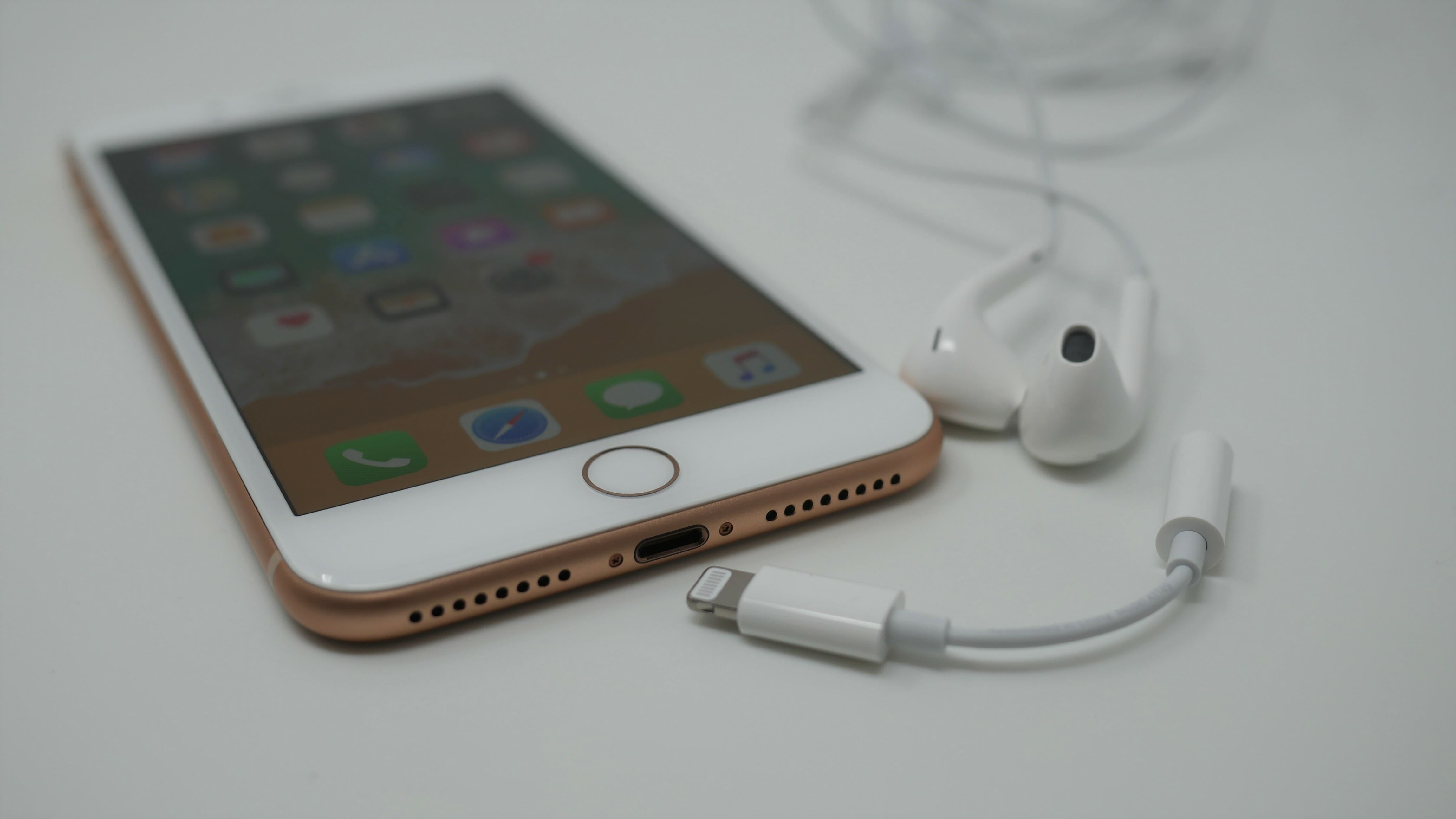 The iPhone 8 Plus comes with a pair of EarPods. They're comfortable and sound OK. Unsurprisingly, it doesn't have a headphone jack, so you'll need to shell out for some wireless earbuds if you want to avoid dongles. (See how Apple's own truly wireless AirPods did in our headphone shootout.)
iPhone 8 Plus battery life
As much as we've hoped for a breakthrough in battery life, it's hard to fault any phone that can last a full day of use. I had no problems reaching that threshold with the iPhone 8 Plus. At a rated 13 hours of internet use, 14 hours of video, and 21 hours of talk time, you should expect the iPhone 8 Plus to last about a day and a half with medium use at lower brightness. Crank the brightness up and you might not make it through a full day depending on your workload. That's a typical result for most flagship phones released today as manufacturers flaunt faster and more flexible charging methods instead of longevity.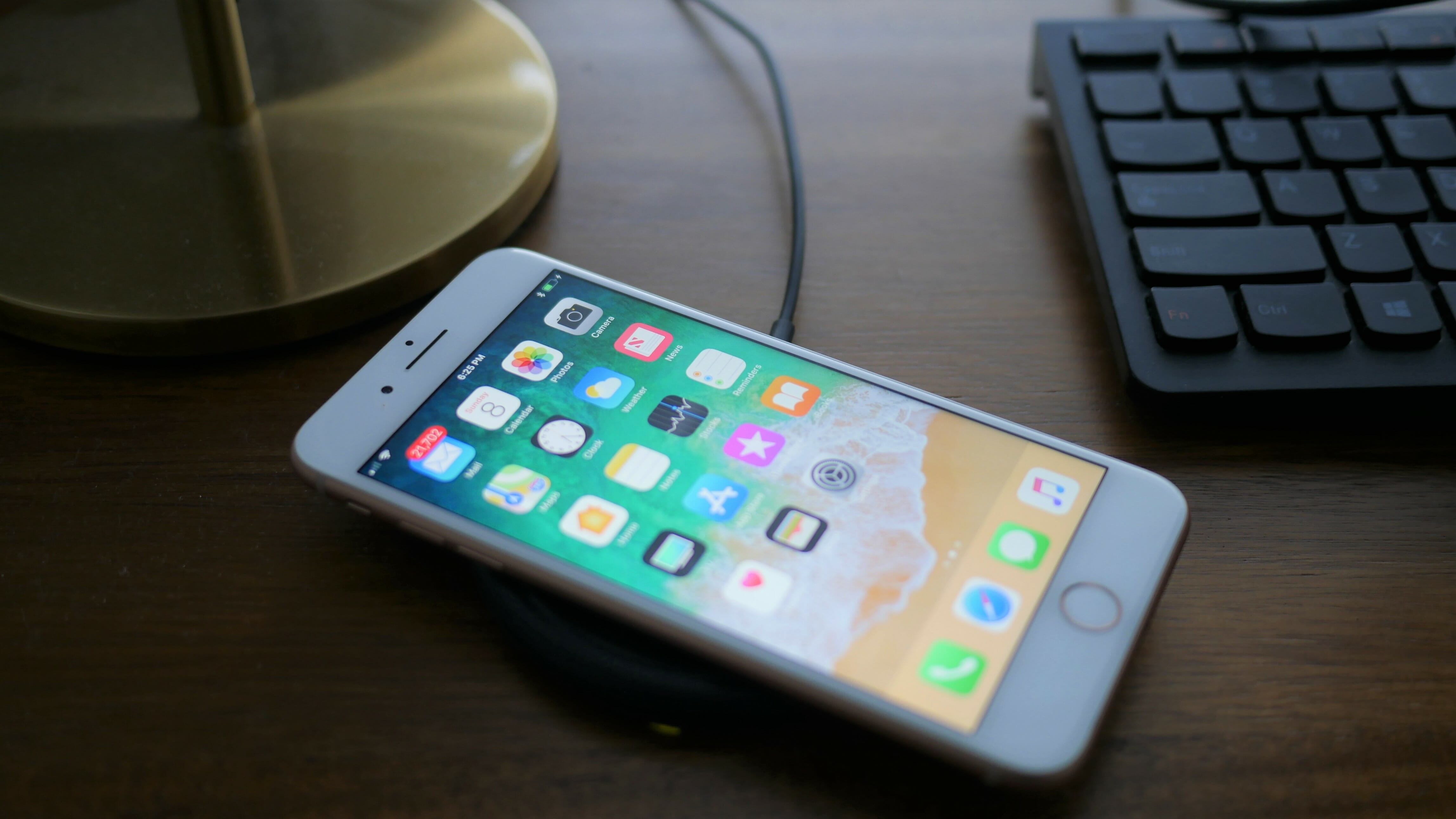 Enter wireless charging. Yes, Apple is finally using Qi (pronounced "chee") wireless charging technology on its latest devices. While it may not be as impressive as it sounds, wireless charging is definitely an added convenience. Instead of fumbling for a wire, all you have to do is place the iPhone 8 Plus onto a pad that's plugged into the wall. Since it's been around for years, there's already an established market for accessories.
But wireless isn't without faults. There's no good way to use your phone as it charges on the pad, and the size of a charger that can comfortably hold the iPhone 8 Plus makes it a hassle to travel with. QIiwireless also charges at the same speed as a Lightning cord, which is slower than USB-C, so it may not be the best option if you're in a pinch. Wired fast charging is said to charge an iPhone 8 Plus to 50 percent in just 30 minutes (with a USB-C to Lightning cable ($25) and USB-C power adapter (~$50), ugh). 
Should you buy iPhone 8 Plus?
I'm conflicted. There's a lot to like about the iPhone 8 Plus, and yet, I'm finding it difficult to outright recommend. At $800, it's one of the most expensive flagship phones without an edge-to-edge display, arguably the best smartphone feature of this year. It's an easily recommended sub-$1,000 choice for those look to upgrade today, but it just feels like Apple wanted its legendary design to go out with one last hurrah before everything changes.
In a way, the iPhone 8 Plus feels like a bridge between the devices of old and the radically different iPhone X. And if its improved camera and excellent performance are a taste of what's to come, then we're ready for the main course.