Fully wireless earbuds are here to stay, and now there's finally a range of solid products to choose from.
We compared four of the most popular wireless in-ear headphones on the market: Apple AirPods ($160), Bragi the Headphone ($150), Samsung Gear IconX ($200), and Jabra Elite Sport ($250). Here's how they stack up:
Best wireless earbuds: Design
Apple AirPods: These tiny, delicately curved in-ear headphones are easy on the eyes and would blend right in at a contemporary art museum. The stylish chrome finishes are a nice touch, but there's no denying how awkward they look when worn, a bit like having an electric toothbrush in your ear. Apple simply took the EarPods' blueprint and stuck a battery where the wire attaches.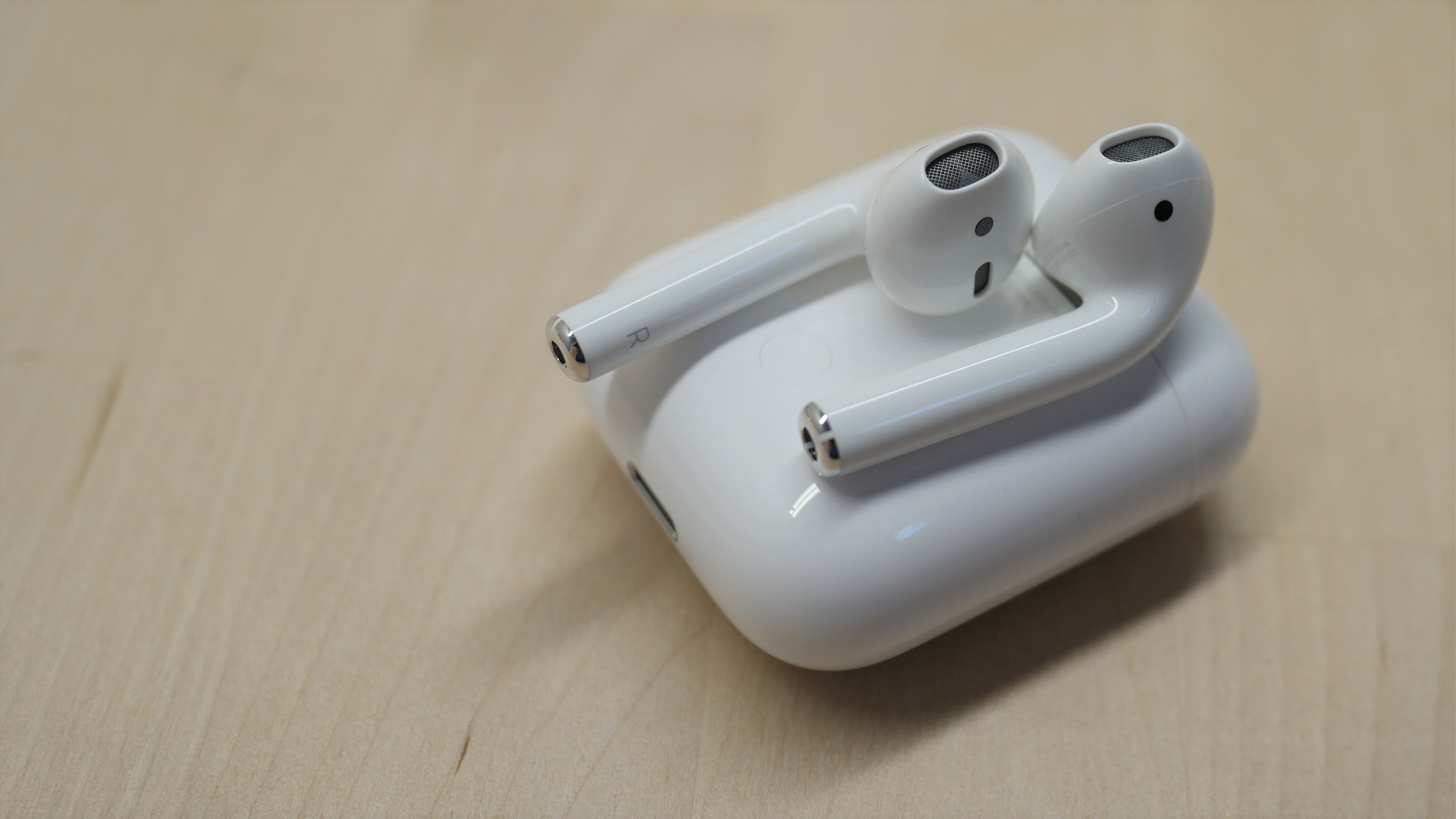 Bragi the Headphone: The design of these wireless earbuds is about as interesting as their name suggests. They have an edge over the Jabra because of the more ergonomic gramophone design and slimmer profile. Just don't expect anyone to stop you on the street. One interesting thing to note: These are the only earbuds without a left (L)/ right (R) indicator.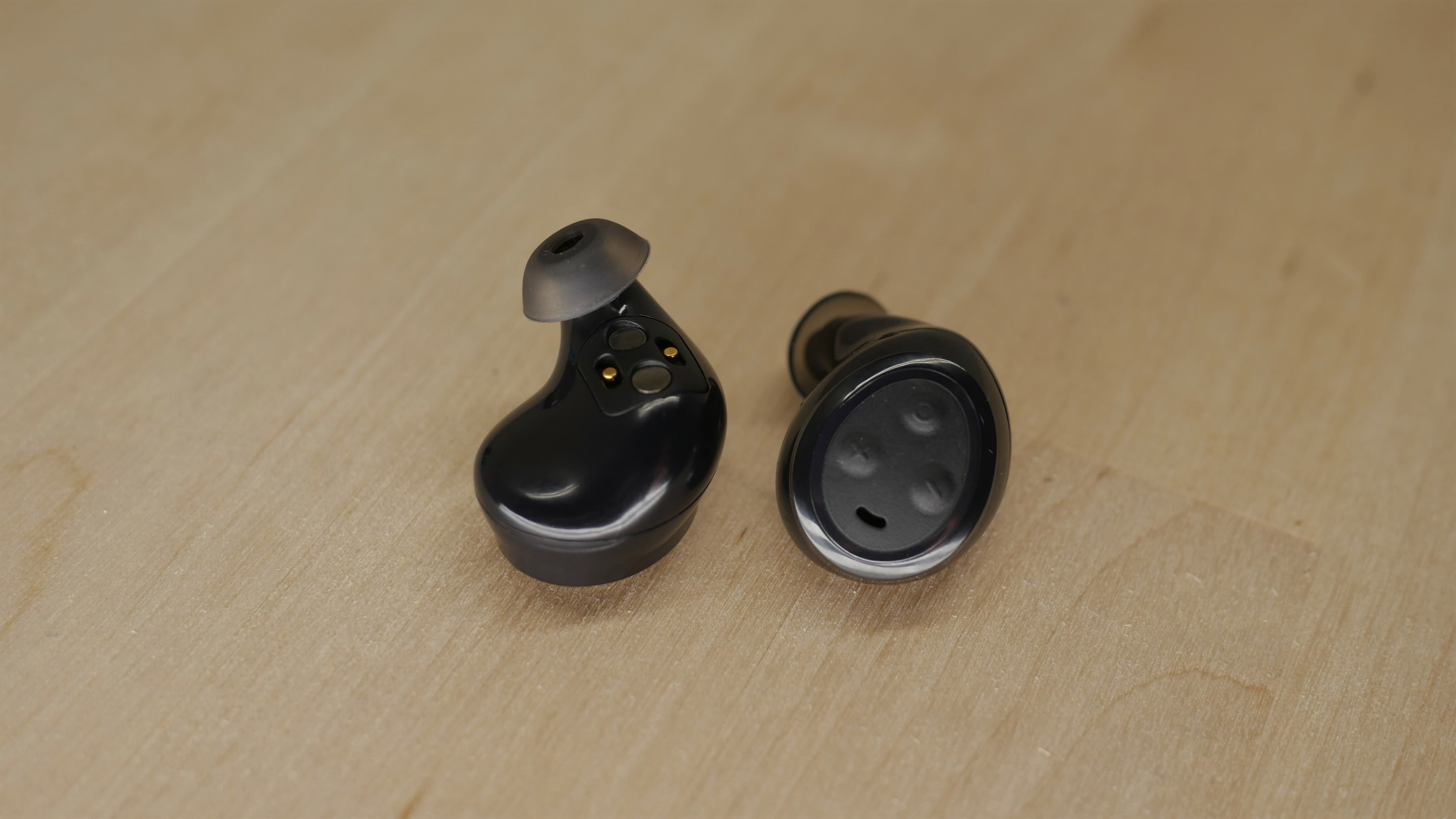 Samsung Gear IconX: These are a good deal smaller than the Jabra Elite and look more natural than the AirPods. The subtle design cues, like the trim around the capacitive touch surface, help them stand out from the uninspired competition. The IconX are available in three snazzy colors: black with yellow accents, white with silver accents, and blue with teal accents.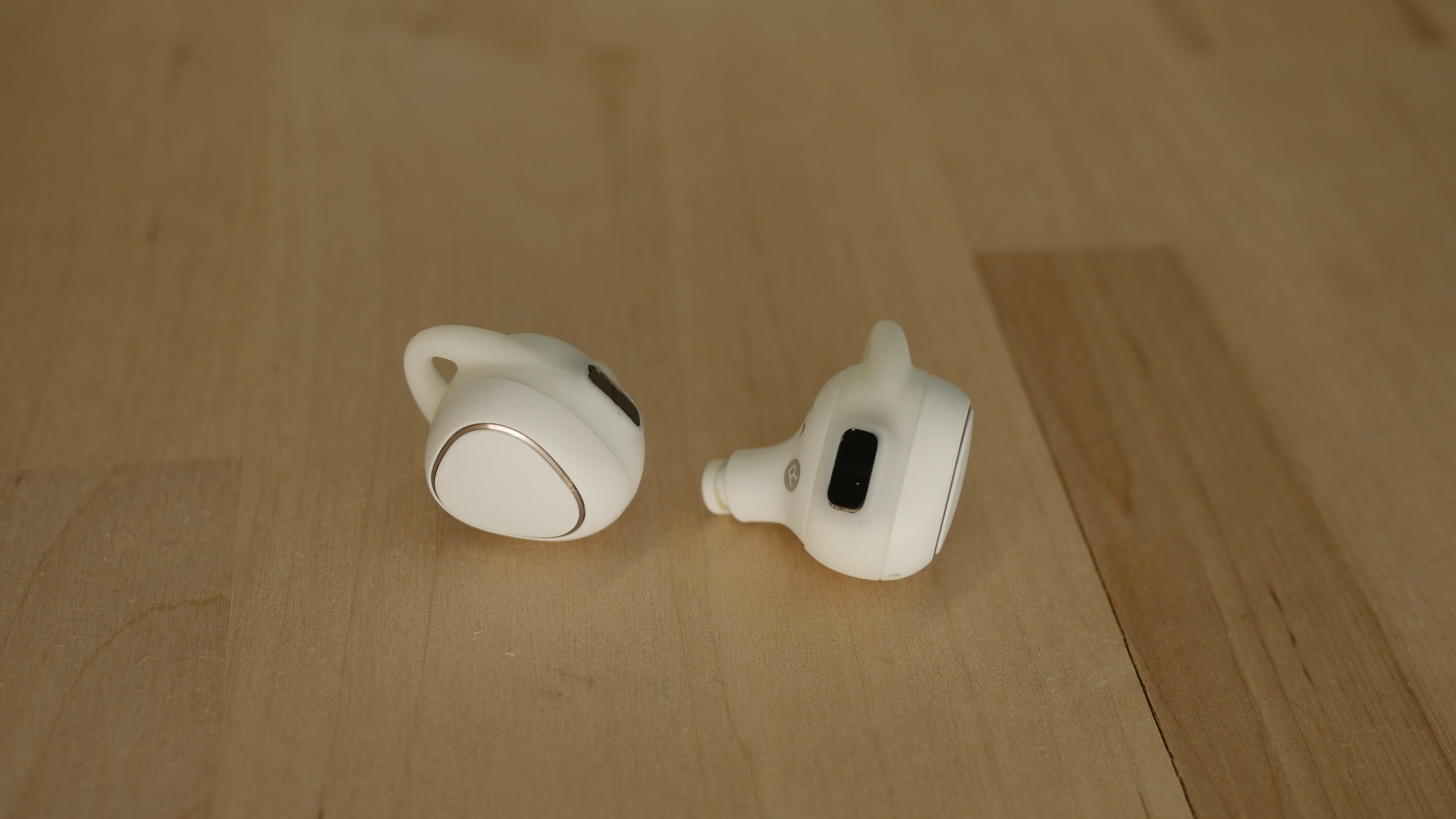 Jabra Elite Sport: Big, bulky, and lacking any unique design elements, the Jabra are rather bland. That's disappointing considering they're the most expensive of the bunch and are made by the company that came up with this thing. But hey, at least there's a lime green edition.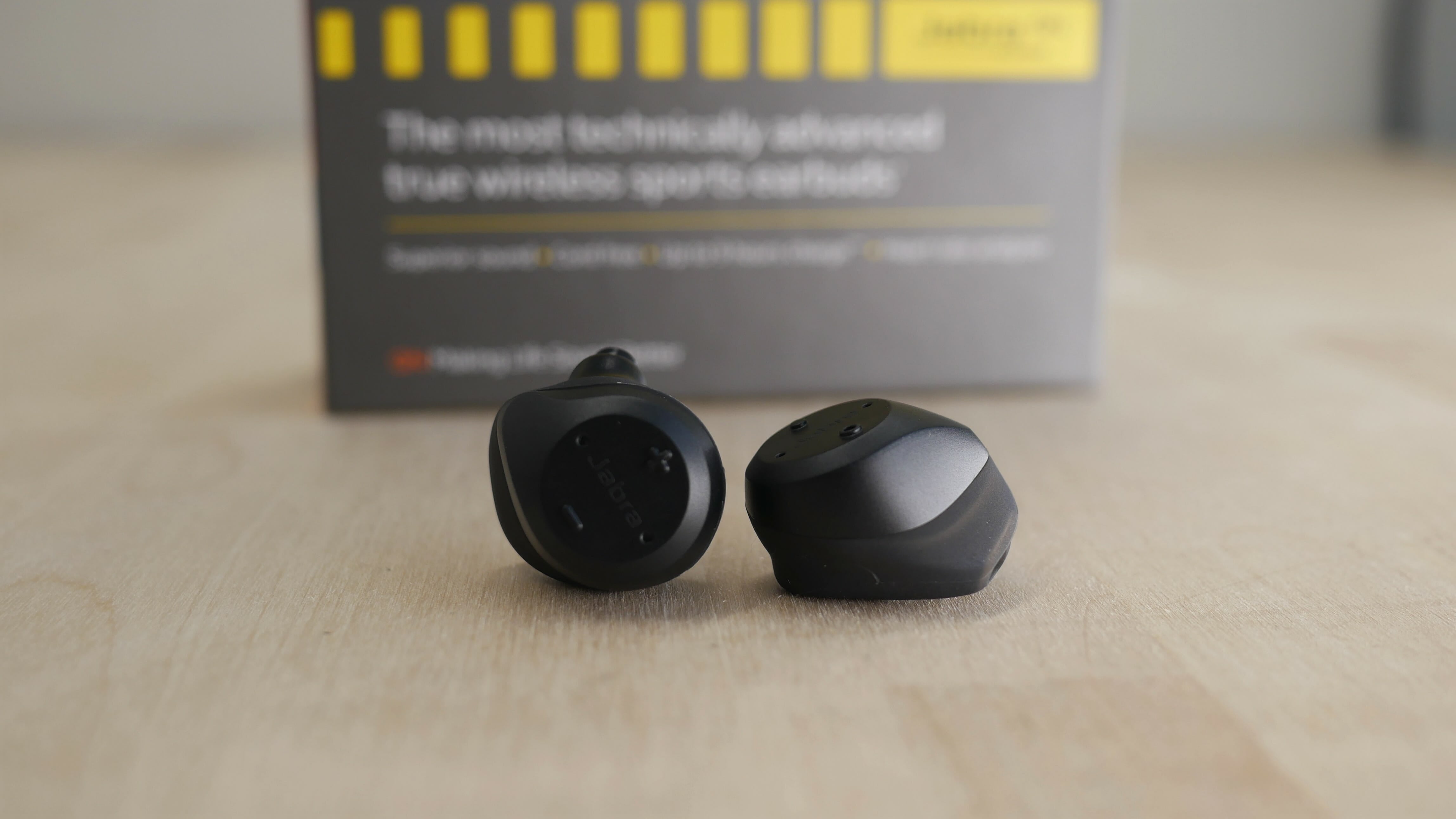 Best wireless earbuds: Comfort
Apple AirPods: If you've worn the EarPods, you'll have an idea of how nicely the lightweight AirPods fit. For me, they're very comfortable, sitting firmly in the ear without putting too much pressure on any single spot. They also don't budge no matter how hard I shake or turn my head.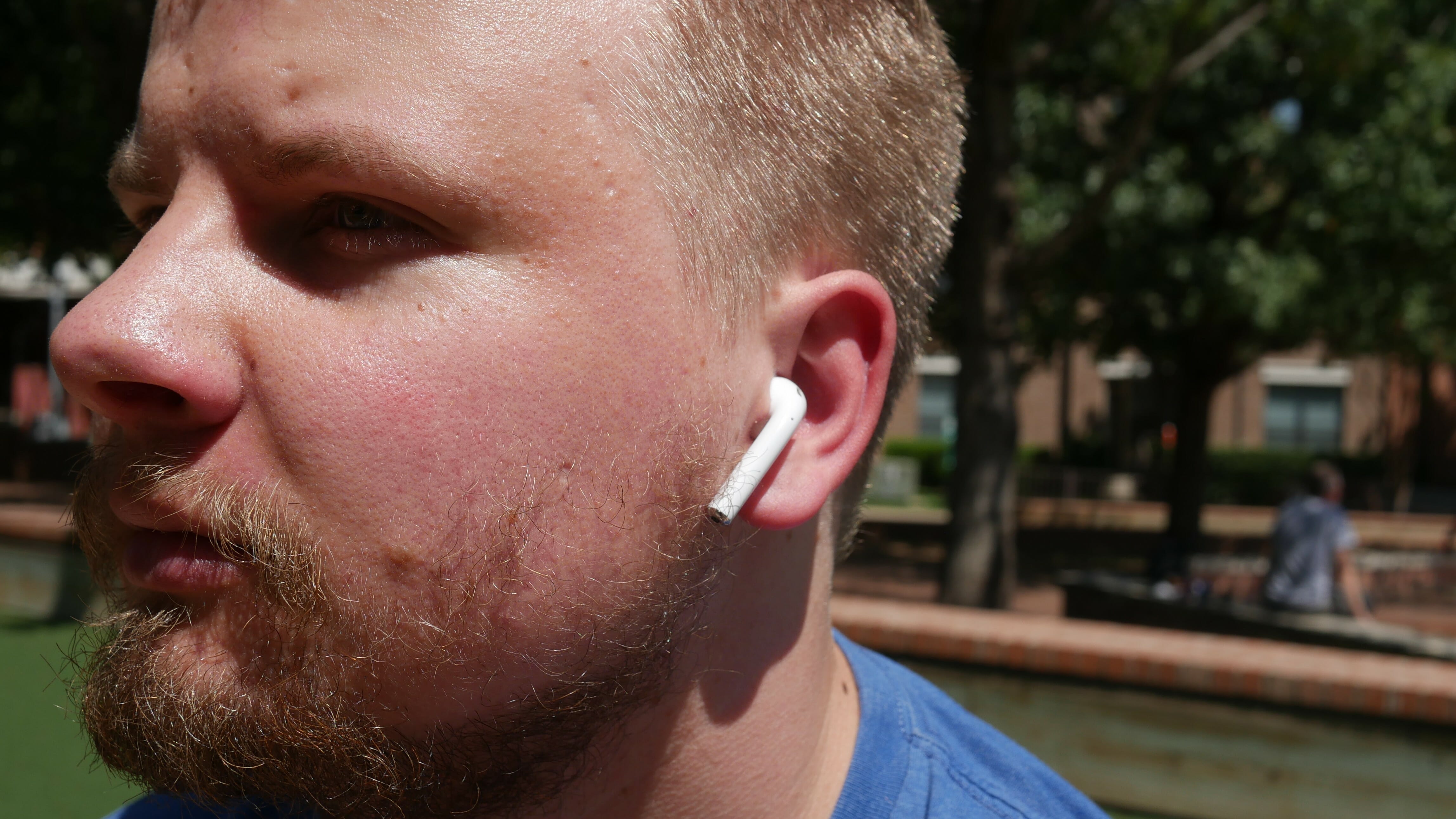 Bragi the Headphone: These are surprisingly comfortable thanks to their slim profile and small nozzles. Unlike most traditional in-ear headphones, the Headphone (have I mentioned how awful the name is?) stayed put the moment I inserted them in my ear, never causing any discomfort. Other than the AirPods, you'd be hard-pressed to find another pair of truly wireless headphones this comfortable.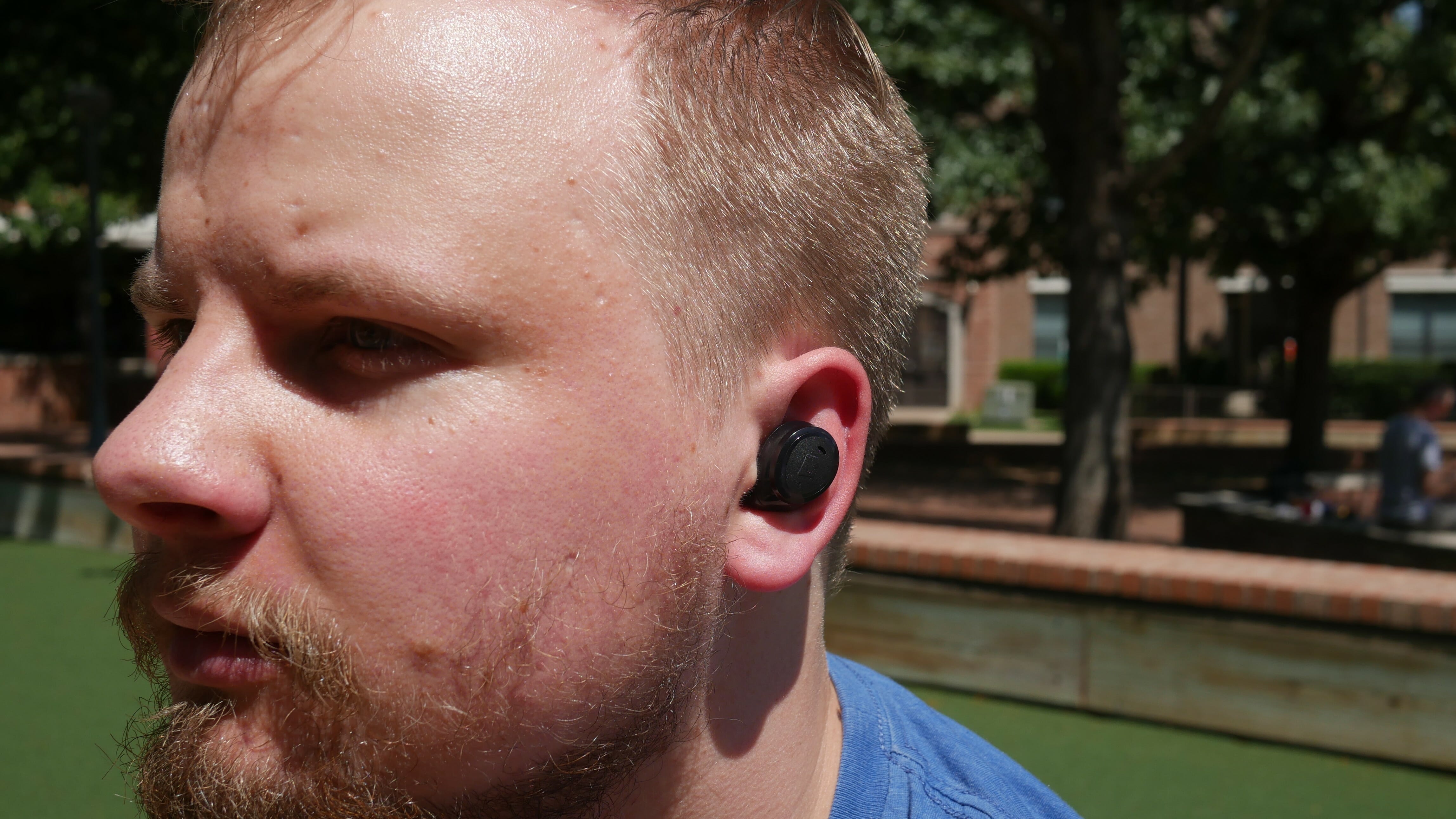 Samsung Gear IconX: The IconX earbuds are also comfortable thanks to their lightweight build, but you'll have to do a good deal of fiddling to get the right fit. It can be frustrating when you accidentally tap the capacitive touch button while you're adjusting them. Fortunately, the little rubber fin on top does a good job securing these once they're in your ear.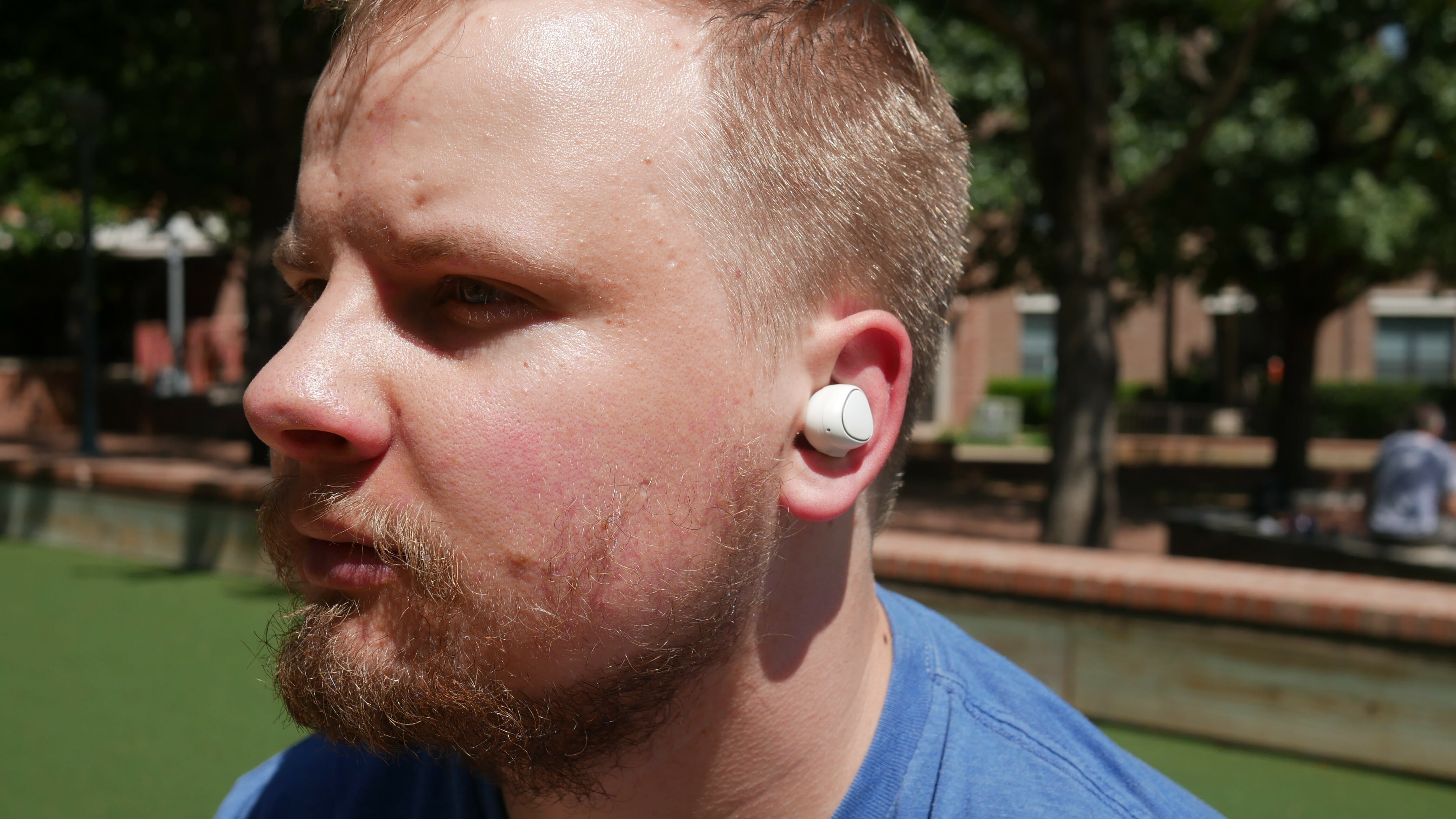 Jabra Elite Sport: It's not that these aren't comfortable—you'll just have to work to get a tight seal. Without it, sound quality suffers considerably. They're also the largest and heaviest of the bunch. Once you find the right tips (these come with the best selection), the Elite Sport should fit nicely in all but the smallest ears.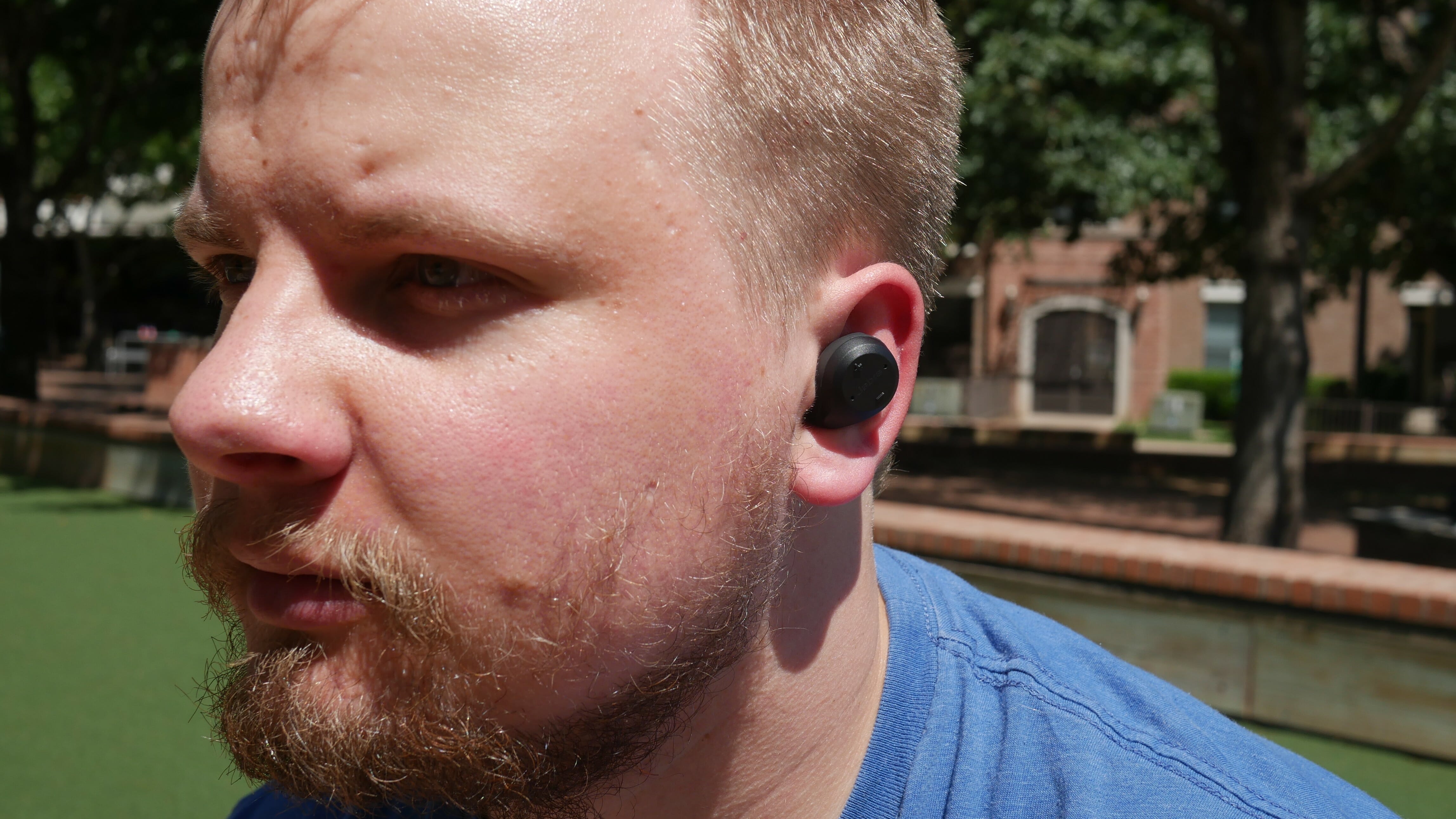 Winners: AirPods, Bragi the Headphone
Best wireless earbuds: Bluetooth connectivity
Apple AirPods: I had no problem connecting the AirPods to an iPhone 7 Plus, and never experienced any dropouts even when walking between rooms. Apple's unique sensor feature paused audio when I removed the earbuds and started it right back up when I reinserted them. Impressive.
Bragi the Headphone: The Bragi also did a good job, but audio stuttered a step or two before the AirPods. Connecting was as simple and immediate as setting up any other Bluetooth device.
Samsung Gear IconX: The IconX connected immediately and never dropped out, even when I kept my phone in a storage area at the gym.
Jabra Elite Sport: Bluetooth 4.1 on the Elite Sport performed much like the other three. All four are a testament to how far Bluetooth has come and should dispel any lingering concerns about the technology's reliability.
Winner: Draw
READ MORE:
Best wireless earbuds: Features
Apple AirPods: One word: Siri. The personal assistant is just two taps away and does all the heavy lifting when it comes to accessing features. Sure, you can use the excellent onboard microphones to answer calls, adjust volume, skip tracks, and ask directions, but you'll have to wake up Siri and speak to it every time you want something done. Other than that, the AirPods are short on features and aren't sweat-proof, so don't use them at the gym.
Bragi the Headphone: These may be a simplified version of Bragi's flagship Dash Pro, but they do still come with the company's futuristic "Audio Transparency," which is designed to allow ambient sound in with the press of a button. Otherwise, the Headphone's list of features runs short. You can make calls, play music, and use Siri or Google Assistant—the same basic functions you'd find on most other wireless earbuds. At least the Bragi earbuds are sweat-proof.
Samsung Gear IconX: Leave it to Samsung to throw a load of features at a product and see what sticks. First is the capacitive touch surface, a great alternative to pushing your earbuds into your ears fiddling with onboard buttons. The IconX are considered "fitness" earbuds and they've got the features to back that claim. Not only are they splash-resistant, but they also come with a built-in heart rate sensor. A standalone fitness app and ambient noise mode help round out the impressive suite of features. But the best reason to buy the IconX is for its 4GB of built-in storage, which lets you store and listen to music without a smartphone.
Jabra Elite Sport: The Elite Sport have a good mix of Bragi and Samsung features. Its version of "Audio Transparency," called "Hear Through," worked well in testing. These are also the best protected against water damage, scoring an IP67 waterproof rating. Like the IconX, the Elite are built for fitness and come with a built-in heart rate monitor and dedicated fitness app.
Winner: Jabra Elite Sport, Gear IconX
Best wireless earbuds: Battery life and charging case
Apple AirPods: Rounding out your personal care products is the floss container that is the AirPod's charging cradle. It's small, lightweight, and sleek. However, it toppled over every time I tried to stand it up. Apple claims the charging case gives the AirPods at least another 19 hours of battery life, or about four full charges. The AirPods survived an impressive five hours on a single charge when listening to music at medium volume.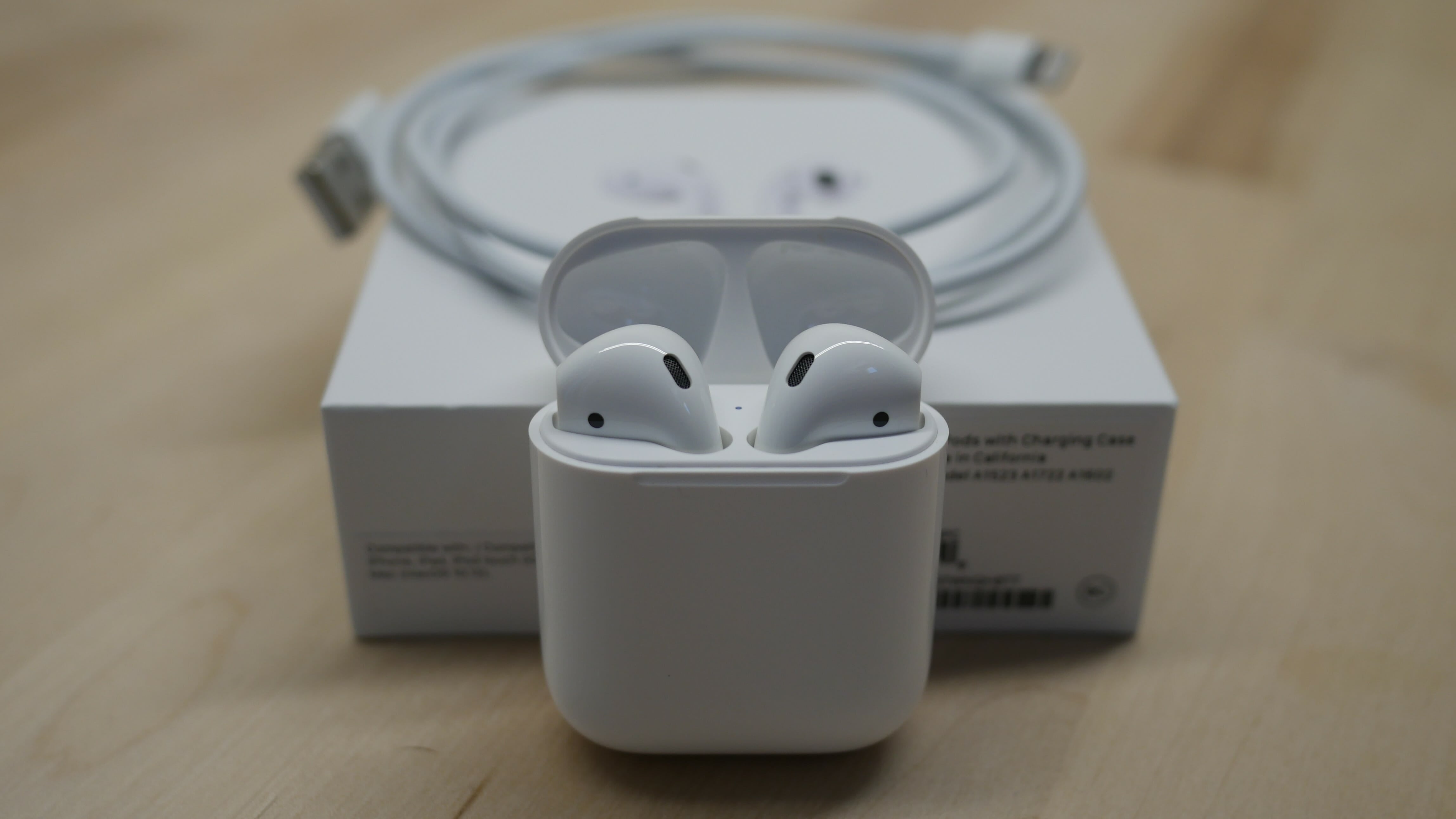 Bragi the Headphone: This is my least favorite charging cradle chiefly because it's the only one that doesn't have a built-in battery, so it can't charge your in-ear headphones unless it's plugged in. You'll also need to slide the housing out of a plastic shell every time you charge up, and it's the only case in this shootout without an LED indicator. The Bragi's battery lasted as long as the AirPods playing music at medium volume for around five hours.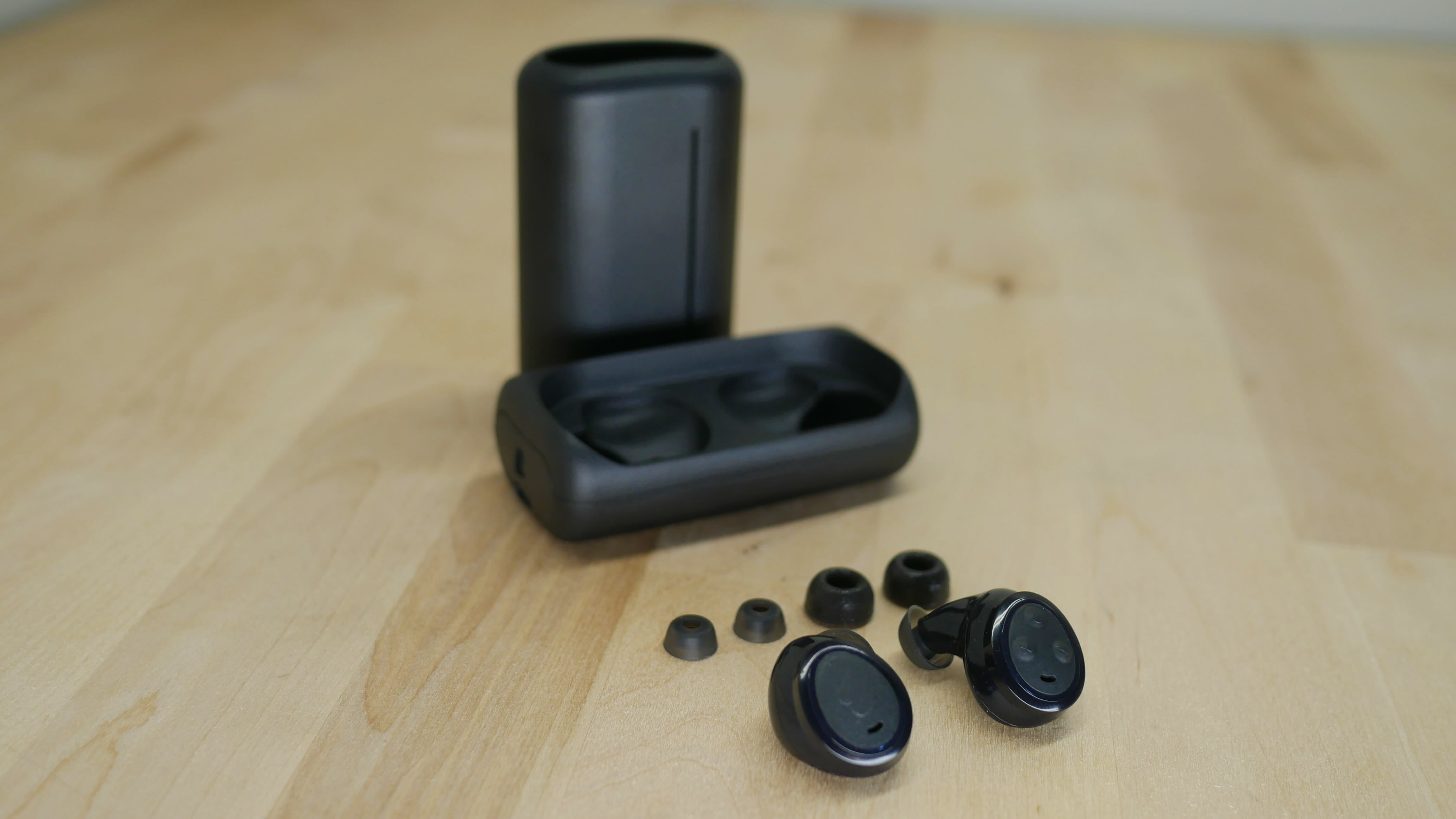 Samsung Gear IconX: Somewhere between a Beats Pill and a Tic Tac, the IconX's charger is both eye-catching and practical. Not only is it tiny, but it can also fully recharge the IconX twice before needing to be juiced back up. There's no sugarcoating it: The IconX's battery life is dreadful. I got about two hours listening to music. That drops even more when using workout features.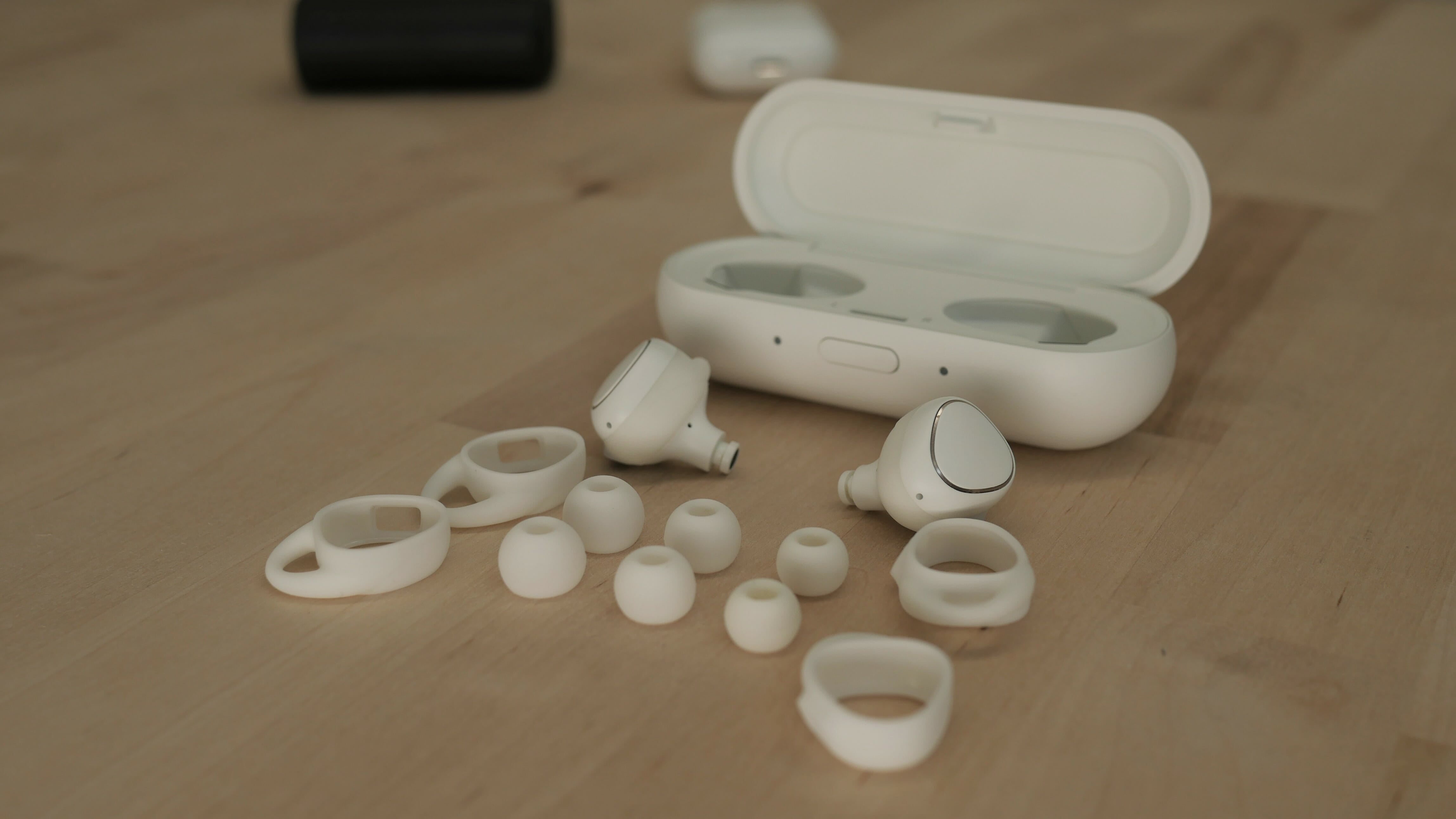 Jabra Elite Sport: The Jabra Elite Sport case feels like a small jewelry box. Unfortunately, the earbuds don't securely stay inside, falling out almost every time I opened it. The built-in battery will recharge the earbuds twice. Jabra recently upgraded its previous truly wireless headphones to improve battery life. I got a solid four hours of runtime listening to music.
Winner: AirPods
READ MORE:
Everything you need to know before buying a smart remote
Best wireless earbuds: Sound
Apple AirPods: Because of their shallow insertion, the AirPods sound somewhat distant. Still, Apple's headphones have above average sound with very good clarity and a fairly balanced presentation. I preferred the high notes on the AirPods over its competitors because of their added sparkle and revealing detail. That being said, bassheads should look elsewhere.
Bragi the Headphone: As much as I've liked the Bragi up to this point (minus the case and name), audio quality is not one of its strong suits. The biggest problem is the bloated bass, which slams you in the face every chance it gets. There's also a lack of treble sparkle, making these sound less dynamic than the AirPods. It's not all bad; vocal clarity and presentation are decent when they aren't smothered in bass rumble.
Samsung Gear IconX: The IconX, unfortunately, doesn't support the AptX codec for "CD quality" sound, but that doesn't seem to hold them back. Thankfully, Samsung dialed back the bass, letting the midrange and treble come in nice and clear. Overall, the sound is pleasantly balanced but lacks energy and the sort of punch that'll make you want to dance.
Jabra Elite Sport: I'm very impressed with the sound quality of the Elite Sport. Not only do they have the best bass response—weighty but not overbearing—they are also the only wireless earbuds with any semblance of soundstage width. Balance is also a plus, with upfront vocals and clear high notes. I do, however, want a bit more brightness and sparkle in the treble.
Winner: Jabra Elite Sport
Verdict 
As much as I'd like to, I'm finding it difficult to declare a definitive winner. Each of these truly wireless earbuds is a lesson in compromise, a clear indication that the young product category has a long way to go. But if I had to choose one, I'd go with the Jabra Elite Sport.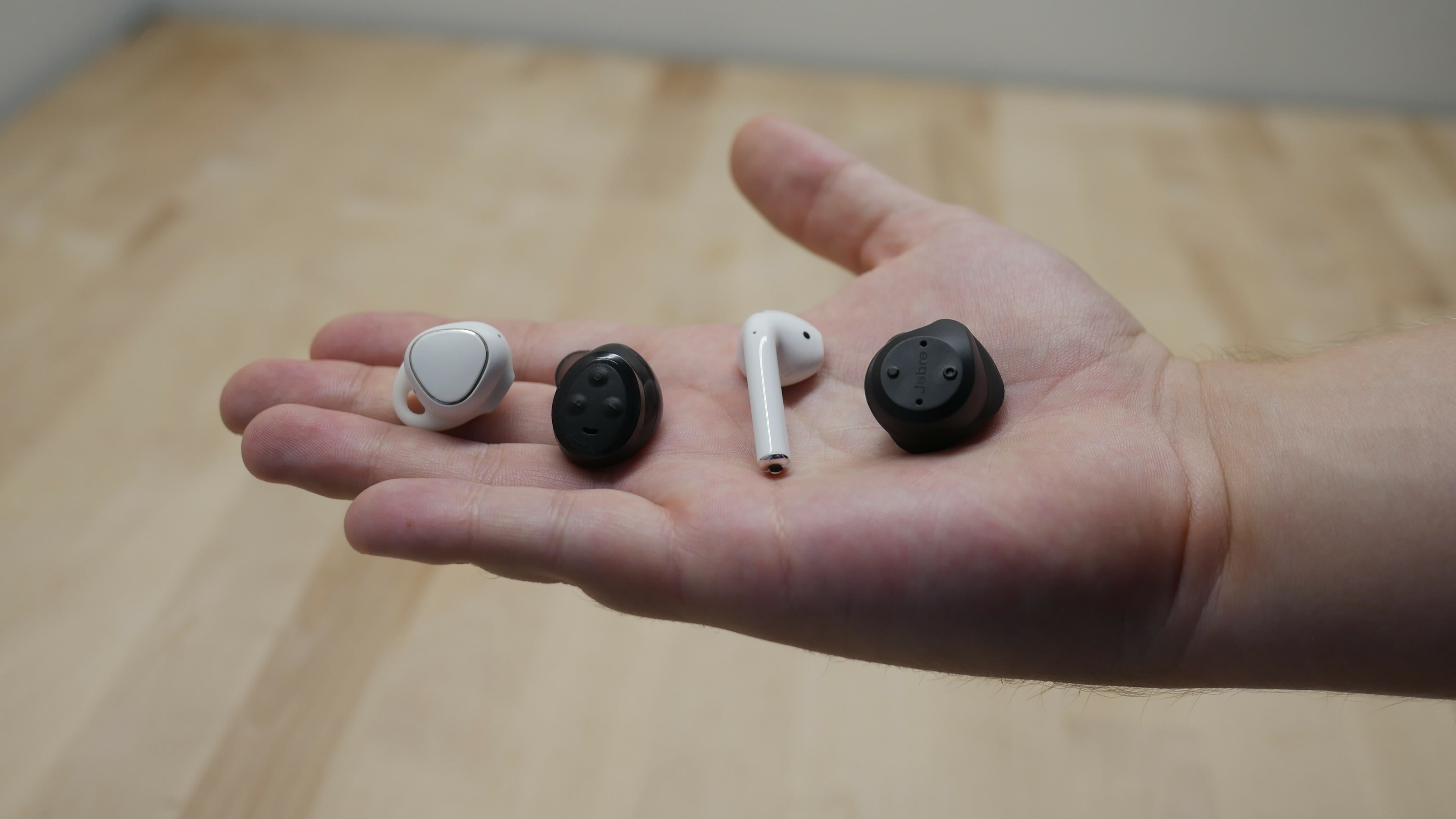 Yeah, they're bulky and boring, and they don't fit securely in the carrying case, but they've got the best sound, a host of fitness features, and decent battery life. However, if you don't plan on working out and are OK speaking to Siri, the AirPods are another very good choice. In the end, you might want to hold on to your wired headphones a bit longer. While these are all great in their own right, the next versions have the potential to be damn near perfect.
The Daily Dot may receive a payment in connection with purchases of products or services featured in this article. Click here to learn more.