With 2 million apps in the Apple App Store, it's hard to figure out where to get started. Whether you just switched to iOS or you simply have never dived head first into the app world, we've got you covered. From productivity to playtime, these apps will help you make the most of every day.
The best iPhone apps
Your iPhone already has an incredible Camera app, but if you want to take your photography to the next level, Camera+ is the best app for photography on iOS. With touch controls for both focus and exposure, a powerful editing studio, photo flashlight for illuminating night shots, and a wide range of shooting modes, Camera+ gives you the customization of a DSLR with the editing power of a mini-Photoshop. Add captions or crop your images to the perfect size. The only thing better than an iPhone camera is an iPhone camera with Camera+.
One of the advantages of having a smartphone is getting help to keep your life organized. Mint is a perfect free finance app that monitors your spending and deposits, to help you see a broader picture of your economic health. Mint will tell you where you spend your money, making it abundantly clear if you need to adjust your budget, save more, or dial back on luxuries. Thanks to a new update, you can even pay bills through the app. Better than any other banking app, Mint is the easiest way to stay on top of your finances.
READ MORE:
The downside of having a smartphone is your friends aren't likely to accept "I forgot my wallet" as an excuse for not throwing in on pizza anymore. That's all thanks to Venmo, the easiest way to make digital person-to-person payments available on the market. Connect a card to your Venmo account, and you'll be able to send and receive payments in no time. Pay your babysitter, a friend to move a sofa, the kid who mows your own, or the guy who delivers "oregano" to your house. Venmo makes it all a breeze.
4) Boom
Free with in-app purchases
Much like its camera, Apple's music app gets the job done, but it lacks features power users may want. If you're a hardcore music listener on your smartphone, you're going to want Boom. A spin-off of the popular desktop music player, Boom offers up powerful surround sound enhancements and EQ adjustments that make the standard Music app sound like a jukebox. Whether you're trying to find the ultimate bass boost or simply improve the clarity of your music, Boom is a treat. It even allows you specify if you're using earbuds or can-style headphones, optimizing the sound for your unique experience. If you load your own music on your iPhone, Boom is a must have.
5) Lyft
Free to download, cost of rides varies
Lyft puts an affordable taxi service in your pocket that summons a car to your location with the push of a button. With pricing options that range from dirt-cheap rides you share with strangers to luxury vehicles, you'll always be able to find a ride that matches your pocketbook and style. While rates change from city to city, Lyft tends to take a slightly lower percentage of its driver's profits than rival Uber. The company also made headlines for pledging $1 million to the ACLU over the next four years to combat President Donald Trump's immigration ban.
6) Spotify
Free ad-supported mode or $9.99 monthly
What Boost is for people with deep personal music collections, Spotify is for the rest of us. With almost every album ever recorded at your finger tips for $9.99 a month, Spotify is one of the best deals in the world. If you've got a limited data plan, Spotify allows Pro subscribers to download songs directly to their device, sparing your data plan while keeping you flush in fresh tunes every day. If you can't think of something to listen to, Spotify's powerful discovery feature will examine your past listening habits and recommend new bands and artists to check out. While it isn't a perfect experience for audiophiles looking for lossless music, Spotify puts the history of music in your pocket for the price of a medium pizza every month. You simply cannot beat that deal.
The world is a stressful place. War, the economy, politics, your in-laws; we all need a break sometimes. Ananda is a relaxation app that's designed to help you focus more and sleep better. You simply pick your goal (deep sleep, power nap, energizing meditation, etc. ) and a time limit, and Ananda provides you a relaxing chorus of nature sounds, cooing keyboards, soothing binaural beats, and other sounds to relax your brain. After years of cynicism about these sorts of products, it was a surprise to see how effective Ananda truly is. Give the free version a spin; if you like it, the $2.99 upgrade cost is a small price to pay for relaxation.
Much like Camera and Music, Apple's proprietary Maps program is fine. However, if you want the best in automated GPS directions, make sure you download Google Maps. With features like warnings about how long it will take you to park and its reliable directions, Google Maps is hard to beat. Google Maps has a large easy-to-read interface and clear lock screen directions, topped off by some of clearest directions in the GPS world. If you're planning a trip somewhere with no signal, Maps will even allow you to download maps of the area in advance so you don't get lost. Updated regularly by Google, Google Maps is the best there is in the App Store.
9) Candy Crush
Free, with in-app purchases
You're going to need a game on your phone. At some point you're going to be waiting in line, bored out of your mind, and say "dear god, why don't I have a game." It's simply a reality of owning a smartphone. If you have self-control, Candy Crush, the leading name in obnoxious in-app purchases, actually offers the best deal in iOS gaming. Players match different kinds of candy while traps and obstacles try to stop them. It's as simple as that. With 2,920 levels at the moment, hardcore Candy Crush addicts will have plenty of levels to explore and defeat. Yes, it's incredibly hard to defeat some of the game's levels without using pay-only power-ups. Still, with skill and determination, it's possible to get incredibly far within the game without spending a dime.
Thanks to social media, we're inundated with new ideas every day in the form of news stories and articles. Unfortunately, the sheer mass of content you see every day makes it easier for good articles to fall through the cracks. That's why Instapaper is such an indispensable part of your mobile arsenal. By installing the Instapaper widget on your desktop browser, you can save articles with one click and then read them later on your phone. When you go into the app to read your articles, Instapaper will have them waiting for you in a mobile-optimized text format that removes the clutter of so many modern websites. Highlight important passages and keep track of them within the app, or just delete stories when they're done. You can even read Instapaper articles you've downloaded while your phone is in Airplane Mode, making it a last-second lifesaver when you forget a book before your flight. Best of all: It's free.
Yes, $4.99 is a lot of pay for a voice-recording app, but it's not that much to pay for a voice recording and transcription app. Just Press Record is an absurdly powerful recorder that actually transcribes your voice memos as you work. For journalists, writers, personal bloggers, or detectives who just want a searchable written record of everything they record, Just Press Record is a godsend. Your recordings are quickly saved to your iCloud Drive, allowing you to access them everywhere you go, even when you don't have your phone. If you've ever had to spend hours working on a transcription, Just Press Record will have you lighting a candle and saying a word of prayerful thanks.
Our smartphones serve many purposes, from helping us with day-to-day to tasks to entertainment, but no app helps round up all those purposes quite like Reddit. The social news site is a place where the internet goes to learn how to make slime, learn about the news, or find a dank meme. As an app, Reddit is a great way to curate your own newsfeed and entertainment while connecting you to millions of people around the world. Find the latest stories, talk about them with other users, and build a list of interests that speak to you that are presented every time you fire up the app. The app also supports multiple accounts, so you don't end up getting Ken Bone-d some day when people find your thoughts on the 2016 election alongside your comments on the sub-Reddit "I like big butts." With Reddit for iOS, you will never be bored—and it's always free.
13) RunGo – Free with in-app purchases
RunGo is a mobile run tracker and navigation app that helps you discover new jogging routes and keep track of your progress as you move. Using voice navigation, RunGo guides you on your way so you can keep moving without looking at a map. If you spring for the premium version, you even get guided tour runs, which showcase landmarks and points of interest along your route. Get outside, and let RunGo help you find a place to run.
14) WhatsApp – Free with in-app purchases
Looking for an encrypted instant messaging service, or in need of a way to send messages or make voice calls on an old phone without a cellular plan? WhatsApp is your new best friend. Make voice or one-to-one video calls, send text messages, images, GIFs, videos, files, contacts, and even voice messages all from one handy messaging app. Purchased by Facebook in 2014 for $19.3 billion, WhatsApp has over a billion users and ranks as the most popular messaging app of all time. For security-minded users, WhatsApp utilizes powerful encryption tools, so your messages will be safe from prying eyes, whether from a partner or the government. In fact, the U.K.'s Secretary of State Amber Rudd has warned that WhatsApp's encryption is simply too good, creating a security risk by locking authorities out of messages.
Of all the social media options users have at their disposal today, it may seem strange to give Snapchat the top spot. But no other social media service encourages creativity, discovery, and fun like Snapchat does. A steadily updated stream of filters let you transform yourself into cartoon characters, historical figures, or simply goofy pets for fun videos to send to your friends. A cool drawing tool and scissors make annotating your messages a dream, and best of all, everything you send disappears after its viewed. That makes sending nudes easier than ever and, should someone betray you and screenshot, the app kindly lets you know who to cut out of your life.

READ MORE:

Should you get sick of watching your friends and making your own content, Snapchat has great channels from providers like Comedy Central that offer up tons of free video to watch all day long. Embrace the impermanence of your goofy jokes. Start snapping.
If you commute on foot, keeping up with your favorite public radio programming can be a pain. Few of us have radios on us anymore, and even if you do, it's easy to miss out on content should you get distracted because you can't pause or rewind. NPR One fixes that issue by putting your public radio station right on your phone, giving you easy access to the great news, music, and comedy programing available on NPR without having to juggle downloading podcasts. Listen to shows like NPR Politics or Planet Money direct from the service or just catch up with All Things Considered. The app learns from your listening habits, so over time, it will suggest more stories that match your interests. If you're a news junkie, NPR One can be a life-saver on your commute to work.

In the Bible, God used the creation of different languages to punish humanity for building the Tower of Babel. In 2017, you can use your smartphone to get around that curse. Google Translate can take typed words, spoke words, or even photos of signs written in other languages and translate them into whatever language you need. The iPhone version of the app includes offline language packs, so you'll be able to keep translating even if you don't have service. It's like having a translator in your pocket.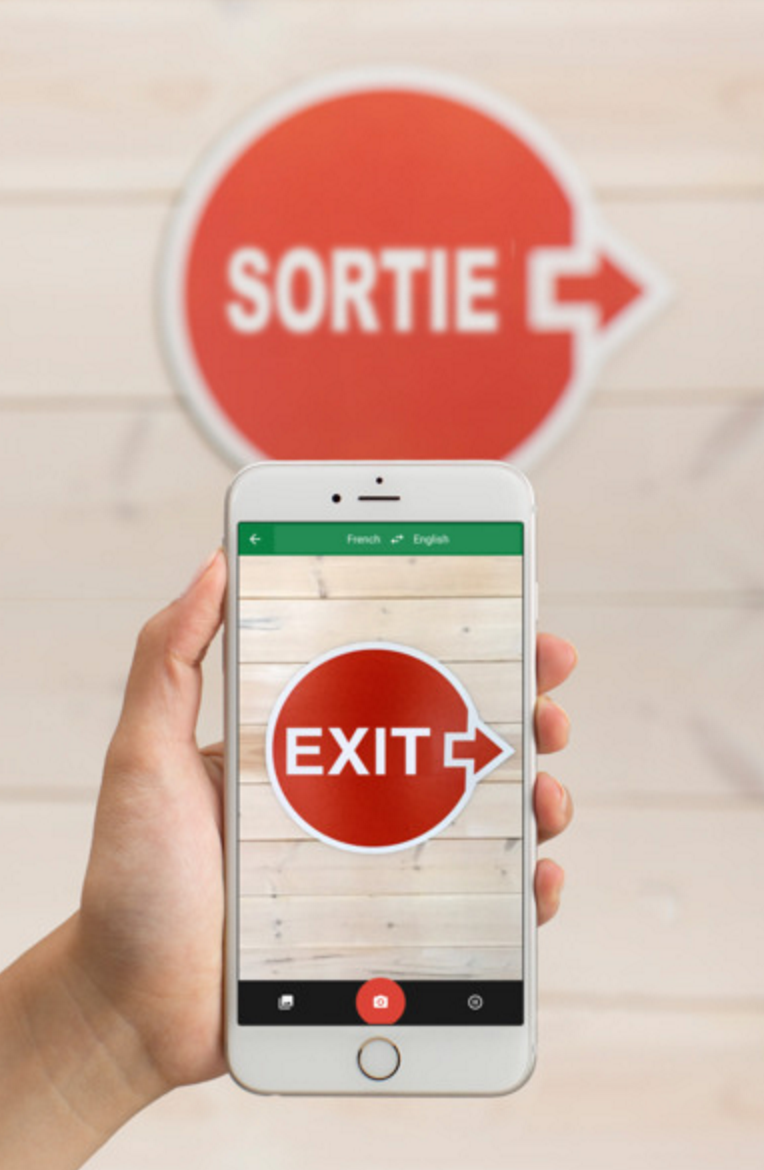 Music nerds know a new favorite song can show up at any time. Maybe you're sitting at a cafe, thinking about a long lost love when the soft strands of an acoustic guitar fill your eyes with tears; the only problem is you have no idea who played it. Shazam listens to whatever is playing and tells you the artist, song title, what album it's from, and where you can buy it. As our society increasingly moves to an on-demand music listening world, Shazam is becoming an even more important tool.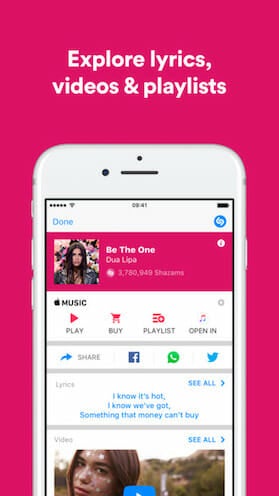 When it comes to touching up photos on your iPhone, the standard apps offer up a wide range of options for basic fixes. For your everyday shot that's fine, but if you're trying to make a work of art, you're going to need a little more power. Adobe Photoshop Fix is there for those moments. This easy-to-learn retouching and restoration tool gives you access to some of Photoshop's best tools: heal, smooth, liquify, lighten, patch, defocus, and more. Users with a Creative Cloud account can send their final projects directly to Lightroom or Photoshop for further tweaking when they're done as a PSD file to pick up right where they left off. No other editing app allows you to retouch or fix facial features for free or with this level of control. Give fix a spin and see what you can do with your old photos.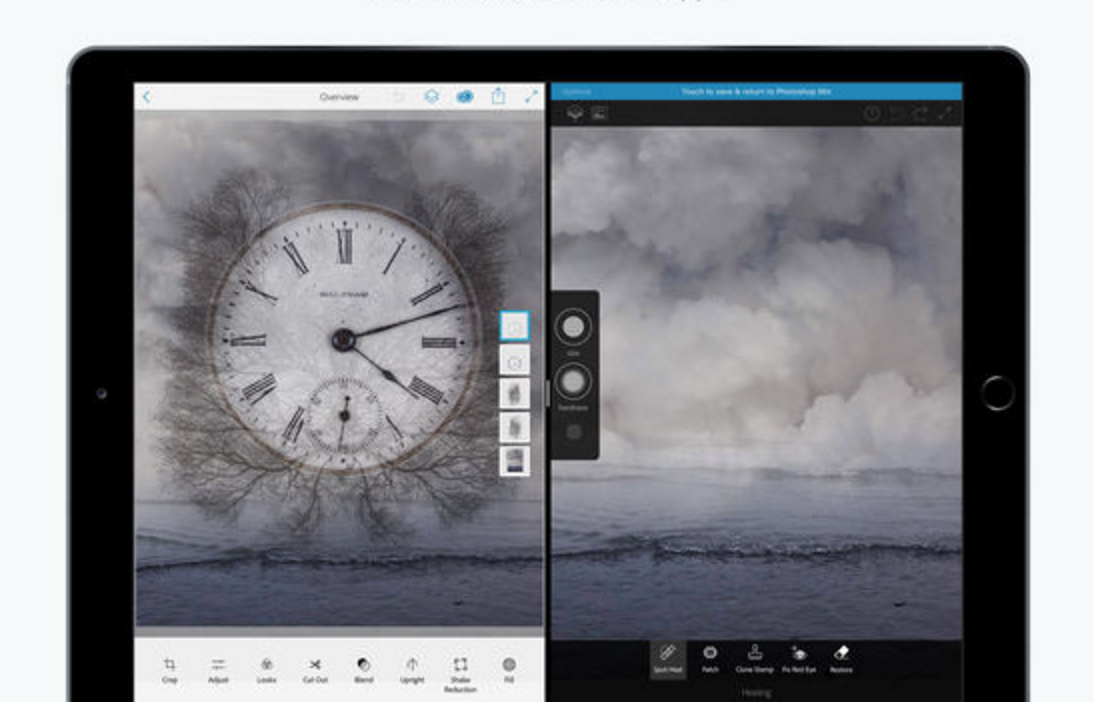 Editor's note: This article is regularly updated for relevance.