In the four months since it was introduced, the Cyber Intelligence Sharing and Protection Act (CISPA) has gathered 106 supporters in Congress.
Once the Internet, however, it only took five days for almost 600,000 Internet users to declare their opposition.
A petition started Thursday calls CISPA "a new law that gives [Congress] big brother spy powers over the entire web" and calls for 600,000 online signatures to show Congress an Internet united against the bill. A prominent member of Anonymous with half a million twitter followers tweeted out support for the petition at 3:00 AM Monday, helping spur it to over 544,000 signatures.
Multiple reports compare CISPA to the widely despised Stop Online Piracy Act (SOPA), which was indefinitely postponed in January after a massive Internet protest. The petition's creators equate CISPA with SOPA, writing "We helped stop [Congress's] Net attack last time, let's do it again."
There's plenty of disagreement of how similar the bills are; critics claim that both measures are vague enough to give the government far too much power over the Internet.
However, several prominent companies that opposed SOPA, such as Facebook and Microsoft, strongly support CISPA.
As it did with SOPA, social news site Reddit has rounded up all of the companies that support CISPA in hopes of inspiring a mass boycott. A top thread on Sunday had many users pledging to sign off of Facebook, with one redditor posted this explanatory image.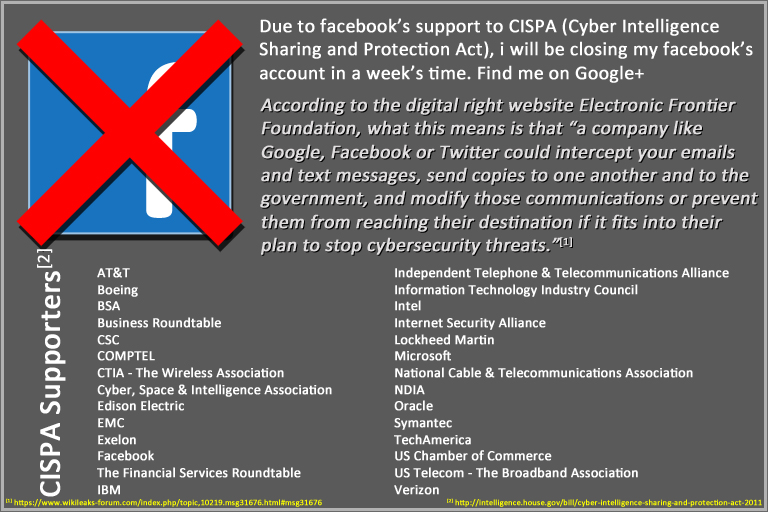 Ironically, if opposition to CISPA continues, the biggest thing the two bills might have in common will be how the Internet rallies against them.
Photo by Pierre-Selim