Conservative pundit and former presidential candidate Herman Cain attended President Donald Trump's first pandemic campaign rally in Tulsa, Oklahoma on June 20. Now he has tested positive for coronavirus.
The news that Cain tested positive for COVID-19 was announced on his Twitter account on Thursday. He tested positive on June 29, according to the statement.
Scientists say that COVID-19 symptoms begin within two and 14 days of exposure. So it is possible that Cain contracted, or already had, the virus at the rally attended by 6,000 people.
As a picture he tweeted that day shows, Cain—who was a delegate at the event—did not wear a mask or practice social distancing.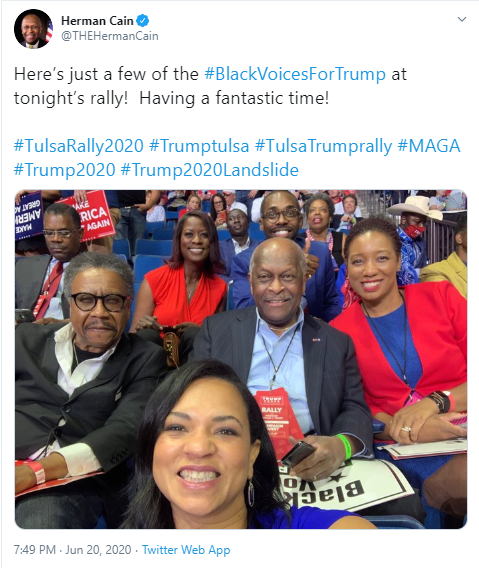 Scientists have found that masks and social distancing significantly diminish the virus's spread.
Once news of his diagnosis broke, Cain's picture from the rally began circulating on Twitter.
"…and now we know that he's been spreading the virus himself during his pre-symptomatic days," tweeted @czhabbott.
"Wow, who'dve thunk it? Tulsa was such a great idea," said @GPJohnston.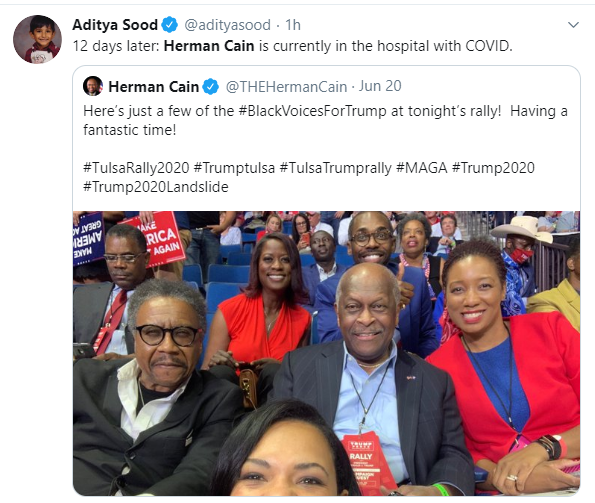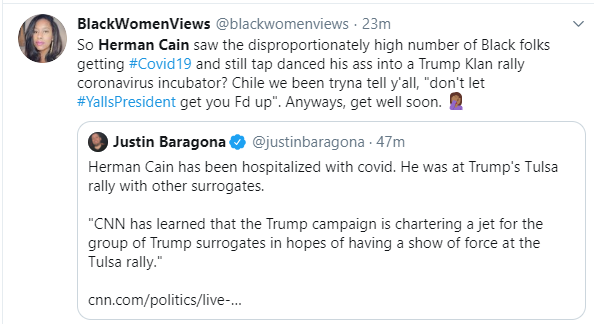 The editor of Cain's website attempted to address concerns that he spread the virus at the rally.
"I realize people will speculate about the Tulsa rally, but Herman did a lot of traveling the past week, including to Arizona where cases are spiking," Dan Calabrese wrote. "I don't think there's any way to trace this to the one specific contact that caused him to be infected. We'll never know."
Calabrese failed to note that, just as easily as he could've been infected in Arizona or anywhere else he traveled to, Cain could've infected any of the people he came in contact with in those places.
NBC News reports the Trump campaign said Cain did not meet with Trump at the Tulsa rally. CBS News added that Cain did not travel to Tulsa on the campaign's chartered plane.
COVID-19 has been particularly devastating to Black and elderly people. Nevertheless, Cain, a 74-year-old Black man, has maintained a cavalier attitude about the deadly virus—even after testing positive for it.
Yesterday, he tweeted approvingly that masks and social distancing would not be required at Trump's Fourth of July event at Mount Rushmore. "People are FED UP," he said.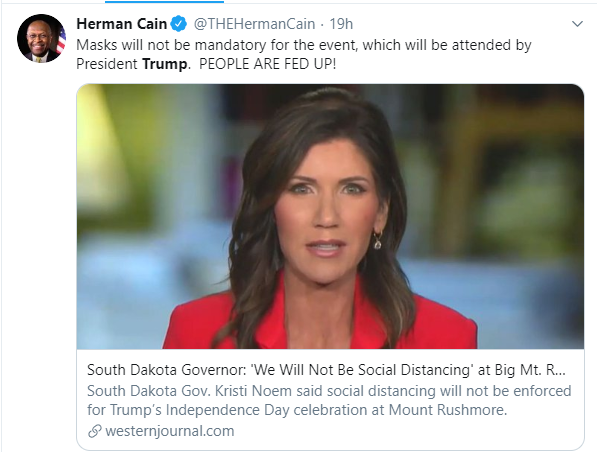 Yesterday, Cain's symptoms worsened. He was admitted to a hospital where he is reportedly recovering.
READ MORE: