Dr. Anthony Fauci has become an unlikely hero and villain alike for Americans during the coronavirus pandemic.
During a congressional hearing on Tuesday, he found himself playing that dual role once again, facing criticism for a lack of "optimism" from one senator while being lauded for his cautious approach by others.
The Director of the National Institute of Allergy and Infectious Diseases told the Senate Health, Education, Labor and Pensions Committee he is "very concerned" about the increasing cases of coronavirus in states across the country.
"Clearly we are not in total control right now," Fauci said. The immunology expert pointed to increasing coronavirus cases in more than a dozen U.S. states following weeks of relaxing restrictions. He cautioned that "maybe" some had reopened "too quickly," not following the prescribed guidelines from health experts.
But Sen. Rand Paul (R-Ky.) saw a different problem—a lack of optimism. The senator, who tested positive for coronavirus in March, used his time in the hearing to denounce America's reliance on "experts" like Fauci, calling it a "fatal conceit."
"We shouldn't presume that a group of experts somehow knows what's best for everyone," Paul said. He then addressed Fauci directly, pointing to comments he has made about the uncertainty of restarting sports and reopening schools.
"Dr. Fauci, every day, virtually every day, we seem to hear from you things we can't do," he added.
Fauci, who had already commented in the hearing about getting children back to school, told Paul he agreed that it is important, noting it's something he "feel[s] very strongly" about. He then defended himself against Paul's interpretation that he is focused on the "can't do," saying he is just giving the "facts and the evidence."
Paul responded that we "just need more optimism, there is good news out there."
Paul was clearly proud of the exchange, tweeting, "Today in the HELP hearing on COVID-19 with Dr. Fauci I forced him to admit that we MUST get kids back to school."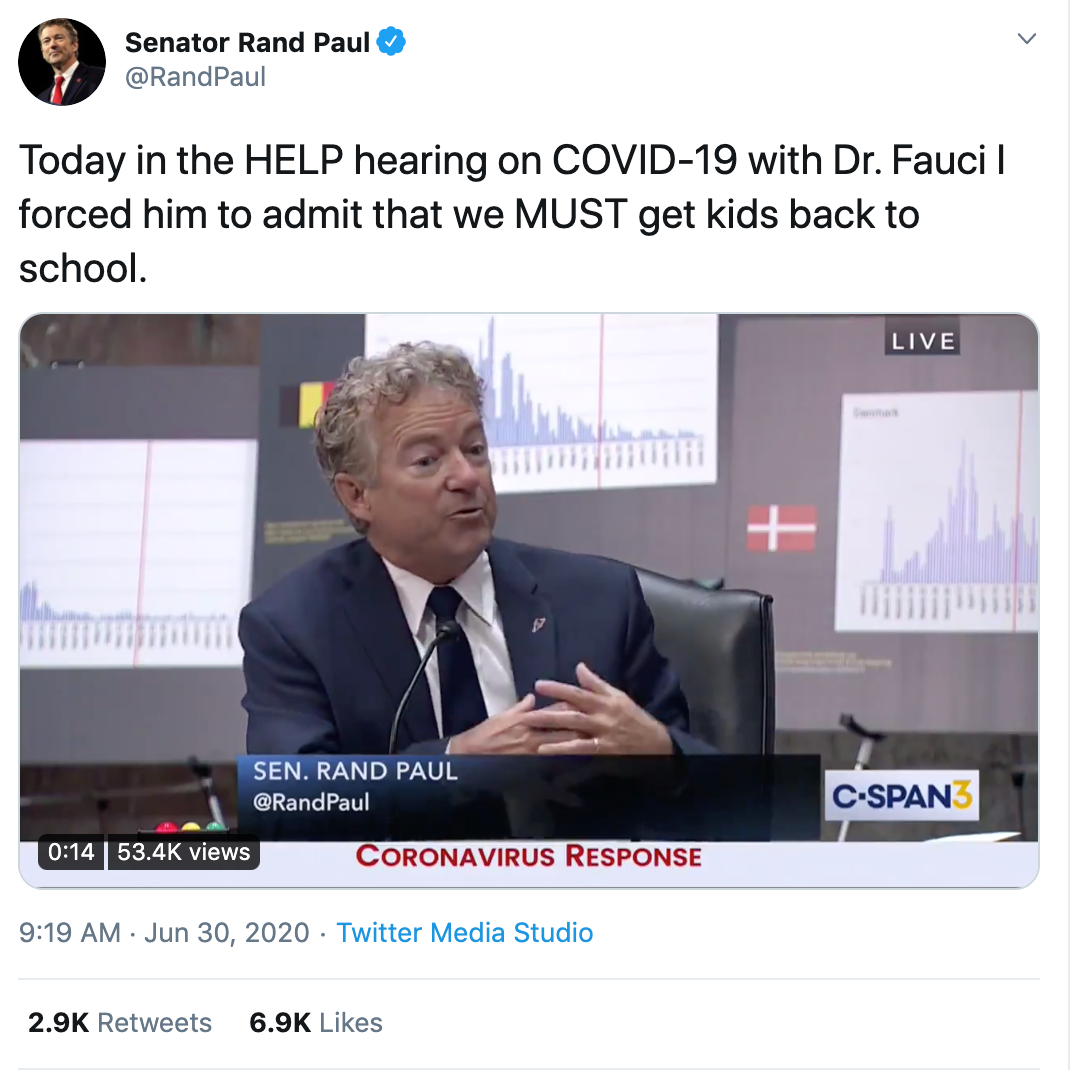 Others, however, didn't seem as impressed with Paul, given the alarming recent rise in cases.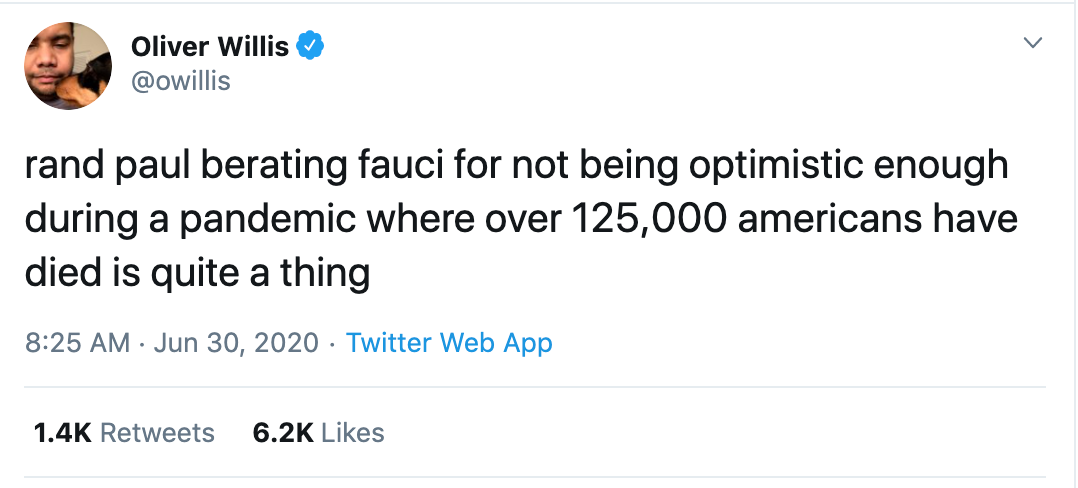 This isn't the first time Paul has leveled criticism at Fauci's prominence—during a May 12 hearing, he said encouraged people not to see Fauci as the "end-all" in discussions around coronavirus and reopening.
"We can listen to your advice but there are people on the other side saying there's not going to be a surge and then we can safely open the economy. And the facts will bear this out," Paul said at the time.
So, let's check on those facts: on May 12th, the U.S. had 22,299 new cases of coronavirus. As of yesterday, that number was up to 40,041.
READ MORE: