The internet can be an ugly, despicable place. Right now, racists and hatemongers online are blaming and mocking British Black Lives Matter activist Sasha Johnson for getting shot.
Johnson, 27, was critically wounded by a gunshot to the head at a party in London in the early hours of Sunday morning. While Johnson has frequently received death threats and initial reports indicated she was the target, a friend told the BBC that she was an unintended victim of a drive-by shooting that involved two rival gangs.
Johnson is on the executive committee of the Taking The Initiative Party, a recently formed British political party, and an outspoken advocate for racial equality. Some of her more incendiary statements have drawn significant criticisms. She is widely known as the Black Panther of Oxford.
News of her shooting inspired waves of sympathy and hopes for her recovery from around the world.
It also precipitated some truly despicable trolling. People called her racial slurs, celebrated her injury, hoped for her death, and viciously mocked the young mother.
On Twitter, @UK_Unification said, "I have zero sympathy and no good thought to give fourth. You reep [sic] what you sow."
Other Twitter users said they'd celebrate if Johnson dies, according to screenshots tweeted by @msolurin, such as with "pints all round," as one wrote. "Jelly and ice cream," another said. The former account is now suspended; the latter seems to have deleted the tweet.
Many people on Twitter suggested that Johnson wouldn't have been shot if she wasn't at a party late at night. One who blasted her for "[partying] with gang bangers at 3am on a Sunday."
Others took pleasure in her shooting.
Even Taking The Initiative Party's Facebook announcement about her shooting drew comments attacking Johnson and Black Lives Matter.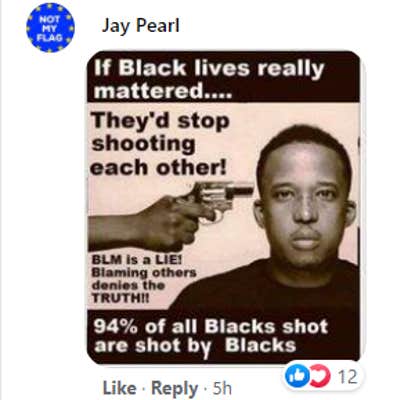 While the mainstream platforms had significant negative and racist comments about Johnson, the commentary was far worse on scurrilous havens for extremists such as 4chan and Telegram, as well as on stories in far-right publications like Breitbart and the Gateway Pundit.
"So Black Lives Matter but not to n*****s," one said on 4chan.
Many on the anonymous message board expressed similar sentiments.

On some Telegram channels, such as NTD News, Tommy Robinson News, and Murder the Media, which seems to have ties to the Proud Boys, posts about Johnson's shooting were flooded with comments mocking her and repeating racist tropes and racial slurs. The three have 170,000; 100,000; and 8,000 subscribers, respectively.
While the others simply covered or linked to stories about the shooting, Murder the Media posted the story with two laughing emojis.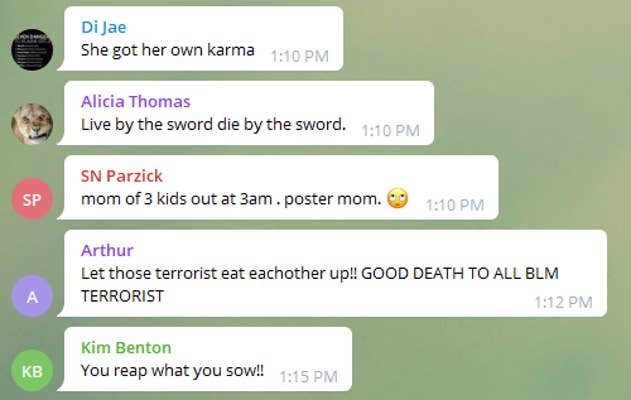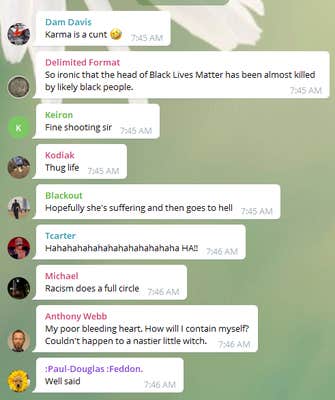 Johnson has made it through surgery and is in critical condition. It is not yet known whether she is expected to make a complete recovery.
Police have yet to make an arrest in the shooting.
---
This week's top technology stories