Analysis
Turning Point USA founder Charlie Kirk's new wife, Erika Kirk, is probably best known for being Miss Arizona in 2012. But more recently, the beauty queen-turned-podcaster is trying to make a name for herself with a line of something she calls "Christian streetwear."
Kirk, whose maiden name is Frantzve, has a brand called Proclaim Streetwear. The line, which relaunched last December, comes across as a lazy effort to capitalize on Christianity, make some money, and, hey, maybe give some back—though how much is entirely unclear.
Proclaim Streetwear consists of mostly out of stock (only four items are presently available) leisurewear for the child of God willing to pay $115 for a sweatshirt. Oh, wait, that one's out of stock, too, so you'll have to settle for one of three $105 sweatshirts that are available.
If a hundred bucks seems like a lot, perhaps this will entice you to buy: "…[T]his fleece sweatshirt is your outward declaration that you are a vessel of the Holy Spirit, ostensibly proclaiming the Good News that JESUS IS KING."
If that's still too rich for your blood, Proclaim Streetwear offers a $65 sweatshirt that's indistinguishable from one of the pricier versions.
While all people wear sweatpants at one time or another, the Proclaim Streetwear line seems utterly incongruous to Kirk's personal style, which careens from "Stevie Nicks became a missionary" to "daddy bought me a motorcycle!" Though to be fair, she does wear a lot of black, and nearly the entire Proclaim Streetwear line is black.
The brand's messaging sounds like it was workshopped in a Marketing 101 course at Liberty University. (Which, hey, maybe it was!)
We know.
You don't chase your dreams in tuxes and in gowns.
It's the grit. It's the hustle. It's the sweat and the tears.
And what better way to jump those hurdles than in streetwear that gives hope to the lost and proclaims,
'You were made for such a time as this.' (Esther 4:14)
If there's one thing streetwear does, it's spread hope to the lost.
Some may find it strange for a woman whose husband portrays himself as a populist (albeit one who rubs elbows with billionaires and heads of state) to sell high-priced streetwear.
The website's featured video consists of generic, arty B-roll—all black and white, of course—of athletes, homeless people, and a guy staring at a lit match for some reason. Unless those items have been discontinued or are yet to "drop," almost nobody appears to be wearing anything from Proclaim Streetwear.
Because hype is everything, the site also includes a countdown clock of when the next sweatshirt "intentionally crafted from a single thread … carefully stitched together with you in mind" will be released, a.k.a "drop."
Proclaim Streetwear releases clothing via a seasonal schedule that's referred to as "drip release," a term that feels more cappuccino than black-and-white tie-dyed t-shirt created by the "hardworking seamstress, the upright manufacturer, and the dedicated fabric-mill owner" who presumably make Proclaim Streetwear.
The countdown clock is fixed at zero, so Kirk must still be contemplating how to incorporate your infinite complexities into a t-shirt that says "proclaim" or "live a life worthy of the calling."
Should it be black with white lettering? Black with black lettering? Or would you best be represented by a "luxe" sweatshirt that's black with off-black lettering? The possibilities aren't endless.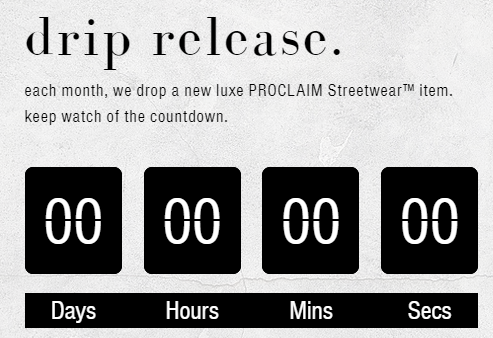 Fans of the full-body cringe will delight in a promo on Proclaim Streetwear's Instagram in which a beaming Kirk gives a homeless man a sweatshirt.
"That's what's so beautiful is to see the joy on their face when they light up that a stranger even noticed them. There's nothing more beautiful or precious than being able to notice the unnoticed," she says unironically over this footage.
They definitely borrowed inspiration from the branding geniuses behind the "WWJD" (what would Jesus do) apparel with this line: "Our goal at PROCLAIM Streetwear™ is to spread the Gospel throughout an industry that desperately needs it."
It follows by making a vague promise to either give money or clothing to the poor or save the wicked from eternal damnation by selling sweatpants—it's not entirely clear which, but probably selling sweatpants.
Every item of clothing we produce has a give-back component attached to it with Scripture woven throughout. From the hands of those who assemble the garments to the consumer who purchases them, all are exposed to the verses found in Isaiah 61 that foretold the mission and Good News of Jesus Christ.
After all, who wouldn't convert to Christianity after sewing a shirt that says, "Strangers will shepherd your flocks; foreigners will work your fields and vineyards," or perhaps, "You will feed on the wealth of nations, and in their riches you will boast." (Isaiah 61: 5-6)
Come to think of it, boasting in riches kind of feels like the entire purpose of Proclaim Streetwear. If you have to wear sweatpants while doing it, hey, at least you'll be comfortable.
---
Read more of the Daily Dot's tech and politics coverage