Former Reddit CEO Ellen Pao raised eyebrows yesterday when she claimed that she knew about Ghislaine Maxwell's role in Jeffrey Epstein's sex trafficking ring back in 2011.
The FBI arrested Maxwell last week on charges of conspiracy to entice minors to travel to engage in illegal sex acts. The indictment accuses her of luring and grooming underage girls for Epstein to abuse, abusing some of them herself, trafficking victims across state lines and international borders, and lying under oath.
Maxwell's arrest sparked a flurry of tweeted photographs that showed her and Epstein fraternizing with President Donald Trump, Bill and Hillary Clinton, and Elon Musk, among other political figures and socialites.
On Monday morning, angel investor Cyan Banister joked about these gatherings on Twitter, writing, "I used to be kinda sad that I wasn't ever 'cool' enough to get invited to some parties that people I know were invited to, but now, I'm super thankful that I've never accidentally had a photo of me taken with Ghislaine."
Pao replied to Banister's tweet stating that she and Maxwell once attended the same party hosted by Pao's former employer, venture capital firm Kleiner Perkins, and knew about the sordid allegations levied against her.
"She was at the Kleiner holiday party in 2011, but I had no desire to meet her much less have a photo taken with her," Pao wrote. "We knew about her supplying underage girls for sex, but I guess that was fine with the 'cool' people who managed the tightly controlled guest list."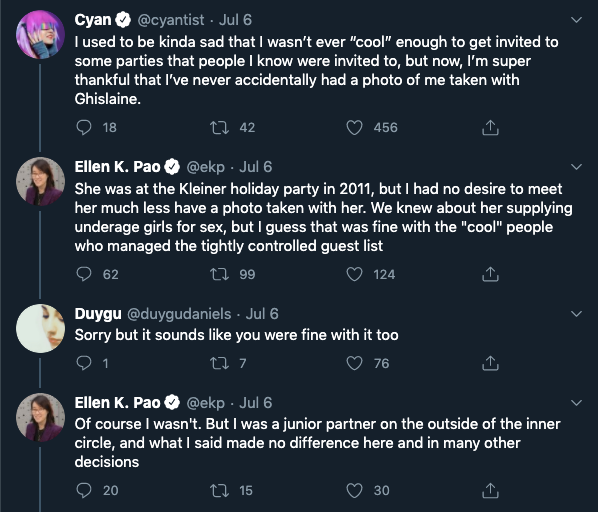 Pao's tweet received widespread skepticism and criticism, and several Twitter users demanded to know why she kept quiet about Maxwell's crimes if she had been aware of them.
"Wait what? Everyone in the room knew she was a child sex trafficker… and no one in the room objected to her presence?" Thomas McLeod wrote.
"Sorry but it sounds like you were fine with it too," @duygudaniels replied to the former Reddit CEO.
Pao attempted to clarify her statement in a pair of follow-up tweets.
"To be clear, the press had described [Maxwell] as supplying underage girls for sex, but she had not been charged so I guess it would be more accurate to say we 'suspected' v 'knew,'" she wrote. Pao also said that "of course" she wasn't fine with the allegations, but she "was a junior partner on the outside of the circle, and what I said made no difference here and in many other decisions."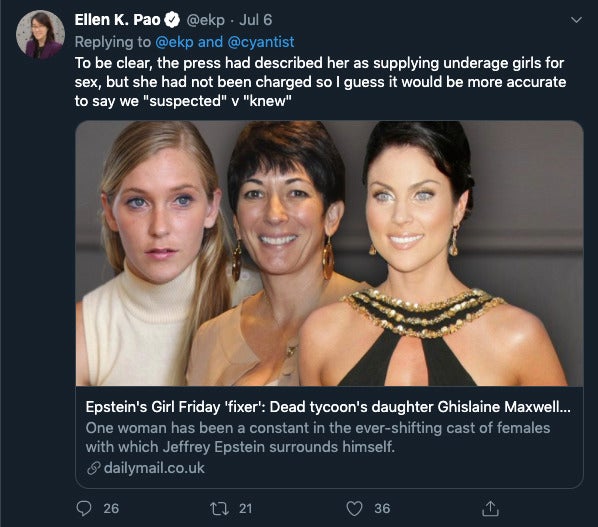 Pao briefly locked her Twitter account amid the backlash but has since made it public again. Her clarifying tweets did not impress many people.
"Hey, Ms Pao. The sleaze bags you worked for may not have cared but the rest of us would have," Jason Anderson tweeted. "Sounds like your real goal was to join the sleaze bag inner circle."
Twitter user @TheEyeDoctor_ had a far less subtle response: "You couldn't pull out your cell phone and dial 911? You were complicit in the rape of children and you will burn in hell for what you did."
READ MORE: