President Donald Trump on Wednesday tweeted incorrect claims about Michigan's plans to send absentee ballot applications to all of its registered voters ahead of the upcoming elections—prompting many people online to assert that his tweet violated Twitter's election integrity terms of service.
In the tweet, Trump erroneously said Michigan Secretary of State Jocelyn Benson was sending absentee ballots to all of its registered voters. The voters are actually being sent absentee ballot applications—a move that several other states have done during the coronavirus pandemic.
The president continued, saying that it was done "illegally" and he would ask to "hold up funding to Michigan if they want to go down this Voter Fraud path!"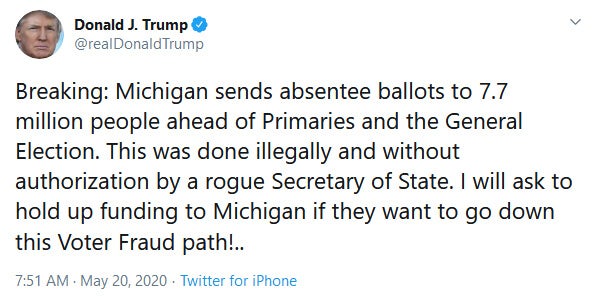 The president later deleted the tweet and replaced it with one that added "applications."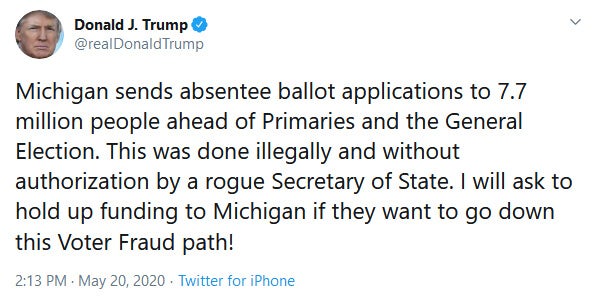 Besides not accurately stating what is occurring in Michigan in his initial tweet, several people pointed out that the tweet appeared to violate Twitter's election integrity terms of service.
Twitter told the Daily Dot it did not take "enforcement action" against the president's initial tweet.
Specifically, the tweet could violate Twitter's rules for "manipulating or interfering in elections" or "sharing content that may suppress voter turnout" by inaccurately calling it illegal and threatening to withhold funding.
By calling it "illegal" and threatening to withhold funds, the tweet could also arguably violate Twitter's rules against sharing "misleading information intended to intimidate or dissuade voters from participating in an election."
However, Twitter's policy does allow a carve-out specifically for incorrect information, noting that "not all false or untrue information about politics or political events constitutes manipulation or interference in an election."
It's unclear what mechanism the president was referring to for withholding funding.
In 2018, Michigan voters passed a constitutional amendment that allowed citizens to request absentee ballots for no reason.
This post has been updated.
READ MORE: