Conservatives on Twitter had a field day sharing a doctored video of what they believed to be Crips gang members stopping looters in Long Beach, California.
The grainy, edited video shows a man wearing a blue hat and shirt advancing toward another man in a face mask and hood, telling him to "get your b*tch a** out of here."
Conservatives claimed the man in blue for a Crip, a Los Angeles-based gang that traditionally wears blue clothing.
The video spread like wildfire on MAGA Twitter. User @ArtValley818 described the footage as "Crips gang stops Antifa/BLM looters from looting and kicks them out of Long Beach."
The video became a conservative talking point over night.
"Tells you a lot that the Crips care more about the community than a bunch of radical Marxists who wanna tear it down," popular right-wing figure Ian Miles Cheong tweeted in response to the doctored footage.
The original video, shared by Asian-American media company Jackfroot on June 9, tells a different story. The so-called "radical Marxist" is apparently an attempted looter trying to rip a board off the front of a Vietnamese jewelry store that was destroyed on May 31. The media company identified the man who intervened as a Long Beach resident with absolutely no reference to him being affiliated with a gang.
People said that it was racist and problematic that conservatives assumed the man in the video is a Crip just because he's Black and wearing a blue shirt.
Twitter users were also quick to note the hypocrisy of conservatives praising alleged gang members whom they often vilify.
"Gotta love how racist white folks are giving a nod to the Crips they've been calling thugs and dropping racial slurs and stereotypes on for decades, because they did what they've always done: protect their neighborhoods—but have no empathy for their lives otherwise," @dvstinjames tweeted.
Others found it hilarious that Trump supporters thought Crips were suddenly on their side.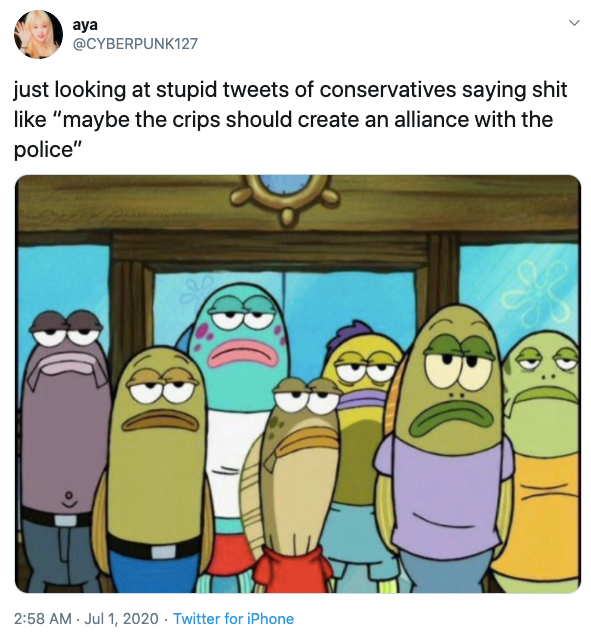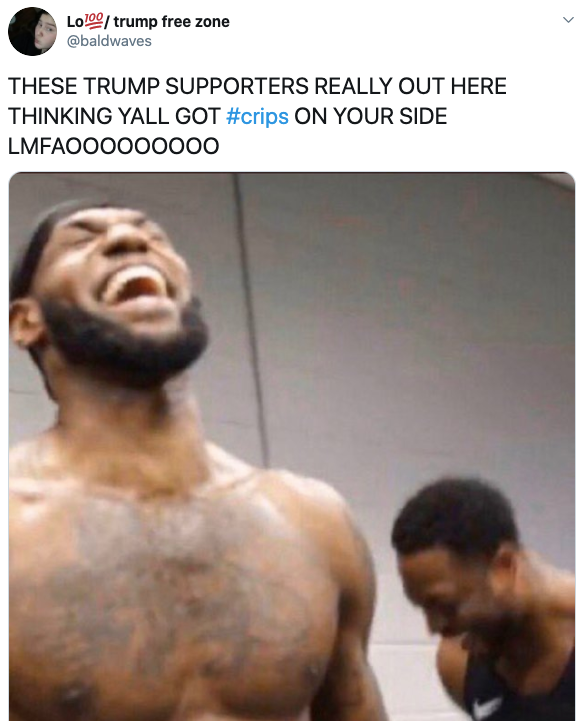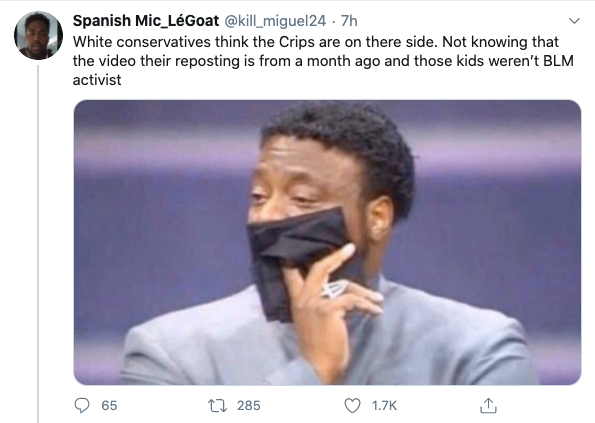 "Wait …crips are trending because wypipo are speaking 'positive' about gang culture…" @Puma313 tweeted. "Nah this 2020 shit feels like some alt universe black mirror episode."
READ MORE: