Could Beto O'Rourke, a Democrat who captured national attention but failed to beat an incumbent senator in the 2018 midterms, be the right choice to lead the party against President Donald Trump in the 2020 election?
A lot of people seem to think so.
O'Rourke became one of the most talked about candidates in the run-up to the 2018 midterms, garnering a large social media following, becoming the center of numerous viral moments, and fundraising a staggering amount of cash for his bid to unseat Sen. Ted Cruz (R-Tx.).
His campaign across the state of Texas and his refusal to shying away from liberal causes capture the hearts of Democrats across the country, but ultimately was not enough for him to take Cruz's seat in the U.S. Senate.
Almost immediately after his loss, however, there were calls for Beto 2020. People wanted him to make a bid for the presidency, to go up against the behemoth that is Trump. Some people even replaced their "Beto for Senate" signs with "Beto for President" signs in the wake of the loss. Then in mid-November, O'Rourke self-published a somewhat cryptic Medium post perhaps playing on "running" for the White House.
Should O'Rourke make a run for the 2020 election, he would join a large group of Democrats who are expected to enter the primary.
Beto 2020: Will Beto O'Rourke run for president in 2020?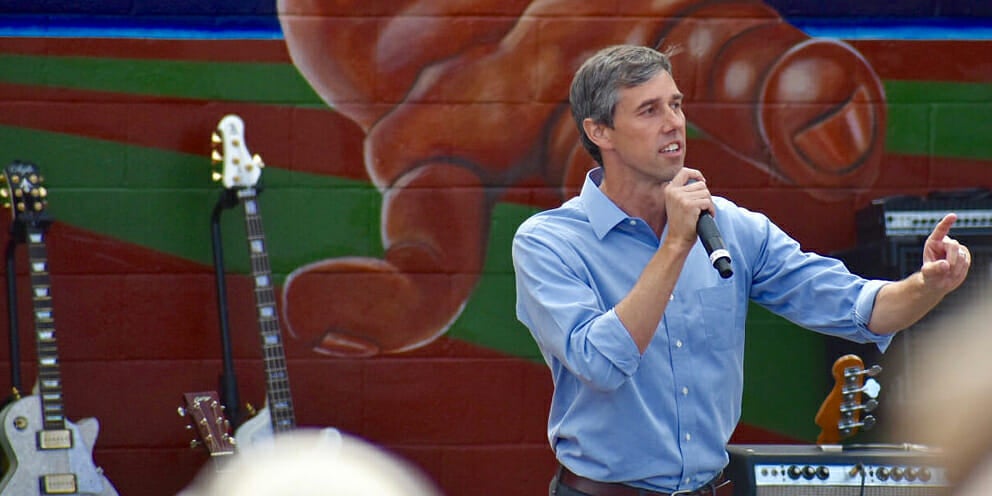 One of the largest setbacks for a number of 2020 Democratic hopefuls is a lack of name recognition. Possible candidates like Sen. Cory Booker (D-N.J.), Sen. Kamala Harris (D-Calif.), and Sen. Kirsten Gillibrand (D-N.Y.), have spent the first two years of Trump's presidency trying to raise their profile among everyday voters.
O'Rourke, however, rocketed in popularity ahead of his midterm election earlier this month—practically becoming a household name. He was a nearly impossible person to miss, with numerous breakout viral moments during the election cycle.
READ MORE:
That could give O'Rourke a leg up in run-up to the first primary elections, as voters try to become more acquainted with the candidates. The 46-year-old has also received support for a 2020 bid from celebrities including Alyssa Milano, Olivia Wilde, and Josh Gad.
Could Beto O'Rourke win the Democratic nomination in 2020?
Despite the rising popularity, O'Rourke has denied any desire to run for president in a few years.
"The answer is no," he said during a CNN town hall in October and later told MSNBC he "will not be a candidate" in 2020.
That being said, it's not uncommon for politicians to deny their future presidential aspirations. While he has denied any intention to run, it's wouldn't be a surprise.
CNN reported earlier this month that there have been "very initial discussions" about O'Rourke throwing his hat into the ring for the 2020 election.
"I don't know what he'll decide to do next, but I do think he's well positioned to be a major leader in 2020 and someone that can mobilize people from around the nation with his very independent and unique and progressive approach to politics," Cristóbal Alex, the president of the Latino Victory Fund who worked with Hillary Clinton's 2016 election campaign, told CNN.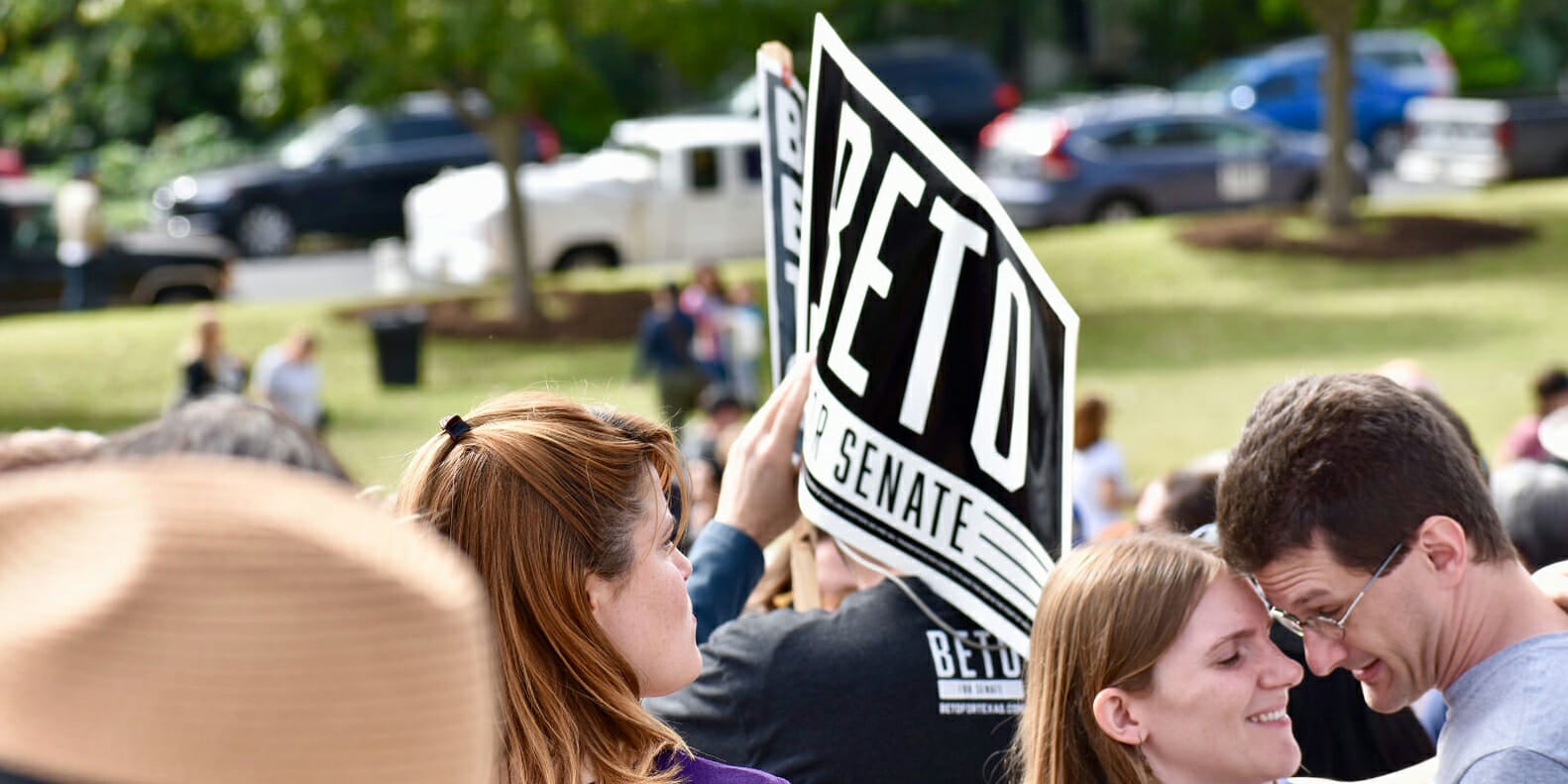 While O'Rourke may be popular, he may not be as outwardly progressive as many Democratic primary voters may want.
The former Senate candidate's record on the economy and immigration have been called center-left—issues that could become major components of the 2020 election against Trump. However, O'Rourke's viral moments—such as his defense of NFL players who kneel during the national anthem to protest police brutality against people of color—could endear him to some primary voters.
While some people may point to O'Rourke's loss to Cruz, an unpopular politician, much like his hypothetical would-be rival Trump, as a warning sign for what could occur on a national scale, some people think the fact that he was able to ignite so many Democrats in a red state like Texas could be a harbinger of things to come.
"If you look at the top line and see O'Rourke losing, you're missing the point," Bethany Albertson, an associate professor at University of Texas at Austin, told the Guardian. "No Democrat has come close in Texas in decades, voter turnout was way up, and young people who have never voted before were drawn for the first time into the democratic process."
READ MORE: 
While he would have to answer questions about his platform from more progressive wings of the Democratic party, there is no question O'Rourke has shown an ability to raise funds, which is an essential component of any presidential run.
In early October the then-Senate candidate's campaign announced it had hauled in $38.1 million in the final fundraising quarter, a number that was in line with presidential campaigns, NBC News reported. Trump's re-election bid is already holding onto millions of dollars. Any Democrat looking to take the White House would need to match his ability to bring in money.
Beto O'Rourke vs other Democratic 2020 presidential candidates
It's still early to determine what exactly voters will want in their 2020 Democratic presidential candidate. After the party took control of the House of Representatives in the midterms, some people believed leaning far-left may not be the most fruitful way to win over voters against Trump. However, other Democrats have clamored for a candidate who swings left as a rebuke to Trump's right-leaning populist policies.
O'Rourke could run into a situation where he is competing for enthusiasm among voters with the likes of Harris–who has shot up in popularity during her first term in office by challenging the Trump administration. He could also be deemed not progressive enough from voters who back 2020-likelies like Sen. Elizabeth Warren (D-Mass.) or Sen. Bernie Sanders I-Vt.).
When all is said and done, if O'Rourke does not decide to make a bid for the presidency in 2020, it seems likely that he would be near the top of any candidate's possible vice presidential picks.