In the age of the smartphone and smart-everything (luggage, remotes, etc.), the idea of using a physical key to lock or unlock doors seems positively quaint. Keys are annoying. You can lose them easily. Digging them out of a purse is always a pain. If you've got an ever-changing cast of roommates, making and tracking key copies can be tedious. And, depending on where you live, spending those few moments in front of your stoop searching for your keys and unlocking your door can leave you vulnerable to crime.
There might be a better way to lock up your home and avoid everyday key hassles: a smart lock.
What is a smart lock?
A smart lock is a connected lock that you install at your front door instead of (or in addition to) your old key-operated lock. Usually, it connects to your home Wi-Fi network and works with a companion app on your smartphone so that you can do a variety of things in-person or remotely.
You can use smart lock apps to unlock the door, to check notifications on activity at your house (if the lock also includes a camera), and to record video. If a friend is checking in on your place while you're on vacation, you can let them in remotely. You can also "answer" the front door—speaking to a delivery person, for example—even if you're not home. Using the app, you can also check the status of the door to make sure it's locked or not.
What are the downsides of smart locks?
Installation is probably one of the most annoying issues with installing a smart lock, just like installing any lock. Most fit the same standard pre-drilled holes that your old lock probably needed, which makes things easier. Depending on the model, you may have to remove just the interior escutcheon (the metal plate behind the door knob) or replace both the inside and outside escutcheons.
Battery life is also potentially problematic. You'll need to replace smart lock batteries periodically, and if you're away from home for an extended period, that could be an issue. However, most smart locks will give you a low battery warning ahead of time.
Are smart locks safe?
As with all that fall into the realm of the Internet of Things, security is an issue. (In a test of 16 different Bluetooth locks at last year's Defcon conference, 75 percent had insufficient BLE security.) Having your front door connected to the internet leaves it vulnerable to being hacked. You'll want to make sure you keep your Wi-Fi network secure, change any default passwords, and use unexpected key code combinations to help protect your home.
READ MORE:
What are the best smart locks?
You'd think one smart lock wouldn't be too different from the others, however, that's definitely not the case. With a large range of price points, smart locks also come with a number of different features. Listed below are some of the most popular options.
The August Smart Lock is perhaps the most well-known member of the space. At $199.99, it's one of the more expensive options, but it's also one of the most full-featured—it's perfect if your home is already outfitted with a number of smart home products. August integrates with a variety of connected home systems, including Apple's HomeKit, Amazon Alexa, Nest, and IFTTT. You can use Siri, Alexa, or Google Assistant to lock or unlock your doors, as well as an Apple Watch.
When a door is opened or locked, August will send you notifications to your phone or via email. You can also check on the status of your door either with its mobile app, or its web app, and grant (or revoke) access to the door to friends or house sitters.
Unlike some smart locks, August only replaces the internal hardware on your front door, so the deadbolt looks like a standard door lock from the outside. It comes in silver and black finishes and is powered by standard AA batteries. August also offers a handful of companion products, such as a smart keypad and doorbell camera, to make your system even more robust.
READ MORE:
Everything you need to know before buying a smart remote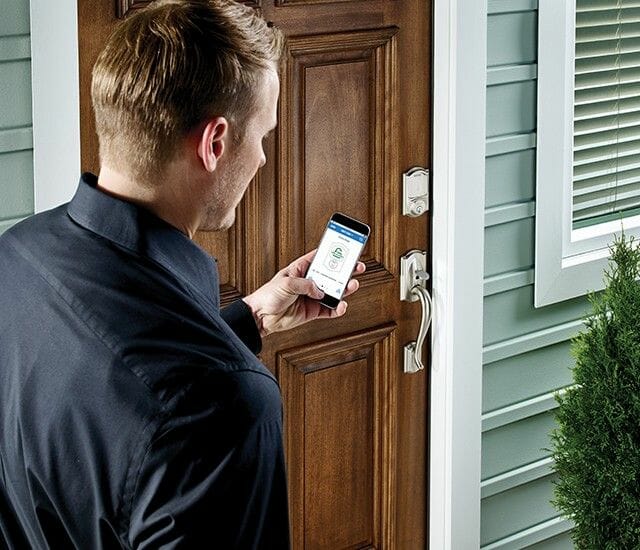 Trusted lock maker Schlage doesn't just do analog deadbolts anymore. The company also makes several smart lock products.
The $170.99 Schlage Sense adds a touchscreen keypad to your front door so you can choose to unlock it with a key, or by code. It works with Apple HomeKit so you can use your iPhone to unlock the door as you get near. On top of meeting industry standards for being a lock (that's always a good thing), the Sense also has built-in alarm features. This means the lock can notify you when someone is potentially trying to break in. You can program the device with your smartphone, and the unit can store up to 30 different passcodes, which you can assign to visitors or guests.
The Schlage Sense is the premiere model, but for a slightly different feature set, it also offers the Connect. (One difference worth noting: the Connect works with Amazon Alexa, while the Sense does not.)
The Kwikset Kevo Touch-to-Open Smart Lock is on the pricier end at $226.61, but it has a nice aesthetic look. With the accompanying app, you can track which family member is locking and unlocking the door and when, and get notifications when that happens, too. (Useful if you've got school age kids letting themselves in before you get home from work or a teen with a curfew.) It's also compatible with a variety of smart home products, including Nest and Honeywell thermostats, Amazon Alexa, IFTTT, video doorbells, and Android Wear smartwatches.
Kevo comes with both an interior and exterior escutcheon you'll need to install. While that means a little more setup work on your end, it does mean it may match your home accents better. It's available in three finishes: satin nickel, polished brass, and Venetian bronze.
READ MORE:
If you want some of the features of a smart lock—the ability to check in on your front door, answer for packages remotely, etc.—but don't want to ditch the use of your key, opt for a smart doorbell instead, such as Ring. Ring offers four different models that range in price from $179 to $499 and come in different finishes to match your abode. Each model can either be hardwired to a power source or set up to use battery power and shoot HD video of your front door area when it detects motion.
Editor's note: This article is regularly updated for relevance.