Candy Crush is a cruel mistress. She keeps you coming back for more, but then just as swiftly, and seemingly out of nowhere, she puts the brakes on. Candy Crush teases you, only going so far and then putting up arbitrary timeouts and lollipop limits. As soon as you're really into playing, you might need to wait 30 minutes to get to the next level.
As Jay-Z once ranted, "Can I live?!"
My boyfriend and I couldn't wait any longer. We needed unlimited play. Enough was enough.
So we hacked Candy Crush Saga. I'm not proud of this, but he plugged my iPhone into his computer and we followed the instructions here on CrypticHack. We were able to secure ourselves no time limit jail, unlimited lollipops, and unlimited hearts. Every level gained three stars and became wide open for us to play.
@pilotbacon There's a hack you can use. My bf did it for me, so I don't spend any money and I have all the lives.

— Gaby Dunn (@gabydunn) June 10, 2013
It's no secret Candy Crush Saga is addictive. The iPhone game, a mix of Bejeweled and Candy Land, hit the app store in November 2012 and has been labeled by many writers on many different websites as "life-ruining." The Wall Street Journal says 15 million people are playing it daily. On the Hairpin, writer Lindsay Weber talks about messing with her phone's clock in order to trick the game into letting her play more. High-profile YouTuber Ryan Higa just released this fake trailer for a Candy Crush Saga movie following a young man who can't stop playing the game so intensely that he becomes part of its world. In four days, the video garnered more than 2 million views.
Since implementing my Candy Crush hack, I am able to play as much as I want—and my life has become infinitely worse. I've missed my stop on the subway more times than I can count, ending up stranded on Canal Street playing Candy Crush while waiting for another train. I don't look up from my phone when I'm talking to people, interrupting whatever they were saying with, "Have you ever played Candy Crush?"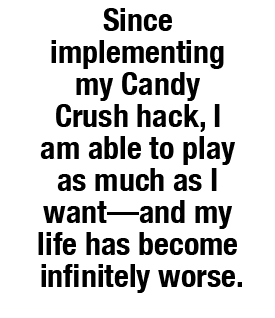 I'm pretty sure "You failed to break all the jelly" will be inscribed on my tombstone. I play it on the toilet, in bed, at the coffee shop, on the street. There seem to be an impossible number of levels. I'm on Level 152 right now with no end in sight.
It's over, man. It's done. There's a reason whoever created this time-sucking lunacy put limits on it. The limits are there to protect you from yourself. Human beings were meant to have barriers. It's why if we eat too much sugar in real life, we get sick. I realize now that we were not meant to have unlimited access to Candy Crush. We will watch the world burn, and we will be too consumed with reaching Sugar Crush to notice or care.
By downloading this hack, I played with the natural order of the world.
In those mandatory breaks the game once imposed, I showered. I worked. I ate dinner. I read books. I interacted with my boyfriend.
And now? Forget it. Hours upon hours go by without a single imposed break. He and I sit side by side, each playing our own Candy adventure, not a single word spoken. I am an adult. No one tells me how to spend my time. After a long hard day, maybe an hour of Candy Crush Saga won't hurt. But it's the endless bounty this hack gave me that makes me understand why the creators included time limits in the first place: Sure, to make money from addicts who truly can't wait but also because people are vulnerable to Candy Crush addiction. If I wasn't broke all the time, or if I hadn't done the hack, would I have gambled away my savings on Jellyfish?
The lesson here is that though the hack is tempting, we all need limits, especially when it comes to digital game crack cocaine like goddamn Candy Crush Saga.