Ditching cable doesn't mean you have to ditch your favorite TV stations. With set-top boxes such as the Roku or Apple TV, you can get a ton of streaming and on-demand content from your favorite sources. You can also still get live feeds from your local stations over the air (OTA), as long as you have an HD antenna in your home.
An HD antenna is a relatively cheap add-on to your living room setup that can save you time and money in the long run. With the right HD antenna, you can pick up HD content from ABC, CBS, Fox, NBC, and PBS, among other stations. (That means you may not need to fork over extra dough for services such as CBS All Access.)
If you're not familiar with the world of HD antennas, here's what you need to know to get started.
What does an indoor HD antenna do?
An indoor HD antenna picks up over-the-air transmissions from network TV stations in your area. You may be able to receive ABC, CBS, Fox, NBC, PBS, or the CW on an antenna. However, what stations you get (and their quality) varies depending on your location. You can check TV Fool here to predict what over the air channels you'll be able to receive at your location.
You will not be able to watch cable or satellite stations using an indoor antenna. For many of those, you'll need a set-top box such as a Roku or Apple TV, or a smart TV with streaming services built-in. Some channels unfortunately still require a cable or satellite subscription in order to access their streaming content (but you can get around that with a Sling TV subscription or other options like Hulu with Live TV or DirecTV Now).
An indoor HD antenna also may not work for everyone. If you live particularly far from broadcast stations, or your abode is nestled in between a bunch of tall buildings, you may have trouble getting reception. A stronger outdoor antenna may work in some scenarios, but for others, you may be SOL—or just limited to a smaller subset of local stations.
READ MORE:
The best HD antenna options
1. Antennas Direct ClearStream Eclipse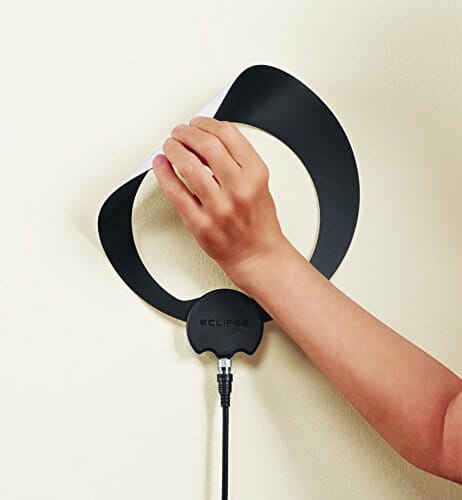 Antennas Direct's ClearStream Eclipse is one of the most highly rated indoor antennas on Amazon. (And both CNET and The Wirecutter also rated it as their number one antenna pick this year.) The circular, flat antenna has one black side and one white side, and it affixes to a wall or window. It's also paintable, in case you want it to be camouflaged in your living room. Pricing starts at $52.67 for the model with a 35-mile range and goes up to $149.99 if you live in a more remote area and need a 70-mile range to reach local signals.
2. Mohu Releaf HD Antenna
The Mohu ReLeaf is an interesting antenna—a great option for those that are more eco-conscious. It's actually made from recycled cable boxes, as well as post-consumer recycled cardboard. The multi-directional antenna itself looks like a colored sheet of paper. You can install it on a wall or window. It's available for $34.99 through the Mohu website.
3. 1byone Window Antenna
At $17.99, you can't get much cheaper than 1byone's Window Antenna. 1byone designed the thin, mostly transparent antenna to sit unobtrusively against a window in your home. It gets a 35-mile range and includes a 20-foot coaxial cable to connect to your TV. In testing with Tom's Guide, it didn't receive as many channels as other antenna options, such as the Mohu ReLeaf. However, if you're just looking for a few major local networks, that may not matter.
READ MORE:
How to install an HD antenna
Specific installation details will vary depending on which model you purchase, but there are a few key points you'll want to keep in mind for any HD antenna.
First, you'll want to place it on the side of your home closest to where the broadcast towers are in your area. The idea is that you want to capture line-of-sight reception from these towers, rather than a signal reflected off of a neighboring building. To that end, placing it in a window or high on a wall may help your chances of getting that signal directly. However, if getting a signal isn't an issue, you can likely place it anywhere in your living room. You can even hide it behind your TV or another piece of furniture.
Many of today's indoor HD antennas affix directly to a surface with adhesive. You'll then connect the antenna itself to your TV with a coaxial cable, which should plug into the bottom, back, or side of your TV.
If you've got serious reception issues inside your home, though, you may need to opt for a stronger outdoor antenna instead.
Editor's note: This article is regularly updated for relevance.