A popular Anonymous Twitter account spread unsubstantiated claims regarding hackers on Monday that eventually made their way into the feed of a sitting U.S. congressman.
The account which helped spread the allegation, @YourAnonCentral, tweeted out an image of a map purporting to show a significant distributed-denial-of-service (DDoS) attack underway against much of the nation.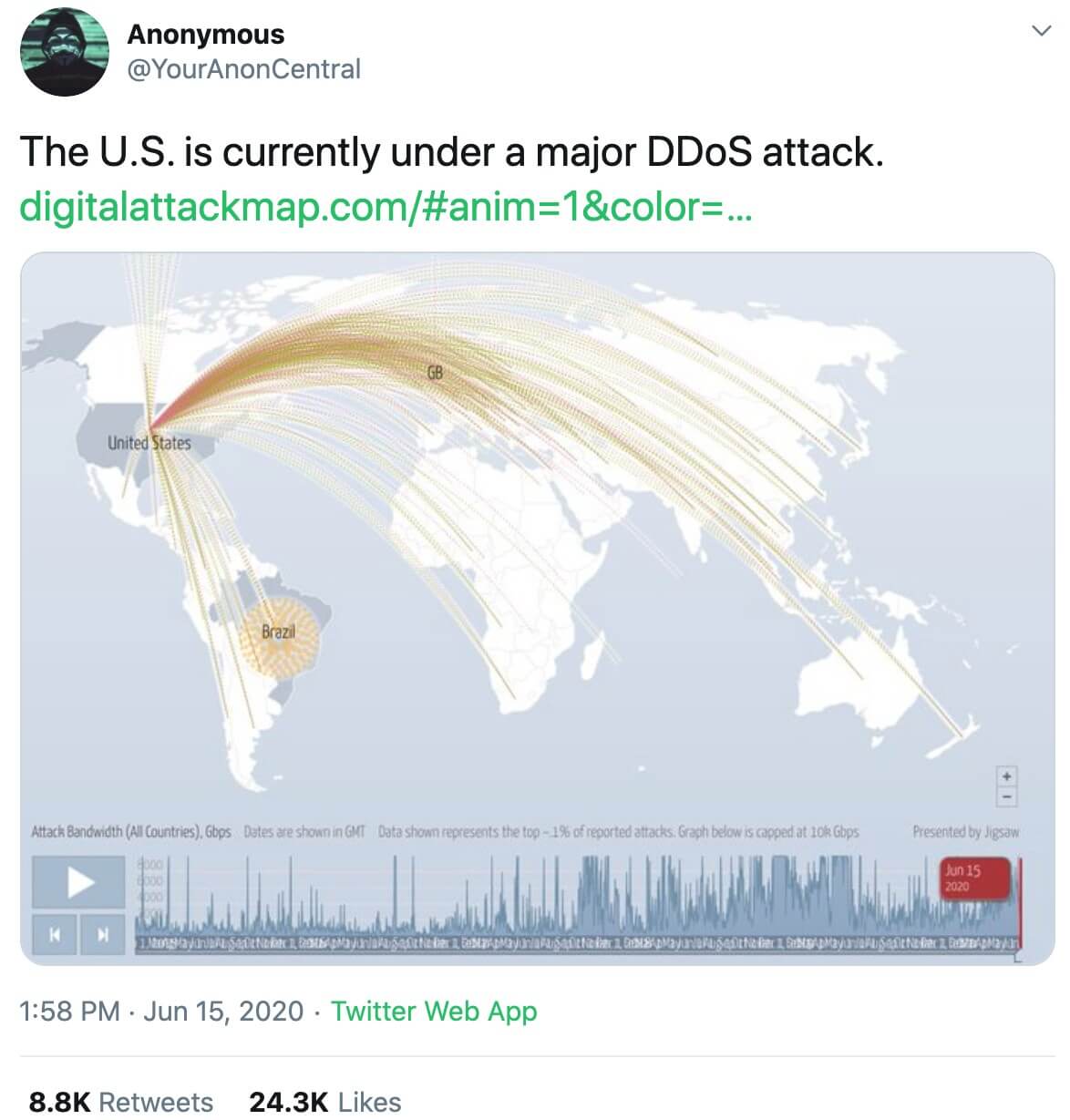 DDoS attacks work by overwhelming servers with traffic, resulting in a targeted website or service being knocked offline.
Not only that, @YourAnonCentral, which boasts more than 6.5 million followers, went on to state that every cell phone provider in the country had been affected as well. Another map appearing to show cell service outages across the country was also included in the tweet.
"All major cell phone providers across the United States are currently suffering from major outages," @YourAnonCentral tweeted.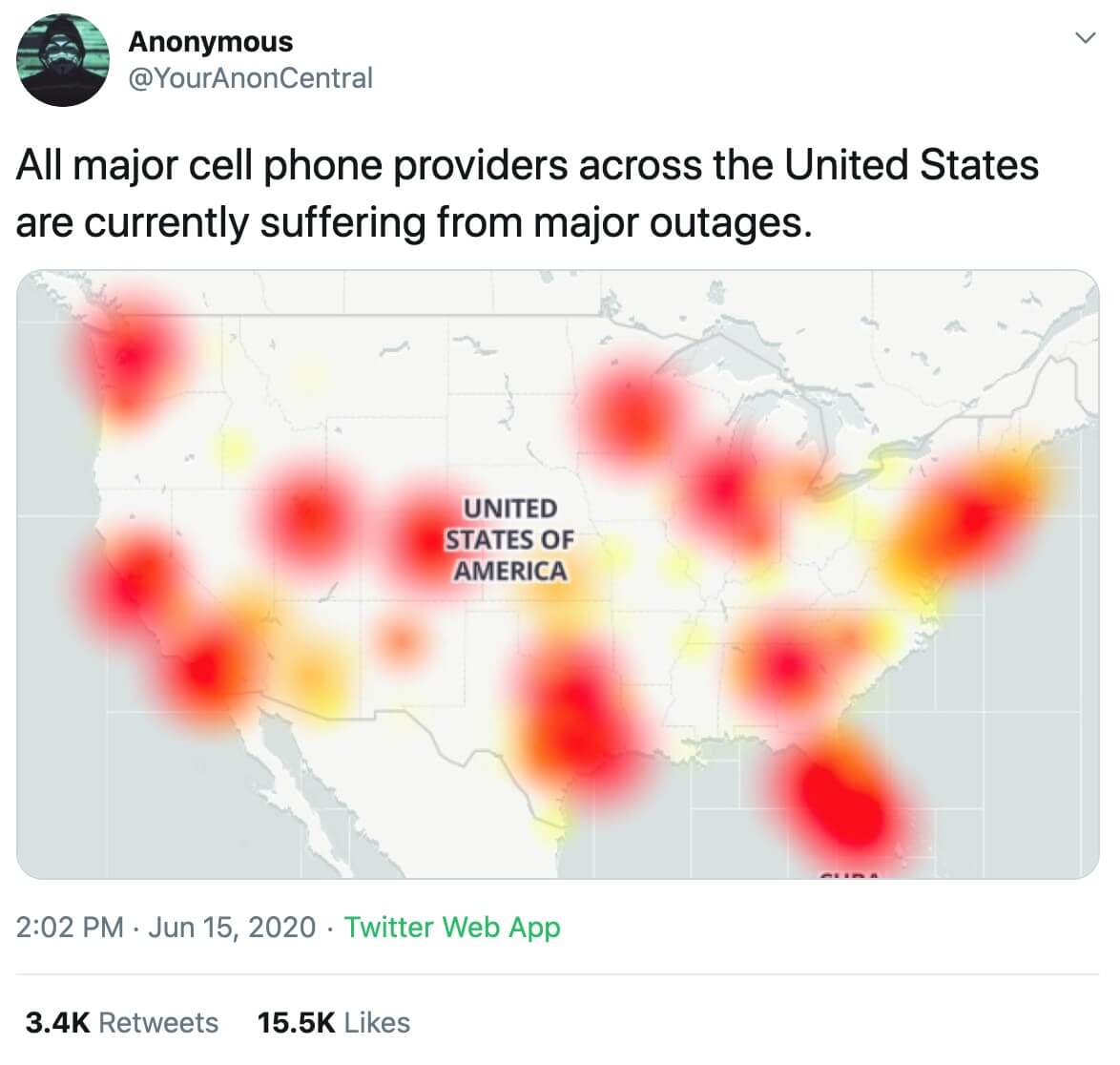 Given @YourAnonCentral's large following, much of which was obtained by spreading numerous false claims earlier this month, rumors of an unprecedented cyber attack against Americans quickly spread online.
The alleged DDoS attack even caught the attention of Rep. Ted Lieu (D-Calif.), who used the incident to criticize President Donald Trump's policies regarding cybersecurity.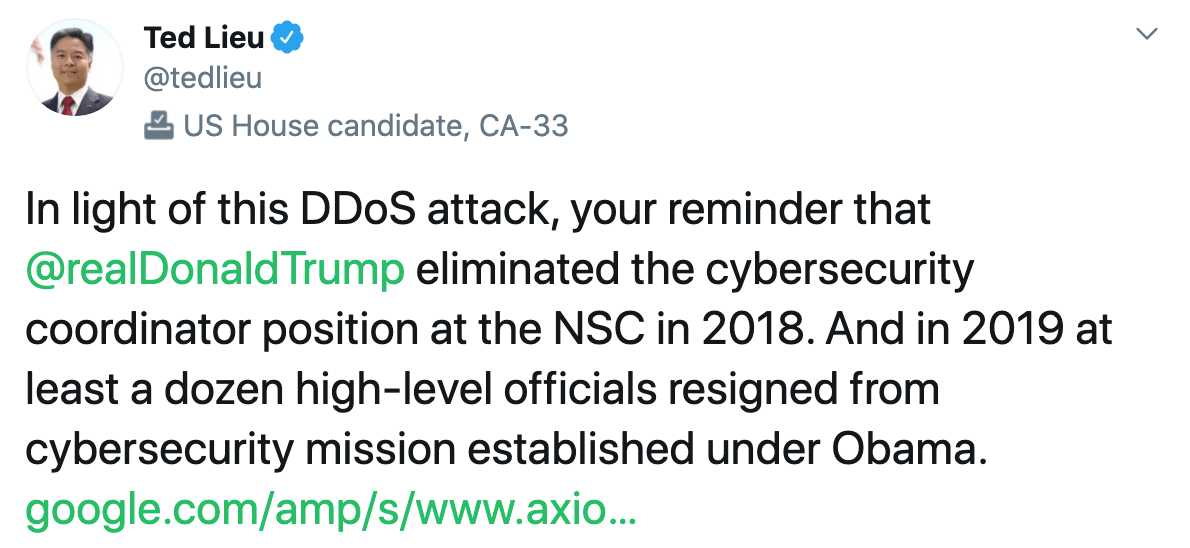 The Anonymous account further stated that it believed the attack likely originated from China due to geopolitical tensions in South East Asia.
"The source of the DDoS attack on the United States is currently unknown," the account tweeted. "We speculate it may be China as the situation between South and North Korea is currently deteriorating."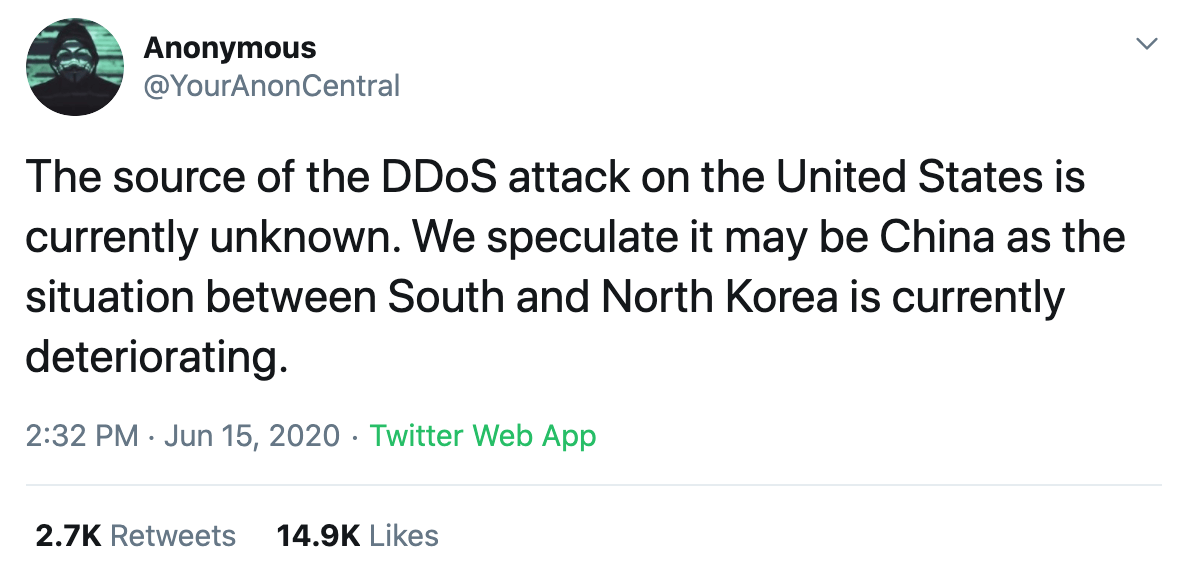 But it appears @YourAnonCentral's claims may be entirely false.
The link and map presented by @YourAnonCentral provides no evidence whatsoever that any unprecedented levels of such attacks are occurring.
Cybersecurity expert Marcus Hutchins, known online as MalwareTech, explained that such maps are little more than "marketing eye candy."
"This site show a random sample of global DDoS traffic badly plotted on a world map," Hutchins said. "It does not indicate an attack against the US [and] it lacks context to make any inferences at all."
So were there outages at all? Twitch was one service that released a statement on Twitter admitting to technical issues, though it declined to state whether a DDoS attack had been responsible.
Users on Twitter also reported having difficulties accessing Instagram and issues with T-Mobile were also widespread.
The Daily Dot reached out to Facebook and T-Mobile to inquire about the alleged issues but did not receive a reply by press time.
According to Cloudflare co-founder and CEO Matthew Price, however, DDoS attacks were not to blame for Monday's technical problems.
Price states that the issue began while T-Mobile was making configurations to its network, ultimately leading to "a series of cascading failures for their users, impacting both their voice and data networks."
That led T-Mobiles users, Price continued, to begin complaining on social media about being unable to reach a range of popular services. Not necessarily because those services were actually affected but because their cellphone network was.
Websites like DownDetector.com, which is designed to let users know whether certain services are experiencing issues, then collect those complaints. Users accessing the site can then be given the false impression that a service is down based mostly on word-of-mouth.
Data from Cloudflare, one of the most popular DDoS-mitigation companies, indicates that no major DDoS attack ever took place.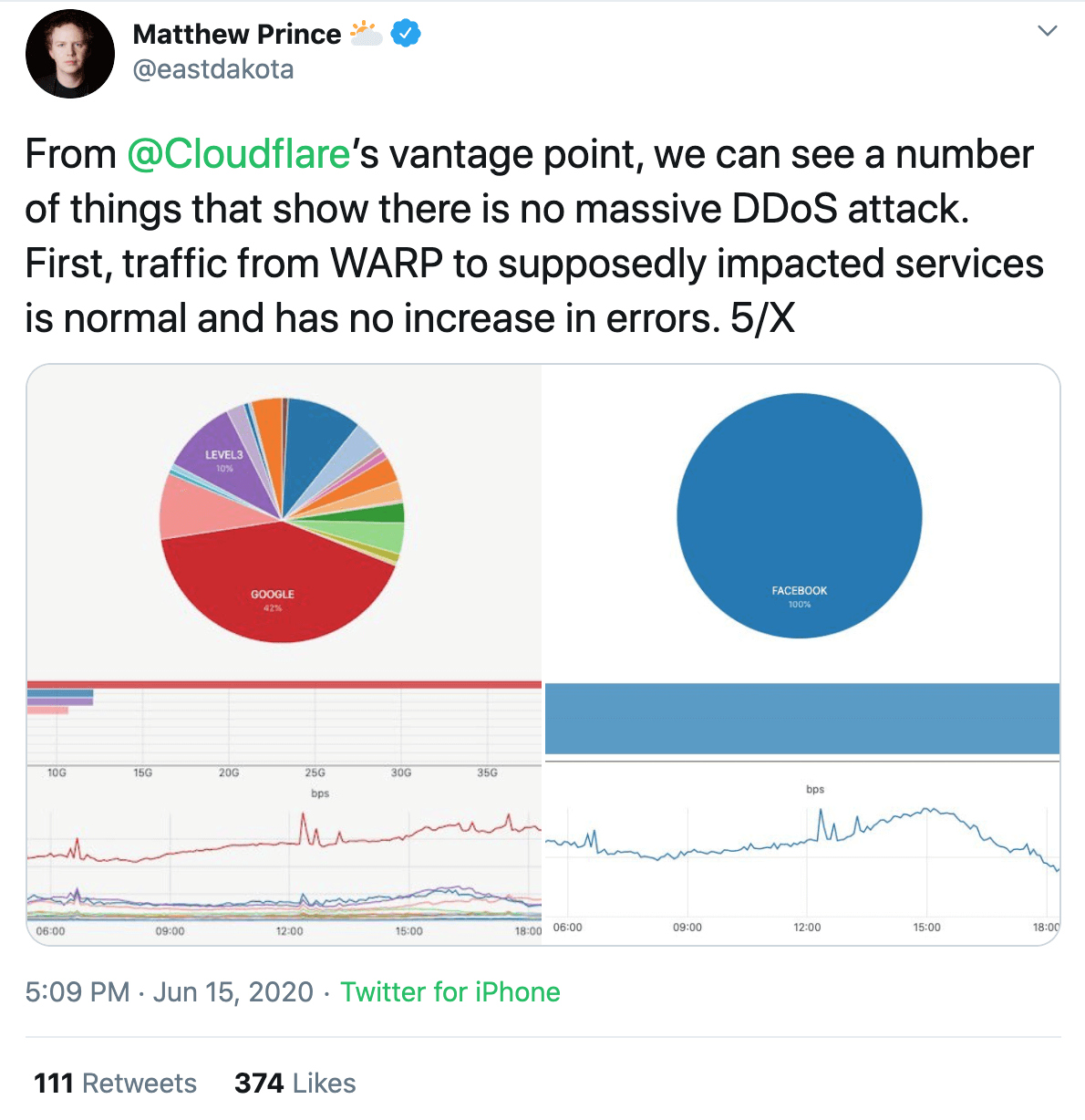 "There is no spike in traffic to any of the major Internet Exchanges, which you do see during actual DDoS attacks and definitely would during one allegedly this disruptive," Price said.
The Daily Dot reached out to @YourAnonCentral to inquire about the account's tweets regarding DDoS attacks but did not receive a reply. The account's initial tweet on the matter, which remains online, has been shared well over 11,000 times.
READ MORE: