UPDATE 11:42am CT: Kyle Rittenhouse, 17, of Antioch, Illinois has been charged with first-degree murder according to documents reviewed by the Daily Dot.
According to the Lake County, Illinois Clerk of Courts public records, obtained by the Daily Dot, Rittenhouse has been charged with first-degree murder in Kenosha, Wisconsin, and labeled a "fugitive from justice." The complaint states that Rittenhouse "fled the state of Wisconsin with intent to avoid prosecution for that offense."
Police in Antioch said this afternoon that Rittenhouse was arrested in Illinois. According to Nick Penzenstadler, a reporter with USA Today, he is expected to have a hearing on Friday.
The original story follows below.
A viral video captured the chaotic moments when a protest in Kenosha, Wisconsin turned deadly last night. Reports are circulating on social media that the shooter is a "white vigilante" possibly associated with a militia.
Two were killed and a third transported to the hospital with serious, non-life-threatening injuries, local police reported in a statement. The protests were sparked by the shooting of a Jacob Blake, an unarmed Black man shot by police on Sunday night. An officer shot Blake seven times in the back as he attempted to get into his vehicle. Blake's family says that he was partially paralyzed.
Protests for racial justice have been ongoing since then. The National Guard has been called in. Following vandalism and looting, last night an 8pm curfew was instated. Most reportedly obeyed the curfew. A few, including the shooter, did not. According to the Kenosha Police Department, the shooting occurred around 11:45pm local time.
A video captured by Brendan Gutenschwager shows the alleged shooter, a white man, running down the street with a rifle. A shirtless man giving chase strikes him once without knocking him down. Someone then yells to get him. "What did he do?" Another person asks. "He shot someone," a male voice yells.
Video then shows him on the ground firing at people who appear to be attempting to apprehend him. Two people are shot at close range. One collapses nearby from their wounds.
"[The alleged shooter] trips and falls, then turns with the gun and fires several times," Gutenschwager tweeted along with video of the shooting.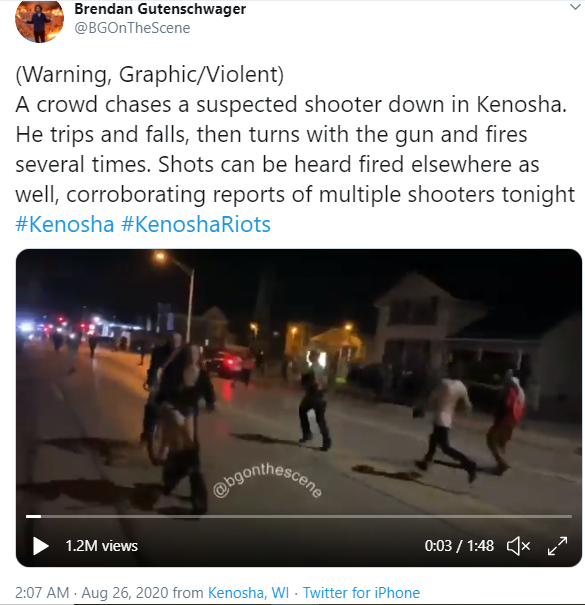 Other shots can be heard in the background.
"Later in the footage, the gunman approaches law enforcement with his arms raised above his head, but no one stops or apprehends him before the video cuts off," NPR reports.
A second shooting captured on video shows a man with a rifle running through a parking lot. Someone throws a lit projectile that appears to be a bag is thrown in his direction. Moments later, shots ring out. It is unknown whether this shooting is what people were referring to in the other video.
Another video by Drew Hernandez that appears to be from the same parking lot includes graphic footage of man with a gunshot wound to the head receiving aid from bystanders, reportedly including a Daily Caller reporter.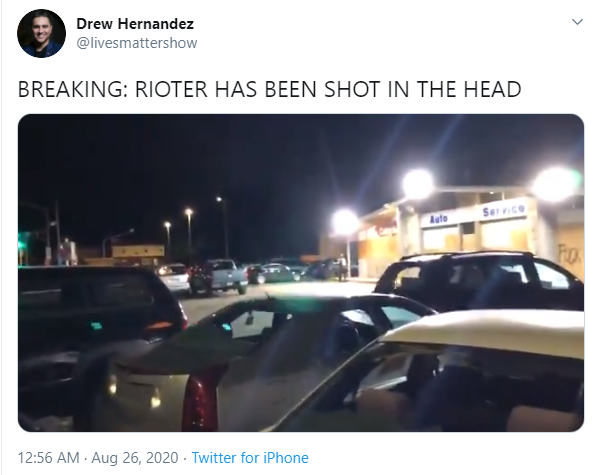 Kenosha Police have not yet released the shooter's identity. They have confirmed that the shooter was a white male. The department told the Daily Dot that it's still investigating.
Internet sleuths were quickly on the case, however. Many identified a local 17-year-old as the shooter.
A Facebook profile purportedly belonging to the teen is rife with pro-police content. In his profile pic, he poses with a high-powered rifle that appears identical to the Kenosha shooters. The image's frame reads, "Duty Honor Courage Blue Lives Matter."
In another recent profile pic, he poses with the same rifle.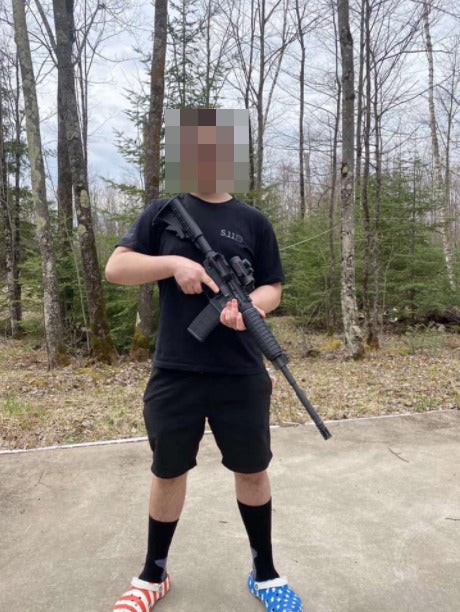 Other videos online purportedly show the shooter hanging out with heavily armed civilians at last night's protest and being given water and thanked by police. This was presumably prior to the shooting.
"We appreciate you guys, we really do," an officer says in the video.
In yet another video the alleged shooter says that he and the other armed men are there to protect lives and property. He says he was pepper-sprayed by someone in the crowd. Asked if he responded to being sprayed, he says, "We don't have non-lethal."
Several have claimed that the shooter was a "white vigilante" and affiliated with a local militia group.
It's Going Down reports that a militia called Kenosha Guard posted a call "to protect lives and property" during the protests on its Facebook page. Right-wing media, including InfoWars, amplified the call.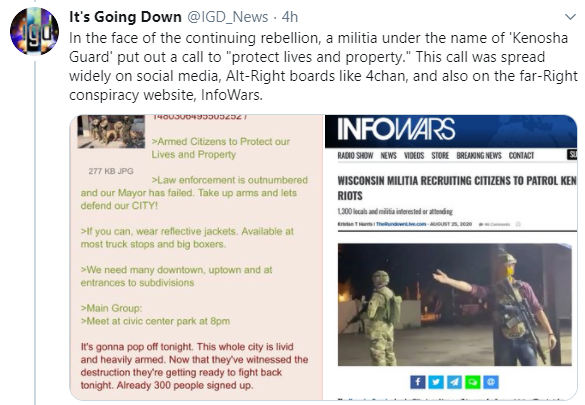 Kenosha Guard claims that it doesn't know if the shooter was answering its call.
"Just like with the shooting of Jacob Blake, we need all the facts and evidence to come out before we make a judgment," Kenosha Guard posted on Facebook this morning.

Right-wing media and figures have defended the shooter.
Some claimed that someone threw a Molotov cocktail at him prior to the parking lot shooting. Others counter that it was just a plastic bag.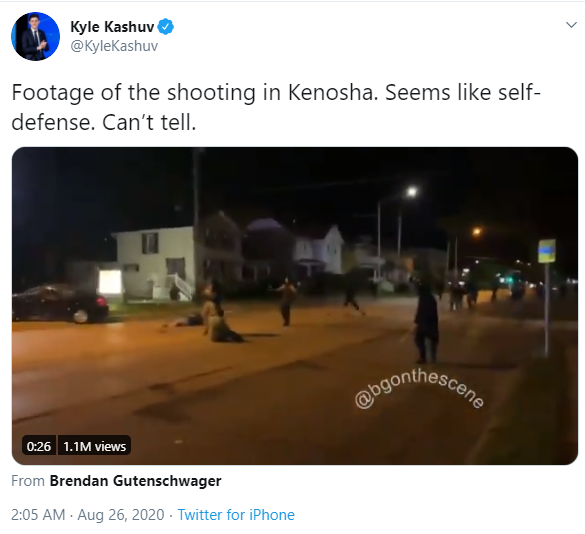 Police told local media that one person would soon be taken into custody based on their review of videos of the shootings.
---
Must-reads on the Daily Dot