Tech

Tech

The gadgets, platforms, and software that make your digital life possible. if it bleeps, clicks or blinks, you'll find it here.

Internet Culture

Internet Culture

There's a community for everyone online.

Bazaar

Bazaar

The Bazaar specializes in the stuff you don't actually need…but you really, really want.
How to make a "Tron" light cycle
Kansas State student Kendall Harvey built his own Tron light cycle and shared the results with Reddit.  
If you were a science fiction fan growing up in the late '80s, the Tron light cycle was one of the coolest things you'd trade in all your Pogs and G.I. Joe's for.
One Reddit user got tired of waiting so he decided to make his own.
Using 96 feet worth of electroluminescent (EL) wire, Kansas State freshman Kendall Harvey created his very own light cycle inside his college dorm.
"I saw the original [film] several years, ago, but when I got around to seeing the re-imagining [Tron: Legacy], it blew my mind," Harvey told the Daily Dot. "I love the films for the concept-vehicle designs, and artistic style."
Harvey created the bike using parts he found on Craigslist and a local bike shop. The bicycle is lit up using four different electric systems run on 9V batteries. Each lighting system is bound the wheel hub, and the drivers for the body and fork are built into the frame, said Harvey, who also works part-time as a model builder for a Legoland Discovery Center.
All in all, the bicycle and parts cost about $600.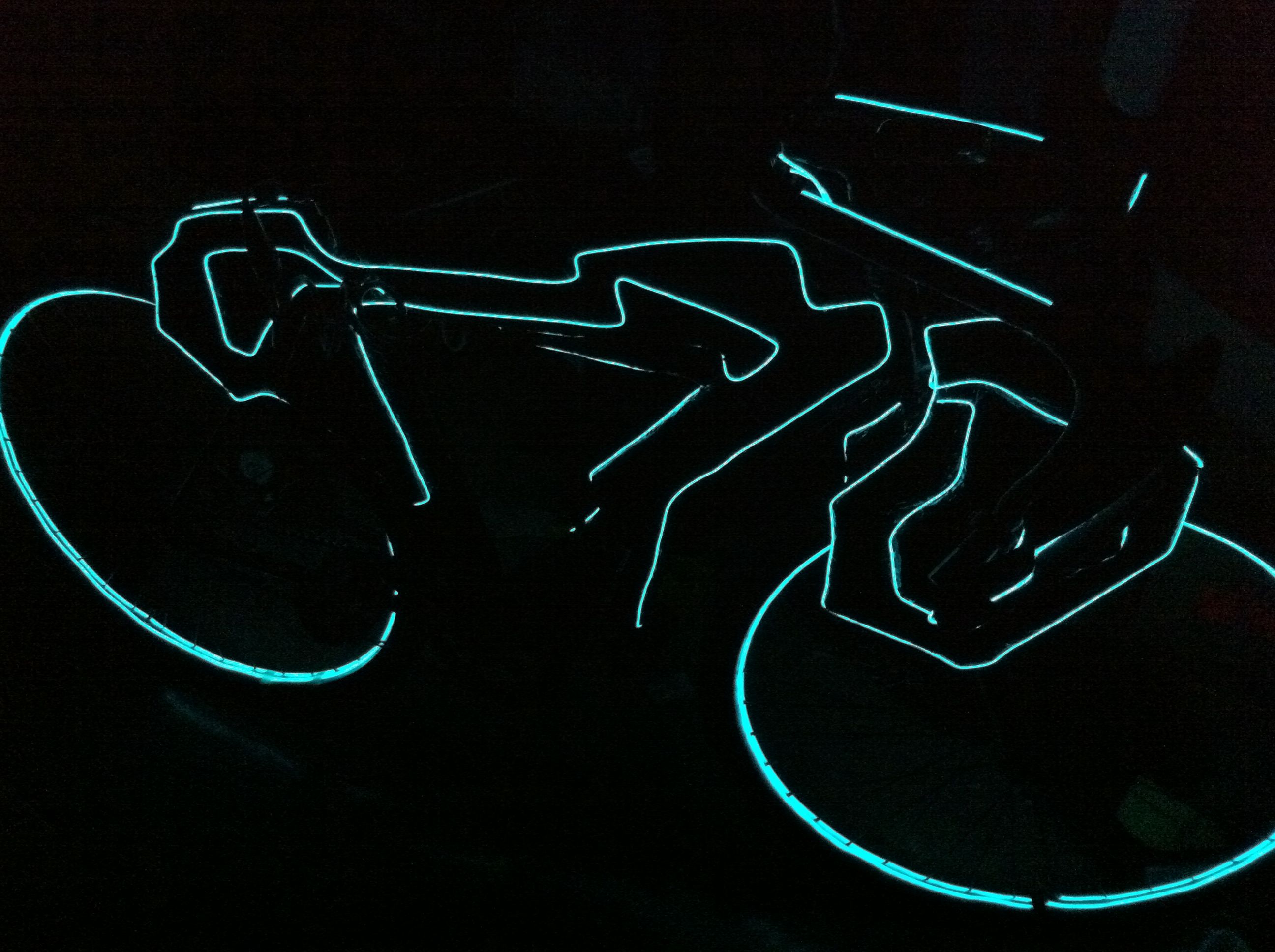 Harvey took a break from riding his light cycle around campus to give readers some insight into how they can make their own.
"First you need a frame to build on, then I used blue-board foam from lowes, cut down and carved into body shapes. Then I fiber-glassed the whole shape. It was my first time using it, so it took awhile to get used to working with the resin. Then I sanded, primed, and painted everything. And finally I used material cement to attach the wire. The last thing I did was solder the wire to the drivers."
Harvey posted a photo of his light cycle on Reddit, where more than 400 people helped it reach the top of the front page Monday night.
"But have you got a Sound FX box attached to make the [light cycle] noise?" commented theLeica.
"Backpack with with speakers, and the Daft Punk album," replied Harvey, referencing the soundtrack from Tron: Legacy.
Harvey has no plans to mass produce the light cycle and is instead busy switching his major from engineering to industrial design. In the meantime, Harvey already has plans to upgrade the bike's wheels.
"I may repaint them this summer with a black gloss. But I went days on ramen just to pay for this," Harvey wrote on Reddit. "Woe is the life of a college student."
Photo by Kendall Harvey
Fernando Alfonso III served as an early Reddit and 4chan reporter and the Daily Dot's first art director until 2016. He's gone on to report at Lexington's Herald-Leader and at the Houston Chronicle.
© The Daily Dot, all rights reserved.
Represented by Complex Media, Inc. for advertising sales.