The Frenchman who was captured on video brutally torturing a cat has been arrested less than a day after 4chan flooded social media with his personal information.
According to France's newspaper of record, Le Monde, a 23-year-old suspect confessed he was the man abusing the animal in two Facebook videos. He was placed in police custody Friday morning. 
"According to a source close to the investigation, the man, born in 1989, admitted the facts to the police and also stated that the kitten was alive," Le Monde reported, according to a rough translation. "It should be presented to the prosecutor of Marseilles Saturday morning. The police are now looking for the one who filmed the scenes, presumably with a mobile phone."
The man used the name "Farid" on Facebook, but Le Monde did not identify him by name.
On Thursday, 4chan's notorious random imageboard, /b/, was blanketed with links to two videos showing a man abusing an orange cat. 
One video featured him hurling the animal more than 20 feet into the side of a building while the other showed the same cat being tossed more than 50 feet in the air, toward some bushes. Both videos were shared on Jan. 22 and have since been removed by Facebook. 
Although the suspect told police the cat survived the attacks, the French National Police stated on Facebook that they're still investigating those claims.
The videos set /b/ users off in a frenzy, with thousands working to track down the man's full name and phone number.

/b/ also contacted French police with the videos and information. A petition on AVAAZ.org to find the man and bring him to justice collected more than 135,000 signatures.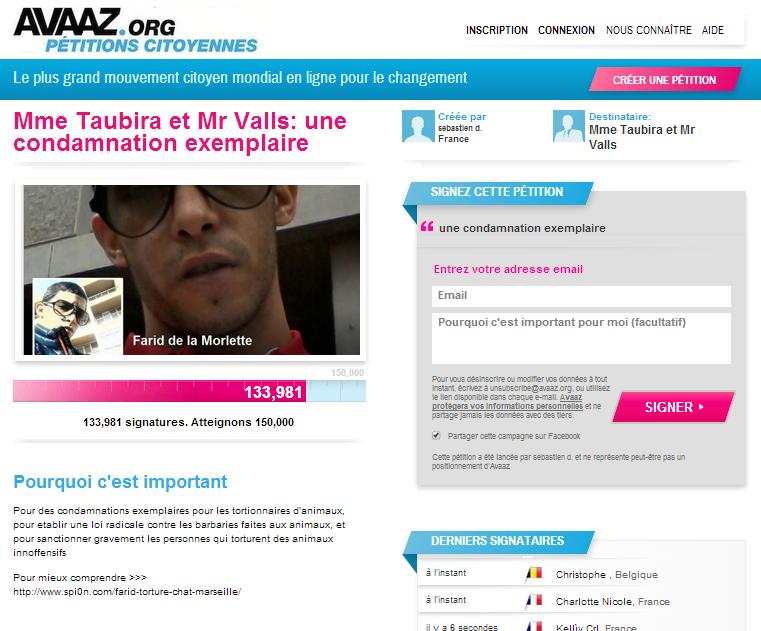 By late Thursday night, French police were on the case. 
This was the following tweet sent out by the National Police (according to a rough translation): "[ANIMAL ABUSE] Thank you for reporting these videos. This information was transmitted to the PHAROS teams."
[MALTRAITANCE ANIMALE] Merci de nous avoir signalé ces vidéos. Ces informations ont été transmises aux équipes PHAROS.

— Police Nationale (@PNationale) January 31, 2014
That message was followed up by another thanking Twitter users for their help in finding the culprit: "Thanks to your reports via @twitter, National Police questioned the alleged creator of videos showing abuse of a cat in Marseilles."
Grâce à vos signalements via @twitter, la @PNationale interpelle à #Marseille l'auteur présumé des vidéos montrant des sévices sur un #Chat

— GendarmerieNationale (@Gendarmerie) January 31, 2014
This isn't the first time /b/ has crusaded against animal abusers online.
In August, /b/ hunted down a South Carolina teenager for kicking a kitten on Vine. The teenager was 17-year-old Walter Easley who had hiss personal information online dumped online by /b/. The community also contacted his school and local newspaper. /B/'s tactics paid off.
On Aug. 19, Easley was arrested and charged with cruelty to animals. Easley pled guilty to animal cruelty charges while the cat was confiscated by animal control and is in good health.
If the Frenchman is convicted of animal abuse, he faces two years in prison and a €30,000 ($40,500) fine.
Photo by Jorbasa/Flickr