In Reblog, the Daily Dot looks at the week's news through the eyes of Tumblr.
This week we learned that everyone on Tumblr was pissed at the Susan G. Komen foundation for pulling funding from Planned Parenthood, then got all happy when the nonprofit backtracked; a shakeup of The X Factor cast excited some people who clearly need more diverse sources of joy in their lives; and Mark Zuckerberg's thirst for Gatorade mesmerized us all.
Komen vs. Planned Parenthood
On Tuesday, Susan G. Komen for the Cure, a leading nonprofit funding breast-cancer research, announced they would suspend giving grants to Planned Parenthood under a new policy. (Planned Parenthood is under investigation by Congress for misusing government money.) Critics blasted Komen for bowing to anti-abortion activists and Tumblr users grabbed their pitchforks to voice their disdain. (Komen reversed its decision on Friday.)
One user named Joe posted a personal story on how Planned Parenthood helped him and blasted the Komen foundation for its actions. He wrote:
"[H]ow dare someone want to take that place away? How dare someone take that safe refuge of knowledge and health away? How dare someone endanger the health and safety of a fellow human being because of their own zealotry?"
Joe added that he will never donate to Komen again.
Others mocked Komen more lightheartedly with an illustration in the style of someecards.com, everyone's favorite sassy greeting-cards site. Multiple users posted it, drawing hundreds of reblogs and notes.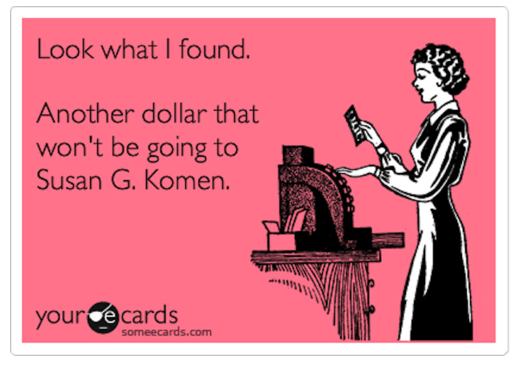 Source: moodyashell.tumblr.com
The X Factor fires everyone
Simon Cowell and record executive L.A. Reid are the last judges standing on Fox's singing competition. The show fired hunky host Steve Jones, singing Charmin bear Paula Abdul, and some bobblehead named Nicole Scherzinger. Tumblrers, particularly those over at X-FactorUSAConfessions, were shocked, just shocked, at the "news"! They slapped on anonymous comments on the cast pictures, PostSecret-style like this one below.
Source: X-FactorUSAConfessions
Facebook files for an IPO
Facebook's initial public offering has more zeroes in than we can count. Reaction on Tumblr consisted a mix of jealousy and amazement. Some girl named Kelsey, who is totes a Zuckerberg fangirl (not that there is anything wrong with that), posted a congratulatory note on her Tumblr saying she will always defend Zuckerberg. She's all STFU to the haters.
"No matter how NBC and Gawker condescends to judge us and taunt us, we will always have our babies, our grown-up, billionaire babies," she wrote. NBC? Whuck?
Also, can we talk about Zuckerbro's desk? It has a double life of being a beer pong table. Adorned with a Gatorade bottle, a takeout container, a Mac computer (which has to piss off Bill Gates, even though Microsoft now owns $1.6 billion or so in Facebook shares), and a sign that says "Stay Focused and Keep Shipping." Let's bet 100 Facebook credits that that slogan becomes the next "Keep Calm and Carry On" mantra that everyone has image-macroed to death already.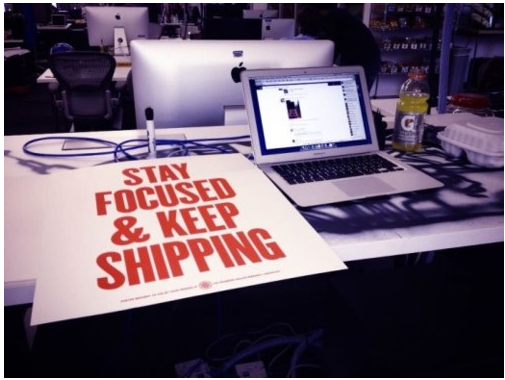 Source: The Next Web's Tumblr