Is there a Marvel-sized hole in your life after Avengers: Endgame? Fill the void with Captain Marvel, which is finally out on video. Here's everything you need to know to watch the long-awaited MCU flick right now. 
In the action hit Captain Marvel, a Starforce member named "Vers" must recover her memories as she saves Earth from an alien threat. 
Since the movie takes place in the past, much of what we know about the Marvel universe is unknown. Set in 1995, low-level agent Nick Fury assists this outer space hero to dodge the likes of Ronan the Accuser (remember him?) and an alien infiltration of S.H.I.E.L.D. itself. Vers, better known as Carol Danvers, jumps around Earth and into orbit to uncover why she's here and how she lost her memories. Because hidden in that grey matter are some serious superpowers including energy absorption and projection, flight, and super-human strength. Also, because it's set in the past, you can look forward to seeing a young and spry Nick Fury with two whole eyes! That's worth the price of the rental alone.
READ MORE:
In Captain Marvel, our hero must learn to harness her powers while answering the existential question, "Why am I here?" Without spoiling too much, the answer to that question is "to kick serious ass and save the day in typical Marvel fashion."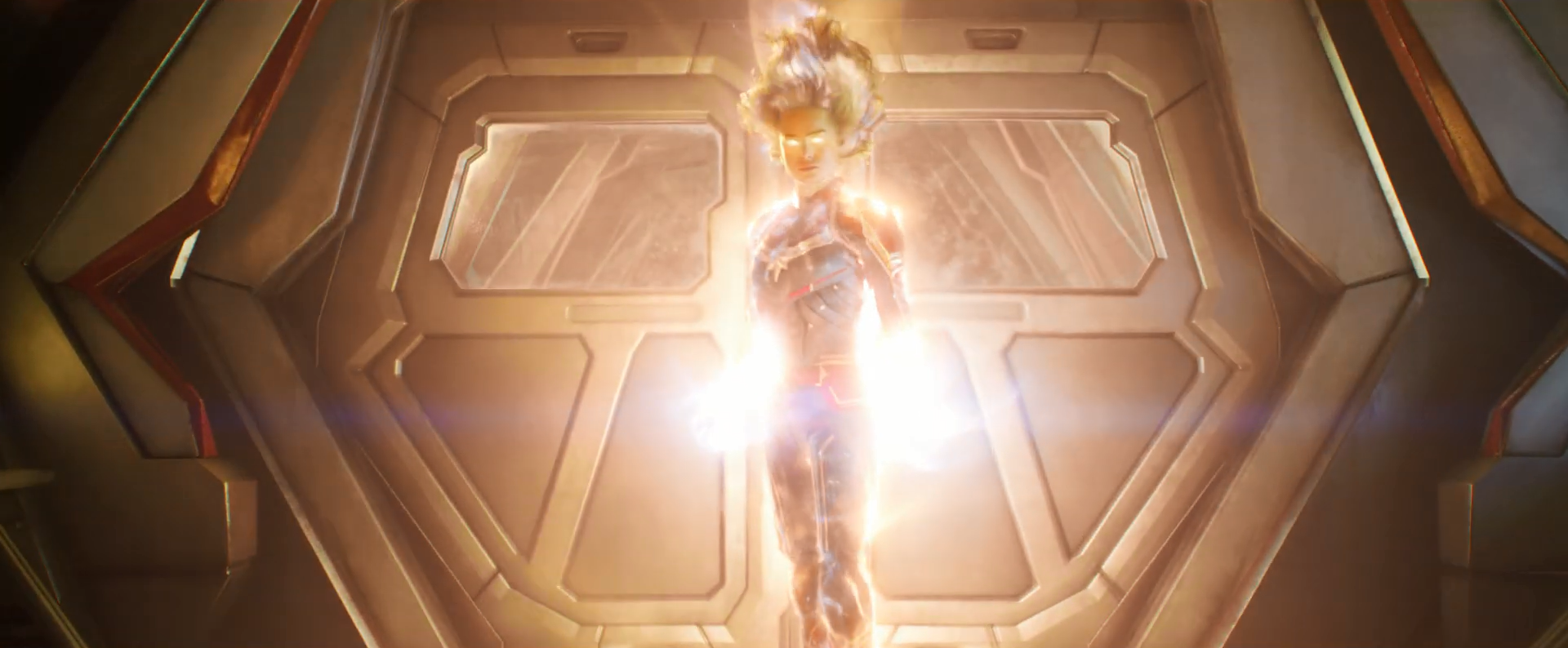 Captain Marvel cast
Brie Larson as Carol Danvers/Vers/Captain Marvel
Samuel L. Jackson as Nick Fury
Ben Mendelsohn as Talos/Keller
Djimon Hounsou as Korath
Lee Pace as Ronan the Accuser
Lashana Lynch as Maria Rambeau
Gemma Chan as Minn-Erva
Annette Bening as the Supreme Intelligence and Mar-Vell / Dr. Wendy Lawson
Clark Gregg as Phil Coulson
Jude Law as Yon-Rogg
How to watch Captain Marvel
The following are a few venues where you can rent or buy Captain Marvel. If you want a physical copy, you'll have to wait until June 11, 2019. However, it's available on quite a few platforms to rent or buy digitally right now.

Cost: $19.99 
Devices: Amazon Fire Stick, Fire TV, Fire tablets, and Fire phone; Roku, 

Apple TV

, 

Google TV, TiVo, 

Nvidia Shield TV

, PlayStation 3 and 4, Xbox One, Nintendo Wii
The online retail giant is also one of the premier destinations for online streaming. This is the easiest way to watch Captain Marvel, no question. If you already have an Amazon account, buying in HD will take seconds, and you can watch it anywhere you stream Amazon Video, from Amazon Fire Stick to Roku.
---

Cost: HD/$19.99, UHD/$24.99
Devices: Samsung Smart TVs, internet browsers, iPad, iOS devices, Roku, Xbox One, 

Google Chromecast

, Android, Visio Smart TVs
Fandango and movies go hand in hand, and not just when it comes to buying tickets online. Plenty of hits and classics are available in the Fandango Now library, along with full seasons of your favorite shows. Captain Marvel is available on Fandango Now in multiple formats. If you join Fandango VIP, you can rack up points to spend across Fandango, Fandango Now, and FanShop.
READ MORE:
---

Cost: SD/$14.99, HD/$19.99, UHD/$24.99
Devices: Samsung Smart TVs, Internet Browsers, iPad, iOS, Roku, Xbox One, Chromecast, Android, Visio Smart TVs, PlayStation
Vudu is a no-fuss way to rent movies online if you don't want to bother signing up for anything. There's a massive library of high-quality video content, including 4K movies. There are even piles of movies you can watch free as long as you sit through a few ads. Captain Marvel is available to buy right now, in SD, HDX, and UHD. You'll have to wait a little longer if you want to rent it.
---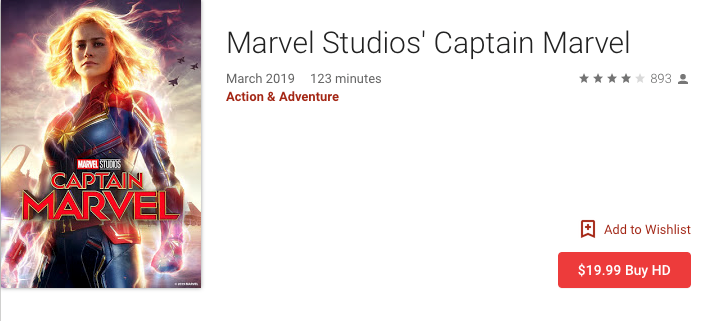 Google Play links to your Google account and media can be accessed from any Google Play-enabled device. Google Play is also offering a special discount if you buy Captain Marvel. 
---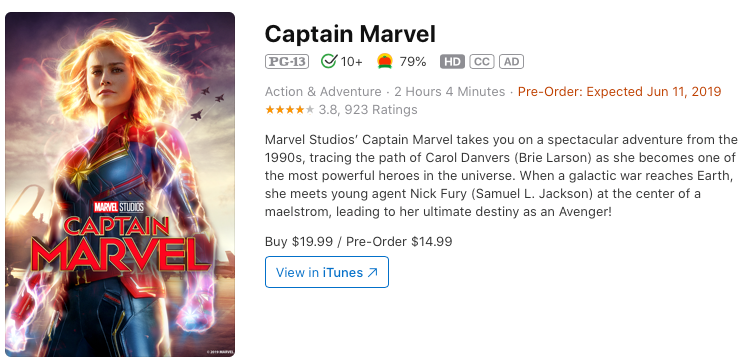 If you happen to prefer streaming on iOS devices, buying Captain Marvel on iTunes is your best bet. It's not available until June 11, but if you preorder it now you can nab it for only $14.99.
The Daily Dot may receive a payment in connection with purchases of products or services featured in this article. Click here to learn more.